Search CrazyAboutTV for your
favorite show or your
favorite star!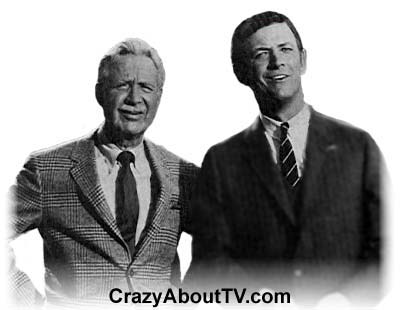 Series Description
The Second Hundred Years TV show was a 30 minute comedy series with a sci-fi twist that aired on ABC. It was about a man who was prospecting for gold in Alaska in the year 1900 when he became covered with snow in an avalanche. When he was thawed out 67 years later, he was alive, perfectly healthy and hadn't aged a day!
Second Hundred Years Cast
Monte Markham .... Luke Carpenter / Ken Carpenter
Arthur O'Connell .... Edwin Carpenter
Frank Maxwell .... Colonel Garroway
Karen Black .... Marcia Garroway
Don Beddoe .... Mr. Tolliver
Bridget Hanley .... Lieutenant Anderson
Kay Reynolds .... Erica
Second Hundred Years Trivia
Luke Carpenter moved in with his son Edwin who, at 67-years-old, was more than twice his age! They lived in Woodland Oaks, California.
Monte Markham earned a Master of Fine Arts Degree in 1960 from the University of Georgia. He was a college instructor for his first two after graduation and then he pursued an acting career. His brother was a CIA pilot in southeast Asia. Monte also starred as "Mr. Deeds" on the series, "Mr. Deeds Goes to Town" and as "Captain Don Thorpe" for three seasons on, "Baywatch".
The funny moments of the show centered around several subjects. First, the difficulty for Luke's son dealing with a father who was younger than he was. Second, the mistaken identity situations that arose because Luke and his grandson looked like identical twins (since they were both played by the same actor). Third, Luke's reactions to and difficulties dealing with 1967 technology.
The Second Hundred Years had some decent ratings for its first few episodes and the dropped like a rock! The first episode drew decent audiences due to its intriguing sci-fi, comedy premise. After that, however, viewers had to decide between the Second Hundred Years on ABC, "The Beverly Hillbillies" on CBS, or the last half-hour of "The Virginian" on NBC! CBS really had a hold on audiences that season on Wednesday evenings. The lead-in to the Beverly Hillbillies was "Lost In Space" and it was followed by "Green Acres". If you were looking for sci-fi or comedy, CBS was the network you were going to watch. In March of 1968 ABC moved The Second Hundred years to Thursday evenings at 7:30PM (replacing "Batman"). That was a great spot as a lead-in to four other hit ABC comedies ("The Flying Nun", "Bewitched", and "That Girl"), but then ABC canceled the show after just two weeks in the new slot!
The Second Hundred Years got a few well-known guest stars during its short time on the air. Richard Dreyfuss (Oscar winner for "The Goodbye Girl") appeared on episode #11 - "No Experience Necessary", Hope Summers who played Clara Edwards on "The Andy Griffith Show" appeared on the same episode as Dreyfuss, Daniel J. Travanti (Captain Frank Furillo on "Hill Street Blues") was on episode #20 - "The House That Needed a Carpenter", and Susan Howard (Donna Krebbs on "Dallas") on episode #23, "Dude Hand Luke".
If you don't remember Bridget Hanley from her role as Lieutenant Anderson on The Second Hundred Years, you might recall her roles as Candy Pruitt on "Here Come the Brides" or as Wanda Taylor on "Harper Valley P.T.A.".
Episodes List With Original Air Dates
The First And Only Season

Dear Father Come Home With Me Now (9/6/1967)
Oh Dad, Oh Dad, They Thawed Out Grandpa and I'm Feeling So Sad (9/13/1967)
Little Lady X (9/20/1967)
Pay Dirt (9/27/1967)
A Simple Son of the Soil (10/4/1967)
Ungathered Moss (10/11/1967)
On Bended Knee (10/18/1967)
Just Pay the Two Dollars (11/1/1967)
Remember the Maine (11/8/1967)
A Couple of Sad Dads (11/15/1967)
No Experience Necessary (11/22/1967)
San Juan Hill (11/29/1967)
Luke Alikes (12/6/1967)
Let My People Go-Go (12/13/1967)
Luke's First Christmas (12/20/1967)
The Abnormal Iceman (12/27/1967)
Tree-In (1/3/1968)
Right Of Way (1/10/1968)
For Whom The Drums Beat (1/17/1968)
The House That Needed a Carpenter (1/24/1968)
Shine On, Harvest Moonshine (1/31/1968)
Love on the Double (2/7/1968)
Dude Hand Luke (2/21/1968)
Lucky Luke (2/28/1968)
A Different Kind of Bug (3/21/1968)
Luke and Comrade Tanya (3/28/1968)
Find Thousands of
Your Favorite
Shows

By Starting Letter
A B C D E F G
H I J K L M N
O P Q R S T U
V W X Y Z
Thank you for visiting our Second Hundred Years page!
Copyright © 1997-Present CrazyAboutTV.com
All rights reserved