Search CrazyAboutTV for your
favorite show or your
favorite star!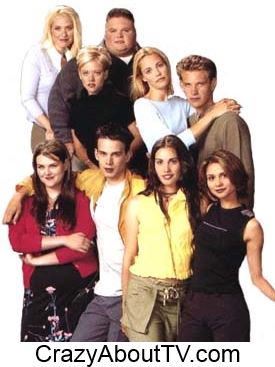 Series Description
The Popular TV show was a 60 minute drama series on the WB Network (now the CW Network) two young women who were exact opposites and didn't care much for each other who found themselves forced to deal with each other when their parents decide to marry! Brooke McQueen was blonde, rich, beautiful, and popular. Sam McPherson was brunette, middle-class, not as attractive, and not with the "in" crowd. Going to the same school and living under the same roof with someone you can't "stomach" can be quite the challenge!
Popular Cast
Leslie Bibb .... Brooke McQueen
Carly Pope .... Samantha "Sam" McPherson
Christopher Gorham .... Harrison John
Bryce Johnson .... Josh Ford
Tamara Mello .... Lily Esposito
Sara Rue .... Carmen Ferrara
Tammy Lynn Michaels .... Nicole Julian
Ron Lester .... Michael "Sugar Daddy" Bernardino
Leslie Grossman .... Mary Cherry
Scott Bryce .... Mike McQueen
Lisa Darr .... Jane McPherson
Diane Delano .... Miss Roberta "Bobbi" Glass / Nurse Jessi Glass / Rock Glass / Uncle Tipton
Popular Trivia
Leslie Bibb got her big break when she entered a model search on "The Opray Winfrey Show". She won the contest and immediately got modelling jobs, magazine covers, and parts on soap operas and commercials! She is very appreciative of what Oprah did for her and has told her so.
Christopher Gorham has gone on to several starring roles on other TV series including "Jake 2.0", "Medical Investigation", and "Out of Practice".
Do you remember Tamara Mello as "Rachel" on the series, "Nothing Sacred".
Carly Pope graduated from high school in Vancouver, Canada. Within six months, she left for Hollywood. She immediately auditioned for the role of Liz Parker on the series, "Roswell" and didn't get it. Then she auditioned the role of Brooke McQueen on the Popular TV show and didn't get that either. Luckily, she did get the role as Sam McPherson.
Brooke and Sam's bathroom was called, "The Novak". That was a reference to actress Kim Novak. You see ... there was a time when it was kind of an "in" thing for movie stars to donate money to a school. The Popular TV show's writers discovered that Kim Novak had donated money to a school in the area where the show takes place (Santa Monica), so they nicknamed the room in her honor.
Tamara Mello auditioned for the role as Sam McPherson and lost it to Carly Pope, but she too was fortunate and picked to play Lily Esposito.
Bryce Johnson did not portray Josh Ford in Popular's pilot episode. That role was played by Kip Pardue.
Popular's producers were not told that the show would be canceled until the last moment. In fact, they claim that the WB told them to do cliffhanger episodes, so they did. Then Popular got canceled with loose ends that would have been wrapped up in a third season.
Episodes List With Original Air Dates
Popular - Season 1
1... The Phantom Menace (9/29/1999)
2... Mo' Menace, Mo' Problems (9/30/1999)
3... Under Siege (10/7/1999)
4... Windstruck (10/14/1999)
5... Slumber Party Massacre (10/21/1999)
6... Truth Or Consequences (11/4/1999)
7... Queen B (11/11/1999)
8... Tonight's The Night (11/18/1999)
9... Wild Wild Mess (12/2/1999)
10. Fall On Your Knees (12/9/1999)
11. Ex, Lies And Videotapes (1/13/2000)
12. The Trial Of Emory Dick (1/20/2000)
13. Hope In A Jar (1/27/2000)
14. Caged! (2/3/2000)
15. Booty Camp (2/10/2000)
16. All About Adam (2/17/2000)
17. Lord Of The Flies (2/24/2000)
18. Ch-Ch-Changes (4/20/2000)
19. Hard On The Outside, Soft In The Middle (4/27/2000)
20. We Are Family (5/4/2000)
21. What Makes Sammy Run (5/11/2000)
22. Two Weddings And A Funeral (5/18/2000)
Popular - Season 2
23. Timber! (9/22/2000)
24. Baby, Don't Do It (9/29/2000)
25. Citizen Shame (10/6/2000)
26. The Sweetest Taboo (10/13/2000)
27. Joe Loves Mary Cherry (10/20/2000)
28. Style And Substance Abuse (11/3/2000)
29. Ur-Ine Trouble (11/10/2000)
30. Misery Loathes Company (11/17/2000)
31. Baby, Don't Do It (11/24/2000)
32. Are You There God, It's Me, Ann-Margret? (12/8/2000)
33. The Consequences Of Falling (12/15/2000)
34. Fire In The Hole (1/19/2001)
35. The Shocking Possession Of Harrison John (1/26/2001)
36. Mary Charity (2/2/2001)
37. The News Of My Death Has Been Greatly Exaggerated (2/23/2001)
38. It's Greek To Me (3/2/2001)
39. Fag (3/9/2001)
40. Coup (3/16/2001)
41. The Brain Game (4/27/2001)
42. I Know What You Did Last Spring Break! (5/4/2001)
43. You Don't Tug On Superman's Cape... (5/11/2001)
44. Promblems (5/18/2001)
Find Thousands of
Your Favorite
Shows

By Starting Letter
A B C D E F G
H I J K L M N
O P Q R S T U
V W X Y Z
Thank you for visiting our Popular TV show page!
Copyright © 1997-Present CrazyAboutTV.com
All rights reserved