Search CrazyAboutTV for your
favorite show or your
favorite star!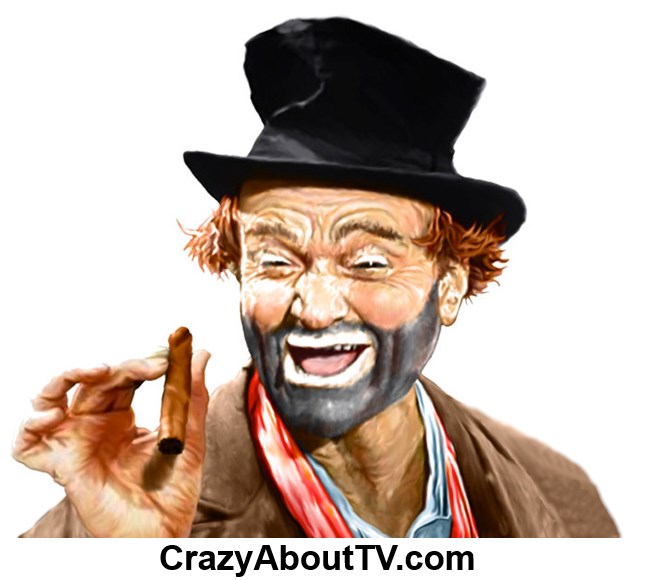 Series Description
The Red Skelton show was a 60 minute comedy series that aired on NBC from 1951-1953, then on CBS from 1953-1970, and finally back to NBC for its final 1970-1971 season. The series featured slapstick and other types of comedy skits. Red Skelton also often had well-known guest stars appear on the show who participated with him in the skits.
Red Skelton Show Cast
Red Skelton played numerous roles including Freddie the Freeloader (Hobo), Clem Kadiddlehopper (Country Bumpkin), San Fernando Red (Con Man),Cauliflower McPugg (Boxer), George Appleby (Henpecked Husband), Willie Lump Lump (Drunk), Sheriff Deadeye and Forsooth (Mediaeval Peasant).
Red Skelton Show Trivia
The series was officially titled, "The Red Skelton Show" from 1951-1961 and in 1970 when it was 30 minutes in length. The official title was, "The Red Skelton Hour" from 1962-1969 when it was one hour in length. Fans generally just called it "The Red Skelton Show" regardless of the year.
Comedy writers generally disliked Red Skelton and it's understandable why. Red felt that he should write all of his material himself. He felt that he knew his characters better than any other writer and would, therefore, come up with better material. CBS did not agree, probably due to the time constraints on putting together a weekly series. One man just can't do everything (in their opinion). Before famed comedy writer Sherwood Schwarz would agree to become the head writer for the Red Skelton show, he insisted that a clause be added to his contract that prohibited Red Skelton from discussing scripts with him until he had finished them and handed them in to the production staff. If you've ever seen Red Skelton say, "Don't blame me, folks, I don't write this stuff" on his show, it's because he often hadn't seen the material until almost time to go on the air! Schwartz and his staff did fine though. In 1961, they won an emmy for "Outstanding Writing Achievement in Comedy" and got nominated again in 1962 (but beaten by Carl Reiner for the Dick Van Dyke Show)!
There was also a Red Skelton Show on the radio from 1941 through 1953!
A very young Johnny Carson (The Tonight Show) was one of the writers on Sherwood Schwarz's staff!
The Red Skelton Show also won an Emmy in 1952 for "Best Comedy Show" and a Golden Globe in 1959 for "Best TV Show"!
The legendary movie and television horror star, "Vincent Price" guest-starred on the Red Skelton show eleven times!
Other than Red Skelton's huge talent, another reason for the huge success of the series was its never-ending list of famous guest stars! Some of them included Jack Benny (Jack Benny Show), Raymond Burr (Perry Mason), Bob Crane (Hogan's Heroes), Bing Crosby (Bing Crosby Show), June Lockhart (Lassie & Lost In Space), Mickey Rooney (Mickey Rooney Show), Ed Sullivan (Ed Sullivan Show), Vivian Vance (I Love Lucy), Nancy Walker (Mary Tyler Moore Show), and many more plus numerous movie stars.
In the final comedy sketch of most episodes, Red Skelton would perform mute. The only noises were sound effects and the audience's laughter and applause. Only one guest star (Groucho Marx) ever appeared during that sketch. For several decades, the audio from those Red Skelton Show segments was used as the laugh track for most other TV comedies and it is sometimes used to this day!
Red Skelton ended every show with the words, "Good night, and may God bless".
Find Thousands of
Your Favorite
Shows

By Starting Letter
A B C D E F G
H I J K L M N
O P Q R S T U
V W X Y Z
Thank you for visiting our Red Skelton Show page!
Copyright © 1997-Present CrazyAboutTV.com
All rights reserved