Saved By The Bell: The New Class
Search CrazyAboutTV for your
favorite show or your
favorite star!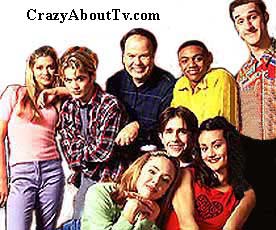 Series Description
Saved By The Bell: The New Class was a 30 minute teen comedy series on NBC and a continuation of the original "Saved By the Bell" with a new class of characters to replace the originals that had become a little too old to accept as high school students. Otherwise, it was pretty much the same successfull storyline. High School students doing what High School Students do! Interacting with peers, teachers, parents and generally having fun while learning what "nearly" adult life is all about.
The New Class Cast
Dustin Diamond .... Screech Powers
Dennis Haskins .... Mr. Richard Belding
Jonathan Angel .... Tommy "D" De Luca
Bianca Lawson .... Megan Jones
Natalia Cigliuti .... Lindsay Warner
Bonnie Russavage .... Vicki Needleman
Robert Sutherland Telfer .... Scott Erikson
Clare Salstrom .... Alison Harrington
Sarah Lancaster .... Rachel Meyers
Isaac Lidsky .... Barton "Weasel" Wyzell
Frank Bonner .... Mr. Edward P. Harrington
Christian Oliver .... Brian Keller
Samantha Becker .... Maria Lopez
Ashley Lyn Cafagna .... Liz Miller
Richard Lee Jackson .... Ryan Parker
Tom Huntington .... Tony Dillon
Salim Grant .... R.J. "Hollywood" Collins
Lindsey McKeon .... Katie Peterson
Ben Gould .... Nicky Farina
Anthony Harrell .... Eric Little
The New Class Trivia
Only three days after the first episode of "The New Class" aired, the first episode of "Saved By The Bell: The College Years" was broadcast! That series only lasted one season but for a while viewers had their choice of the new class series or the original cast in college.
Believe it or not, Screech played the part of a teacher on New Class! Imagine that!
When Dustin Diamond first started portraying "Screech" on the series, "Good Morning, Miss Bliss", his character on the show was in the eighth grade while Dustin was, in real life, only in the fifth grade. He is left-handed and is "into" chess and computers. He once worked as a live Maniquin at a store.
Dennis Haskins started his career in show business as an agent and concert promoter. He actually represented "Tom Jones" and "Greg Allman"! He also wrote a book for actors titled, "Rating the Agents". He appeared in guest roles on numerous TV series during the eighties and once before gaining celebrity, he appeared as a contestant on the TV game show, "Scrabble". He had previously also appeared on the two series preceding this one titled, "Good Morning Miss Bliss" and "Saved By The Bell".
Jonathan Angel's father is Joe Angel, the Florida Marlins baseball team's announcer. Jonathan plays softball, basketball and golf. He occasionally plays in celebrity golf tournaments.
Natalia Cigliuti appeared on the first episode of "New Class" but did not become a regular cast member until the second season. Her nickname is "Tali". Her parents are from Uruguay and she speaks their native tongue (Spanish) fluently. Her career began doing TV commercials and through several appearances on the show, "Unsolved Mysteries". Bianca Lawson was offered the part of "Cordelia" on the series, "Buffy The Vampire Slayer" but had to turn it down as she had already signed a contract to do, "Goode Behavior". Well, it worked out good for Charisma Carpenter, didn't it!
Sarah Lancaster also guest-starred on the show before becoming a regular cast member. She loves to travel. Maybe that's partially due to her early years. She was born in Kansas, moved to Virginia at age 4 and to California at age 8! She has over 8 years of dance training and has danced professionally at Caesar's Palace in Las Vegas and elsewhere. She has also worked as a model.
Samantha Becker must have known that she wanted to be a performer at a very early age. She graduated from model school at 10 years old. After that she did some TV commercials and performed on stage. She went to high school at the San Diego School of Creative and Performing Arts. She has also sang in 15 USO shows.
Richard Lee Jackson became interested in acting after a trip to Universal Studios at the age of 12. Soon thereafter, he started acting in local theaters in Portland, Oregon and did some modelling, TV commercials and guest-starred on various TV shows. He also directs videos and plays the drums in a band with his brother, father and uncle. The band was called "Scarlet Road" and later changed to "Scarlet River". They actually have released two albums called, "God Candy" and "Clash".
Note: Visit our other Saved By The Bell Pages for additional trivia! We have Saved By The Bell Original Series Trivia and Saved By The Bell College Years Trivia! The origninal series page also contains theme song lyrics!
Episodes List With Original Air Dates
Season 1

The Date Lottery (9/11/1993)
The Slumber Party (9/18/1993)
A Kicking Weasel (9/25/1993)
Home Shopping (10/2/1993)
Love Is on the Air (10/9/1993)
George Washington Kissed Here (10/16/1993)
Homecoming King (10/23/1993)
Belding's Baby (10/30/1993)
Good-bye Megan (11/6/1993)
Swap Meet (11/13/1993)
Weasel Love (11/20/1993)
Tommy A (11/27/1993)
Running the Max (12/4/1993)
Season 2
The Return of Screech (9/10/1994)
All Play and No Work (9/10/1994)
Let the Games Begin (9/17/1994)
Bloody Money (9/17/1994)
Squash It (9/24/1994)
Brian's Girlfriend (9/24/1994)
The People's Choice (10/1/1994)
Rachel's Choice (10/1/1994)
Belding's Prank (10/8/1994)
A Matter of Trust (10/8/1994)
Tommy the Tenor (10/15/1994)
Christmas in July (10/15/1994)
Bayside Story (10/22/1994)
Farewell Dance (10/22/1994)
A Perfect Lindsay (10/29/1994)
Back at the Ranch (10/29/1994)
Wanna Bet? (11/5/1994)
Breaking Up (11/12/1994)
The Class of 2020 (11/19/1994)
Drinking 101 (11/19/1994)
Feuding Friends (11/26/1994)
To Cheat or Not to Cheat (12/3/1994)
The D Stands for Dropout (12/10/1994)
Goodbye Bayside - Part 1 (12/24/1994)
Belding's Prize (12/31/1994)
Goodbye Bayside - Part 2 (12/31/1994)
Season 3
Welcome to Bayside (9/9/1995)
The Love Bugs (9/9/1995)
Driving School (9/16/1995)
What's the Problem (9/16/1995)
Air Screech (9/30/1995)
Big Screech on Campus (9/30/1995)
Maria's Movie Star (10/7/1995)
Acting Jealous (10/7/1995)
Boundaries (10/14/1995)
Hollywood, Here He Is (10/14/1995)
Ryan's Worst Nightmare (10/21/1995)
Prom Dates (10/21/1995)
Thomas D. (10/28/1995)
Fear of Falling (10/28/1995)
The Principal's Principles (11/4/1995)
Screech's Millions (11/4/1995)
My Best Friends (11/11/1995)
Lindsay's Dilemma (11/11/1995)
Screech's Dream (11/18/1995)
R.J.'s Handicap (11/18/1995)
Casino ID's (11/25/1995)
Green Card (11/25/1995)
No Smoking (12/2/1995)
The Fallout (12/2/1995)
The Christmas Gift (12/9/1995)
New Year's Resolution (12/9/1995)
Season 4
Oh, Brother (9/7/1996)
Unequal Opportunity (9/7/1996)
Backstage Pass (9/14/1996)
Baby Care (9/14/1996)
The Tall and the Short of It (9/21/1996)
Little Hero (9/21/1996)
Student Court (9/28/1996)
Fall Formal (9/28/1996)
Wrestling with Failure (10/5/1996)
To Tell the Truth (10/5/1996)
Renaissance Faire (10/12/1996)
The Last to Know (10/12/1996)
The Final Curtain (10/19/1996)
Hospital Blues (10/19/1996)
Trash TV (10/26/1996)
Karate Kids (10/26/1996)
Vote Screech (11/2/1996)
Campaign Fever (11/2/1996)
The Wrong Stuff (11/9/1996)
Science Fair (11/9/1996)
The Fifth Wheel (11/16/1996)
The Kiss (11/16/1996)
Balancing Act (11/23/1996)
Stealing Screech (11/23/1996)
Fire at the Max - Part 1 (12/14/1996)
Fire at the Max - Part 2 (12/14/1996)
Season 5
Desperately Seeking Work (9/13/1997)
Suddenly Ryan (9/13/1997)
It's Not About Winning (9/20/1997)
Football & Physics (9/20/1997)
Highs and Lows (9/27/1997)
Letting Go (9/27/1997)
The Great Stain Robbery (10/4/1997)
Boy II Man (10/4/1997)
Big Sister Blues (10/11/1997)
Her Brother's Keeper (10/11/1997)
Friends Behaving Badly (10/18/1997)
Secrets & Liz (10/18/1997)
A Tale of Two Siblings (10/25/1997)
Liz's Choice (10/25/1997)
State Champs (11/1/1997)
Screech and the Substitute (11/1/1997)
Love, Bayside Style (11/8/1997)
Foreign Behavior (11/8/1997)
Thanks for Giving (11/15/1997)
Foreign Affairs (11/15/1997)
Putting up Walls (11/22/1997)
Goodbye Paris (11/22/1997)
Private Peterson (11/29/1997)
Into the Woods (11/29/1997)
Mission: Control (12/6/1997)
Forget and Forgive (12/6/1997)
Season 6
Maria's Revenge (9/12/1998)
Do the Write Thing (9/19/1998)
The Lyin' King (9/26/1998)
The Young and the Sleepless (10/3/1998)
Cigar Wars (10/10/1998)
Win, Lose or Cheat (10/17/1998)
Hands Off (10/24/1998)
Guess Who's Running the Max (10/31/1998)
Mind Games (11/7/1998)
Free for All (11/14/1998)
Loser (11/21/1998)
Bye-Bye Tony (11/28/1998)
Seasons Greed-ings (12/5/1998)
Season 7
Show Me the Money (9/11/1999)
Prescription for Trouble (9/18/1999)
ME TV (10/2/1999)
The Captain and Maria (10/9/1999)
Liz Burns Eric (10/16/1999)
The X-Friends Files (10/23/1999)
Don't Follow the Leader (10/30/1999)
A Mall Shook Up (11/7/1999)
Party Animals (11/13/1999)
The Last Prom (11/20/1999)
Mr. B. Goes to College (11/27/1999)
The Bell Tolls (12/4/1999)
A Repair to Remember (1/8/2000)
Find Thousands of
Your Favorite
Shows

By Starting Letter
A B C D E F G
H I J K L M N
O P Q R S T U
V W X Y Z
Thank you for visiting our Saved By The Bell: The New Class page!
Copyright © 1997-Present CrazyAboutTV.com
All rights reserved