Search CrazyAboutTV for your
favorite show or your
favorite star!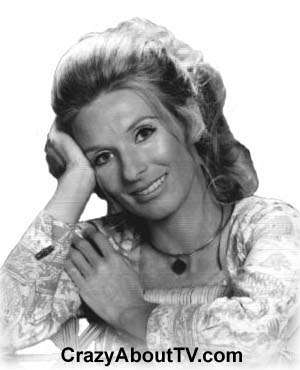 Series Description
The Phyllis TV show was a 30 minute comedy series on CBS about a woman (Phyllis) who moved from Minneapolis, Minnesota to her hometown of San Francisco, California after her husband suddenly died. She and her teenage daughter (Bess) moved in with Phyllis' ditsy mother-in-law and her second husband who was a Judge. Phyllis got a job as an assistant to the CEO of a photography studio. Then in the second season she got a job as a secretary for the San Francisco Board of Supervisors.
Phyllis Cast
Cloris Leachman .... Phyllis Lindstrom
Jane Rose .... Audrey Dexter
Henry Jones .... Judge Jonathan Dexter
Lisa Gerritsen .... Bess Lindstrom
Judith Lowry .... Sally "Mother" Dexter
Richard Schaal .... Leo Heatherton (1975-1976)
Barbara Colby .... Julie Erskine #1 (Episodes 1-3)
Liz Torres .... Julie Erskine #2 (Episodes 4-48)
John Lawlor .... Leonard Marsh (1976-1977)
Garn Stephens .... Harriet Hastings (1976-1977)
Carmine Caridi .... Dan Valenti (1976-1977)
Burt Mustin .... Arthur Lanson (1976)
Theme Song
Title: "Phyllis Theme"
Composed by: "Dick DeBenedictis"
Who makes the fog surrounding the Golden Gate simply disappear?
Phyllis, Phyllis.
Who makes the warning bells on the cable cars play "The Gangs All Here"?
Phyllis, Phyllis.
Who charms the crabs at Fisherman's Wharf right out of their shells?
Who lights the lamps of Chinatown just by walking in view? ... Who?
Phyllis! Phyllis! Phyllis! It sure isn't you!
Phyllis Trivia
The Phyllis TV show was a "spin-off series" of "The Mary Tyler Moore Show". Cloris Leachman's character, "Phyllis" was a regular character on that series playing the part of Mary Richards' close friend and Landlady (played by Mary Tyler Moore).
Phyllis was the second of three Mary Tyler Moore Show spin-offs. Before Phyllis there was "Rhoda" starring another former friend of Mary's and "Lou Grant" was the other spin-off that began the season after Phyllis ended and it featured the character that had been Mary's boss.
Mary Richards visited Phyllis in San Francisco on two episodes when Mary Tyler Moore guest-starred on episodes #5, "The First Day" and episode #26, "You're Not Getting Any Better, Just Older".
Cloris Leachman also guest-starred on the Mary Tyler Moore show on its final episode. Hopefully, she enjoyed working again with her former Cast because, unfortunately, the Phyllis TV show had been canceled that same week!
Cloris Leachman won an Emmy for her role as Phllis Lindstrom while she was on the Mary Tyler Moore show!
Richard Schaal played the role of Leo Heatherton, a photographer who worked with Phyllis during the first season. Richard had also guest-starred many times on the Mary Tyler Moore show. He was also the real-life husband to Valerie Harper (who played Rhoda Morgenstern on both the Mary Tyler Moore show and on Rhoda).
The Phyllis TV show did quite well during its first season. It was the sixth highest rated series on television! For some reason, however, ratings fell substantially in the second season causing CBS to cancel the series.
One reason that Phyllis' ratings dropped was that NBC put the hit series, "Little House on the Prairie" in Phyllis' time slot for its second season. During Phyllis' first season, NBC aired "The Invisible Man" which was no where near as popular as Little House.
Phyllis' husband Lars was mentioned many times on the Mary Tyler Moore show but he was never seen.
Cloris Leachman won a Golden Globe Award in 1976 in the category, "Best TV Actress - Musical/Comedy". Among others, she beat fellow nominee Mary Tyler Moore for that award. Don't feel too bad for Mary, however, as she won the Emmy that same year for "Outstanding Lead Actress in a Comedy" by defeating fellow nominee, Cloris Leachman! You can be sure that they were both happy for each other!
The opening credits of Phyllis were very similar to those on the Mary Tyler Moore show where Mary is shown in numerous locations in Minneapolis. In Phyllis' case, she's seen in many spots in San Francisco.
Episodes List With Original Air Dates
Season 1

Pilot Episode (9/11/1975)
Bess, Is You a Woman Now? (9/18/1975)
Up for Grabs (9/22/1975)
Leaving Home (9/23/1975)
The First Day (9/30/1975)
Phyllis Takes Piano Lessons (10/7/1975)
Phyllis' Garage Sale (10/14/1975)
The First Date (10/27/1975)
All Together Now (10/30/1975)
Audrey Leaves Jonathan (11/6/1975)
Phyllis Opens Julie's Heart (11/17/1975)
So Lonely I Could Cry (11/24/1975)
Phyllis and The Little People (12/1/1975)
There's No Business Like No Business (12/8/1975)
Paging Dr. Lindstrom (12/22/1975)
The $17,623,419.53 Man (1/5/1976)
Honor Thy Mother Dexter (1/12/1976)
Phyllis In Love (1/19/1976)
Crazy Mama (1/26/1976)
A Man, a Woman, and Another Woman (2/2/1976)
Leo's Suicide (2/9/1976)
Sonny Boy (2/16/1976)
Widows, Merry and Otherwise (2/23/1976)
The Triangle (3/1/1976)
Season 2
The New Job (9/20/1976)
You're Not Getting Any Better, Just Older (9/27/1976)
Speech 1A (10/4/1976)
Off The Bench (10/11/1976)
Boss or Buddy, or Both, or Neither (10/18/1976)
Phyllis Cries Wolf (10/25/1976)
Out of The Closet (11/1/1976)
The Wrong Box (11/8/1976)
Phyllis and The Jumper (11/15/1976)
Mother Dexter Cohabitates (11/22/1976)
Mother Dexter's Wedding (12/6/1976)
Bess Airs Her Views (12/20/1976)
The Christmas Party (12/27/1976)
Phyllis Runs the Office (1/3/1977)
The Threat (1/10/1977)
Taking a Chance On Chance (1/16/1977)
Leonard and The Bribe (1/23/1977)
Broken-Hearted Bess (1/30/1977)
I Am Beautiful (2/6/1977)
Dan's Ex (2/13/1977)
Audrey's New Life (2/20/1977)
The Elopement (2/27/1977)
The Apartment (3/6/1977)
And Baby Makes Six (3/13/1977)
Find Thousands of
Your Favorite
Shows

By Starting Letter
A B C D E F G
H I J K L M N
O P Q R S T U
V W X Y Z
Thank you for visiting our Phyllis TV show page!
Copyright © 1997-Present CrazyAboutTV.com
All rights reserved