Search CrazyAboutTV for your
favorite show or your
favorite star!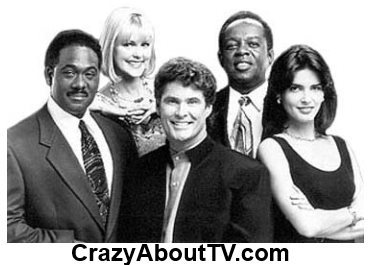 NOTE: Don't forget to check out our, "Baywatch" and "Baywatch Hawaii" pages!
Series Description
The Baywatch Nights TV show was a 60 minute syndicated drama series that was a "spin off" of the much more successful series, "Baywatch". On this show Mitch Buchannon continued to lead his crew of lifeguards during the day but at night he worked as a private detective, solving crimes that were typically commited at the beach.
Baywatch Nights Cast
David Hasselhoff .... Mitch Buchannon
Angie Harmon .... Ryan McBride
Gregory Alan Williams .... Garner Ellerbee
Lou Rawls .... Lou Raymond
Lisa Stahl .... Destiny
Donna D'Errico .... Donna Marco
Dorian Gregory .... Diamont Teague
Eddie Cibrian .... Griff Walker
Find Thousands of
Your Favorite
Shows

By Starting Letter
A B C D E F G
H I J K L M N
O P Q R S T U
V W X Y Z
Thank you for visiting our Baywatch Nights page!
Copyright © 1997-Present CrazyAboutTV.com
All rights reserved