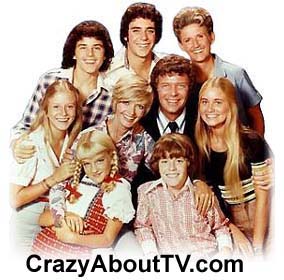 You may also want to check out these other "Brady" TV series' pages: "The Brady Kids (1972 - Animated)", "The Brady Bunch Variety Hour (1977)", "The Brady Brides (1981)", and "The Bradys (1990)".
Series Description
The Brady Bunch was a 30 minute family comedy series on ABC about a lonely man and woman who fell in love and decided to marry. There was just one little problem. The lady had three girls and the man had three boys! Just do the math and you'll see the potential for problems. Eight humans living in one house with six of them boys and girls who are constantly annoyed by kids of the opposite sex ... well ... you get it! Despite those difficulties, they band together as best as could be expected and become "The Brady Bunch"!
The Brady Bunch Cast
Robert Reed .... Mike Brady
Florence Henderson .... Carol Brady
Barry Williams .... Greg Brady
Maureen McCormick .... Marcia Brady
Ann B. Davis .... Alice Nelson
Eve Plumb .... Jan Brady
Christopher Knight .... Peter Brady
Susan Olsen .... Cindy Brady
Mike Lookinland .... Bobby Brady
The Brady Bunch Theme
Title: "The Brady Bunch"
By: Frank DeVol and Sherwood Schwartz
Here's the story of a lovely lady,
Who was bringing up three very lovely girls.
All of them had hair of gold, like their mother,
The youngest one in curls.

Here's the story, of a man named Brady,
Who was busy with three boys of his own.
They were four men, living all together,
Yet they were all alone.

Till the one day when the lady met this fellow,
And they knew that it was much more than a hunch.
That this group would somehow form a family.
That's the way we all became the Brady Bunch.
The Brady Bunch, The Brady Bunch.
That's the way we became the Brady Bunch.
The Brady Bunch Trivia
Oscar-winning actor "Gene Hackman" was in the running for the role as "daddy", Mike Brady. It's hard to imagine today but, in 1969, the producers felt that they wanted someone that the audience would be familiar with and Gene just wasn't that well known yet!
Robert Reed and Florence Henderson were already stars in their own right when cast for the Brady Bunch. They were extremely gifted singers, actors, and dancers but with little experience with comedy. Robert Reed accepted his role reluctantly, probably due mostly to the size of the paycheck he was offered. Very few people expected the Brady Bunch TV show to last very long. When it was renewed for a 2nd, 3rd, 4th, and 5th season, Reed became increasingly unhappy playing his funny man role.
Both Reed and Henderson were happy when the Brady Bunch resulted in a "spinoff series" titled, "The Brady Bunch Hour". It was a musical variety series that allowed them to showcase their singing and dancing skills! Unfortunately, all of the Brady kid actors and actresses absolutely hated the show! They didn't have to suffer long as that series only survived eight episodes.
Barry Williams (Greg Brady) quickly became a teen heartthrob. By the end of the second season, he was getting 6,500 fan letter per week, mostly from teenage girls! Maureen McCormick (Marcia Brady) also became very popular with teenage boys and many young girls wanted to be strong and confident just like Marcia.
The Brady Bunch was a perfect example of how child actors find it very difficult to transition into new "older" roles as they age. Despite the huge popularity of the Brady Bunch, not one of the child actors was able to establish a significant career as an adult actor! To make matters even worse, not even either of the two Brady "spinoff series" where they played older versions of their original roles lasted more than ten episodes!
Brady Bunch fans often saw a barbecue grill in the Brady's backyard. They only actually fired it up once in episode #63 titled, "Do Re Mi".
Maureen McCormick started in show business at the young age of six as a result of winning the "Baby Miss San Fernando Valley" beauty pageant. She then starred in many commercials including Mattel and Kool-Aid. She also got small roles on early episodes of "Bewitched" and "My Three Sons" and finally, the starring role as Marcia Brady on The Brady Bunch!
The Brady Bunch obviously needed a large home to hold eight people! Their house had ten rooms plus an attic which was huge for the 1970s! There were four bedrooms and just two bathrooms.
Eleven years before Christopher Knight played Peter Brady on the Brady Bunch TV show, Tim Turner played the lead role on The Invisible Man TV Show. The Invisible Man's name was Dr. Peter Brady.
It was not easy for the kids to land roles on the Brady Bunch! A total of 464 young actors and actresses auditioned for those six roles!
Nearly every TV series makes a few blunders and the Brady Bunch TV show was no exception. On one episode, Alice walked through the back door in the Bradys' kitchen and she was in her room. On another episode, that door led to the laundry room. In yet a third episode, it led to the backyard!
Episodes List With Original Air Dates
The Brady Bunch Season 1
1... The Honeymoon (9/26/1969)
2... Dear Libby (10/3/1969)
3... Eenie, Meenie, Mommy, Daddy (10/10/1969)
4... Alice Doesn't Live Here Anymore (10/17/1969)
5... Katchoo (10/24/1969)
6... A Clubhouse is Not a Home (10/31/1969)
7... Kitty Karry-All is Missing (11/7/1969)
8... A-Camping We Will Go (11/14/1969)
9... Sorry, Right Number (11/21/1969)
10. Every Boy Does It Once (12/5/1969)
11. Vote for Brady (12/12/1969)
12. The Voice of Christmas (12/19/1969)
13. Is There a Doctor In The House? (12/26/1969)
14. Father of the Year (1/2/1970)
15. 54-40 and Fight (1/9/1970)
16. Mike's Horror-Scope (1/16/1970)
17. The Undergraduate (1/23/1970)
18. Tiger! Tiger! (1/30/1970)
19. The Big Sprain (2/6/1970)
20. Brace Yourself (2/13/1970)
21. The Hero (2/20/1970)
22. The Possible Dream (2/27/1970)
23. To Move or Not to Move (3/6/1970)
24. The Grass is Always Greener (3/13/1970)
25. Lost Locket, Found Locket (3/20/1970)
The Brady Bunch Season 2
26. The Dropout (9/25/1970)
27. The Babysitters (10/2/1970)
28. The Slumber Caper (10/9/1970)
29. The Un-Underground Movie (10/16/1970)
30. Going, Going, Steady (10/23/1970)
31. Call Me Irresponsible (10/30/1970)
32. The Treasure of Sierra Avenue (11/6/1970)
33. A Fistful of Reasons (11/13/1970)
34. The Not-So-Ugly Duckling (11/20/1970)
35. The Tattletale (12/4/1970)
36. What Goes Up... (12/11/1970)
37. Confessions, Confessions (12/18/1970)
38. Where There's Smoke (1/8/1971)
39. Will The Real Jan Brady Please Stand Up? (1/15/1971)
40. The Drummer Boy (1/22/1971)
41. Coming Out Party (1/29/1971)
42. Our Son, The Man (2/5/1971)
43. Lights Out (2/19/1971)
44. The Winner (2/26/1971)
45. Double Parked (3/5/1971)
46. Alice's (9/Song (3/12/1971)
47. Tell It Like It Is (3/26/1971)
The Brady Bunch Third Season
48. Ghost Town USA (9/17/1971)
49. Grand Canyon or Bust (9/24/1971)
50. The Brady Braves (10/1/1971)
51. The Wheeler Dealer (10/8/1971)
52. My Sister Benedict Arnold (10/15/1971)
53. The Personality Kid (10/22/1971)
54. Juliet is the Sun (10/29/1971)
55. And Now a Word From Our Sponsor (11/5/1971)
56. The Private Ear (11/12/1971)
57. Her Sister's Shadow (11/19/1971)
58. Click (11/26/1971)
59. Getting Davy Jones (12/10/1971)
60. The Not-So-Rose-Colored Glasses (12/24/1971)
61. The Teeter-Totter Caper (12/31/1971)
62. Little Big Man (1/7/1972)
63. Dough Re Mi (1/14/1972)
64. Jan's Aunt Jenny (1/21/1972)
65. The Big Bet (1/28/1972)
66. The Power of the Press (2/4/1972)
67. Sergeant Emma (2/11/1972)
68. Cindy Brady, Lady (2/18/1972)
69. My Fair Opponent (3/3/1972)
70. The Fender Benders (3/10/1972)
The Brady Bunch Fourth Season
71. Hawaii Bound (9/22/1972)
72. Pass the Tabu (9/29/1972)
73. The Tiki Caves (10/6/1972)
74. Today I am A Freshman (10/13/1972)
75. Cyrano De Brady (10/20/1972)
76. Fright Night (10/27/1972)
77. The Show Must Go On?? (11/3/1972)
78. Jan, the Only Child (11/10/1972)
79. Career Fever (11/17/1972)
80. Goodbye, Alice, Hello (11/24/1972)
81. Greg's Triangle (12/8/1972)
82. Everyone Can't Be George Washington (12/22/1972)
83. Love and the Older Man (1/5/1973)
84. Law and Disorder (1/12/1973)
85. Greg Gets Grounded (1/19/1973)
86. Amateur Nite (1/26/1973)
87. Bobby's Hero (2/2/1973)
88. The Subject Was Noses (2/9/1973)
89. How to Succeed in Business? (2/23/1973)
90. The Great Earring Caper (3/2/1973)
91. You're Never Too Old (3/9/1973)
92. You Can't Win 'Em All (3/16/1973)
93. A Room at the Top (3/23/1973)
The Brady Bunch Fifth Season
94. Adios, Johnny Bravo (9/14/1973)
95. Mail Order Hero (9/21/1973)
96. Snow White and the Seven Bradys (9/28/1973)
97. Never Too Young (10/5/1973)
98. Peter and the Wolf (10/12/1973)
99. Getting Greg's Goat (10/19/1973)
100. Marcia Gets Creamed (10/26/1973)
101. My Brother's Keeper (11/2/1973)
102. Quarterback Sneak (11/9/1973)
103. Try, Try Again (11/16/1973)
104. The Cincinnati Kids (11/23/1973)
105. The Elopement (12/7/1973)
106. Miss Popularity (12/21/1973)
107. Kelly's Kids (1/4/1974)
108. The Driver's Seat (1/11/1974)
109. Out of This World (1/18/1974)
110. Welcome Aboard (1/25/1974)
111. Two Pete's in a Pod (2/8/1974)
112. Top Secret (2/15/1974)
113. The Snooperstar (2/22/1974)
114. The Hustler (3/1/1974)
115. The Hair-Brained Scheme (3/8/1974)
Find Your Favorite Shows From Our List Of Thousands!
Thank you for visiting our The Brady Bunch page!
Copyright © 1997-Present CrazyAboutTV.com
All rights reserved