Search CrazyAboutTV for your
favorite show or your
favorite star!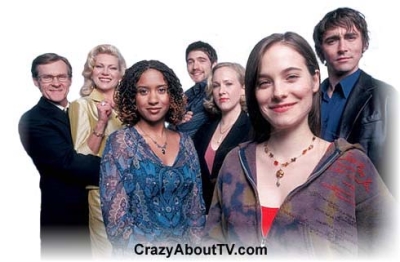 Series Description
Wonderfalls was a 60 minute fantasy series with a comical and dramatic twist that aired on the FOX Network. It was about a young woman who worked in a souvenir shop at Niagra Falls and got short messages from the souvenirs or anything with a "face" on it. The items became animated and gave her short messages that instructed her to do things that make no sense at all! They claimed that the results of her not obeying their commands would be disasterous! Of course, she is the only one who can see them and wonders whether or not she was crazy!
Wonderfalls Cast
Caroline Dhavernas .... Jaye Tyler
Katie Finneran .... Sharon Tyler
William Sadler .... Darrin Tyler
Tyron Leitso .... Eric Gotts
Diana Scarwid .... Karen Tyler
Lee Pace .... Aaron Tyler
Tracie Thoms .... Mahandra McGinty
Jeffrey R. Smith .... Muse
Scotch Ellis Loring .... Muse
Neil Grayston .... Alec
Ted Dykstra .... Muse
Jewel Staite .... Heidi Gotts
Toby Malone .... Muse
Kari Matchett .... Beth
Gabriel Hogan .... Thomas
Bill Lake .... Detective Sloan
Chelan Simmons .... Gretchen Speck-Horowitz
Sandra Caldwell .... Cow Creamer Muse
Tim Minear .... Muse
Morgan Drmaj .... Bellman
Bryan Hatt .... Night Cleaner
Wonderfalls Trivia
Wonderfalls was not the only title considered for the series. Among others were: "Animal Crackers", "Babble Head", "Normally Insane", "The Tchotchke Whisperer", and "What Ever Happened to Baby Jaye?". The funniest one though was "Joan of Niagara" because it was a jibe at Wonderfalls' competition on CBS, "Joan of Arcadia".
Nine episodes of the Wonderfalls TV show were produced but were not broadcast. Their titles were: "Crime Dog", "Barrel Bear", "Muffin Buffalo", "Lovesick Ass", "Safety Canary", "Lying Pig", "Cocktail Bunny", "Totem Mole", and "Caged Bird". FOX actually ran promos for "Crime Dog" and then decided to not air it!
There were two music videos of the theme song "I Wonder Why the Wonder Falls" produced with Caroline Dhavernas and some of the other main Cast singing along and dancing. They also jumped in and out of footage from the series. One of those music videos is also available on the Dvd Set.
The actress who was first hired to play Mahandra McGinty was replaced in the middle of producing the Wonderfalls pilot so several scenes that had already been shot had to be redone!
Look very closely whenever there is a shot from the souvenir shop looking out at Niagra Falls and you'll notice that you are looking at the U.S. side. Sometimes you can even see the city of Niagra Fall, New York. Problem is that the souvenir shop is supposed to be on the U.S. side! Oops!
Caroline Dhavernas had to rid herself of her French-Canadian accent in order to play the role of U.S. citizen, Jaye Tyler.
Some of the Wonderfalls' writers were used as the voices for the muses.
Episodes List With Original Air Dates
Note: A Wonderfalls pilot was produced but it was never broadcast.
The First And Only Season

Wax Lion (3/12/2004)
Karma Chameleon (3/19/2004)
Wound-Up Penguin (3/26/2004)
Pink Flamingos (4/1/2004)
Find Thousands of
Your Favorite
Shows

By Starting Letter
A B C D E F G
H I J K L M N
O P Q R S T U
V W X Y Z
Thank you for visiting our Wonderfalls TV Show page!
Copyright © 1997-Present CrazyAboutTV.com
All rights reserved