Search CrazyAboutTV for your
favorite show or your
favorite star!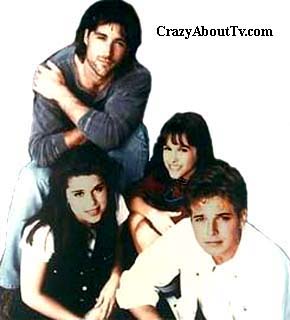 Series Description
The Party of Five TV show was a 60 minute drama series on the FOX Network about five orphaned children who decide to try to keep what remained of their family together after their parents were both killed in an auto accident. Charlie, the oldest, was appointed guardian for the other kids. At a very young age he was forced to work during the day as a carpenter and at night as a bartender in order to support his siblings. His brother Bailey did his best to help by paying the bills and taking on housekeeping chores and helped supervise the smaller kids. The older children had to deal with the increased responsibilities and the younger children had to deal with their former older siblings now taking on the role of parents.
Party of Five Cast
Jennifer Love Hewitt .... Sarah Reeves
Neve Campbell .... Julia Salinger
Scott Wolf .... Baily Salinger
Jeremy London .... Griffin Holbrook
Matthew Fox .... Charlie Salinger
Lacey Chabert .... Claudia Salinger
Wilson Cruz .... Victor
Jacob Smith .... Owen Salinger
Tamara Taylor .... Grace Wilcox
Party of Five Trivia
The title, "Party of Five" refers to the Salinger kids all eating together at their late father's restaurant as a, "party of five".
Julia became the first of the Salinger clan to get married when she eloped to Nevada with Griffin.
Jennifer Love Hewitt's brother Todd had a crush on a girl named Jennifer. That's how she picked her first (stage) name. Her mother's best friend at college was named "Love" so that became her middle name. She also has adopted "Love" as her nickname. She performed for the first time at a livestock show in her home state of Texas at the age of 3. At the age of 4, she disappeared at a restaurant-dance hall. Her mother found her on the stage singing, "Help Me Make It Through The Night". By age 5 she was taking ballet, jazz and tap dancing lessons. Soon thereafter she joined the "Texas Show Team" and toured Europe and the Soviet Union. She was discovered by talent scouts at 10 years old and they encouraged her mother to move her to Los Angeles. Almost immediately, she got a job on Disney's show, "Kids Incorporated (1984)". Like many actresses and actors, she got several television roles for series that didn't make it before she finally landed her "break-out" role on "Party of Five" when she joined the TV show in 1995. She finished high school by correspondence while taping the Party of Five TV show, and graduated in 1997. She was offered a role on the TV show, "Charmed" to replace Shannen Doherty but turned it down. She broke her finger while filming "Heartbreakers (2001)".
Party of Five created a "spin-off" series titled, "Time of Your Life" when Sarah Reeves left the Salingers in San Francisco to go to New York City where her biological mother lived. She also wanted to find her biological father who she had never met. Sarah changed her last name to her birth mother's maiden name (Merrin) for the new series.
Neve Cambell had a nervous breakdown at age 14. She lost all of her hair and claims that only acupuncture would get her hair to grow back. She has a "no nudity" clause in her contract. Neve is also her mother's maiden name.
Scott Wolf got his role on "Party of Five" after Jerry O'Connell backed out to take the lead role on the TV show, "Sliders (1995)". He has a degree in finance from George Washington University and is a member of the Alpha Epsilon Pi Fraternity.
Jeremy London won a role on the TV show, "I'll Fly Away" but couldn't take it due to conflict with another job. Then his twin brother Jason auditioned for the role and got it. They had a sister Diedre who died in an automobile accident. Jeremy was voted the "Most Talented Male" at his high school and is an avid anti-smoking advocate.
Matthew Fox attended college on a football scholarship and graduated with a degree in Economics at Columbia University and originally intended to have a career on Wall Street. His girl friend's mother was a talent agent and got him, first, some modelling jobs and after that, some television commercials. At that point, he decided to pursue acting.
Lacey Chabert was a finalist on the TV show, "Star Search" in 1991. She got her first break into show business with a cough syrup commercial. She then appeared on Broadway in, "Les Miserables" for two years. The violin music you heard Lacey play on "Party of Five" was not actually her playing, contrary to common belief. She did play the violin well enough to look convincing on screen but not quite as good as what you heard on the show. She won the title of "Miss Junior Mississippi".
Party of Five Theme Song
Title: "Closer To Free"
By: "The Bodeans"
Everybody wants to live,
Like they wanna live
and everybody wants to love
Like they wanna love
And everybody wants to be
Closer to free
Everybody wants respect,
just a little bit
And everybody needs a chance,
once in a while
Everybody wants to be
Closer to Free
Everybody one
Everybody two
everybody free
Everybody needs to touch
You know, now and then
And everybody needs
a good, good friend
Everybody wants to be
Closer to Free
I said everybody one
Everybody two
Everybody Free
Everybody wants to live
Like they wanna live
and everybody wants to love
Like they wanna love
and everybody wants to be closer to free
Yeah, closer to free
Closer to free.
Episodes List With Original Air Dates
Season 1

Pilot Episode (9/12/1994)
Homework (9/19/1994)
Good Sports (9/26/1994)
Worth Waiting For (10/3/1994)
All's Fair (10/10/1994)
Fathers And Sons (10/17/1994)
Much Ado (10/24/1994)
Kiss Me Kate (11/2/1994)
Something Out Of Nothing (11/7/1994)
Thanksgiving (11/14/1994)
Private Lies (11/21/1994)
Games People Play (11/28/1994)
Grownups (12/5/1994)
Not Fade Away (1/4/1995)
It's Not Easy Being Green (1/11/1995)
Aftershocks (1/18/1995)
In Loco Parentis (2/1/1995)
Who Cares (2/15/1995)
Brother's Keeper (2/22/1995)
The Trouble With Charlie (3/1/1995)
All-Nighters (3/8/1995)
The Ides Of March (3/15/1995)
Season 2
Ready Or Not (9/26/1995)
Falsies (10/4/1995)
Dearly Beloved (10/18/1995)
Have No Fear (10/25/1995)
Change Partners And Dance (11/1/1995)
Analogies (11/8/1995)
Where There's Smoke (11/15/1995)
Best Laid Plans (11/22/1995)
The Wedding (12/13/1995)
Grand Delusions (12/20/1995)
Unfair Advantage (1/3/1996)
Hold On Tight (1/10/1996)
Poor Substitutes (1/17/1996)
Strange Bedfellows (1/24/1996)
Benefactors (1/31/1996)
Comings And Goings (2/7/1996)
Valentine's Day (2/14/1996)
Before And After (2/21/1996)
Altered States (2/29/1996)
Happily Ever After (3/20/1996)
Spring Breaks - Parts 1 & 2 (3/27/1996)
Season 3
Summer Fun, Summer Not (8/21/1996)
Going, Going, Gone (8/28/1996)
Short Cuts (9/4/1996)
Deal With It (9/11/1996)
Mixed Signals (9/18/1996)
Going Home (9/25/1996)
Personal Demons (10/30/1996)
Season 4
What A drag (9/17/1997)
Past Imperfect (9/24/1997)
Handicaps (10/1/1997)
Zap (10/15/1997)
Fight Or Flight (10/22/1997)
Immediate Family (10/29/1997)
Positive Attitude (11/5/1997)
Sickness, Health / Richer, Poorer (11/12/1997)
Truth Be Told (11/19/1997)
Adjustments (12/3/1997)
S'Wunnerful (12/10/1997)
Empty Shoes (1/7/1998)
Parent Trap / Family Business (1/14/1998)
Of Human Bonding (1/21/1998)
Here And Now (1/28/1998)
I Give Up (2/4/1998)
Of Sound, Mind And Body (2/11/1998)
True Or False (2/25/1998)
Find Thousands of
Your Favorite
Shows

By Starting Letter
A B C D E F G
H I J K L M N
O P Q R S T U
V W X Y Z
Thank you for visiting our Party Of Five TV show page!
Copyright © 1997-Present CrazyAboutTV.com
All rights reserved