Search CrazyAboutTV for your
favorite show or your
favorite star!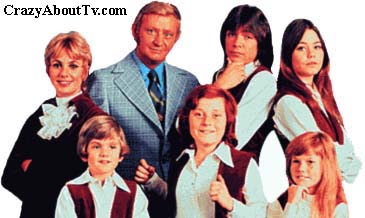 Series Description
The Partridge Family TV show was a 30 minute comedy series on ABC about a widowed mother of five kids who formed a pop music group together in order to pay the bills. Their agent who wasn't crazy about kids and would typically get involved in some aggravating situation with them. Besides the musical aspect of the series, it also involved the usual problems and solutions involving a single mom raising kids on her own.
The Partridge Family Cast
Shirley Jones .... Shirley Partridge
David Cassidy .... Keith Partridge
Susan Dey .... Laurie Partridge
Danny Bonaduce .... Danny Partridge
Brian Forster .... Chris Partridge
Jeremy Gelbwaks .... Chris Partridge
Suzanne Crough .... Tracy Partridge
Dave Madden .... Reuben Kincaid
The Partridge Family Trivia
The Partridge Family created a "spin-off" series titled, "Getting Together".
The Partridge Family would probably have continued for several more than its four season on the air except for the fact that David Cassidy would not renew his contract for a fifth season. David had become a teenage hearthrob singing megastar by that time. His worldwide concert tours and recording sessions were wearing him out when combined with the schedule involved in producing a weekly TV show. Something had to go. David was getting paid $50,000 for a concert performance and only $6,000 per episode for his role on The Partridge Family. Believe it or not, in the beginning he was only being paid $600 per episode!
Most viewers thought that the other kids on the Partridge Family also played their own instruments and many sent letters asking why the entire group didn't go on tour. David Cassidy was the only one who played his own instrument. The other kids were each given a chance to go into a recording studio and prove that they were proficient enough to play their own instruments on the show but they all failed the test. Shirley Jones was originally the only member of the cast who was supposed to do their own singing but when they tested David Cassidy, his voice passed the test!
The real-life musical family group, "The Cowsills" were the inspiration for the Partridge Family. They were also considered for the starring roles on the show, but ABC felt that the series needed a proven talent to head the series though and decided to hire Shirley Jones in the role as their mother. When the Cowsills heard that their mother, "Barbara Cowsill" was not wanted for the show, the kids refused to join the cast. That was probably best because the producers also felt that the Cowsill kids were a bit too old for the dynamic they were looking for.
The outside shots of the Partridge Family's home was the same as the one used on "Bewitched", "The Donna Reed Show", and "Til Death".
Shirley Jones was David Cassidy's mom on the show and was his step-mother in real life! David didn't even find out that Shirley had been cast to star on the series until after he was offered the role as Keith Partridge!
The Partridge Family Theme Song
Title: "C'mon Get Happy"
By: "Wes Farrell and Danny Janssen"
Hello, world, here the song that we're singin'
C'mon get happy!
A whole lot of lovin' is what we'll be bringin'
We'll make you happy!
We had a dream, we'd go travelin' together,
We'd spread a little lovin' then we'd keep movin' on.
Somethin' always happens whenever we're together
We get a happy feelin' when we're singing a song.
Trav'lin' along there's a song that we're singin'
C'mon get happy!
A Whole lot of lovin' is what we'll be bringin'
We'll make you happy!
We'll make you happy!
We'll make you happy!
Episodes List With Original Air Dates
Season 1
1... What? And Get Out Of Show Business? (9/25/1970)
2... The Sound Of Money (10/2/1970)
3... Whatever Happened To The Old Songs? (10/9/1970)
4... See Here, Private Partridge (10/16/1970)
5... When Mother Gets Married (10/23/1970)
6... Love At First Slight (10/30/1970)
7... Danny And The Mob (11/6/1970)
8... But The Memory Lingers On (11/13/1970)
9... Did You Hear The One About Danny? (11/20/1970)
10. Go Directly To Jail (11/27/1970)
11. This Is My Song (12/4/1970)
12. My Son, The Feminist (12/11/1970)
13. Star Quality (12/18/1970)
14. The Red Woodloe Story (1/1/1971)
15. Mom Drops Out (1/8/1971)
16. Old Scrapmouth (1/15/1971)
17. Why Did The Music Stop? (1/22/1971)
18. Soul Club (1/29/1971)
19. To Play Or Not To Play (2/5/1971)
20. They Shoot Managers, Don't They? (2/12/1971)
21. Partredge Up A Pair Tree (2/19/1971)
22. Road Song (2/26/1971)
23. Not With My Sister, You Don't (3/5/1971)
24. A Partridge By Any Other Name (3/12/1971)
25. A Knight In Shining Armor (3/19/1971)
Season 2
26. Dora, Dora, Dora (9/24/1971)
27. In 25 Words Or Less (10/1/1971)
28. A Man Called Snake (10/8/1971)
29. The Undergraduate (10/15/1971)
30. Anatomy Of A Tonsil (10/22/1971)
31. Whatever Happened To Moby Dick? (10/29/1971)
32. Dr. Jekyll And Mr. Partridge (11/5/1971)
33. Days Of Acne And Roses (11/12/1971)
34. Tale Of Two Hamsters (11/19/1971)
35. The Forty-Year Itch (11/26/1971)
36. I Can Get It For You Retail (12/3/1971)
37. Guess Who's Coming To Drive (12/10/1971)
38. Don't Bring Your Guns To Town, Santa (12/17/1971)
39. Where Do Mermaids Go? (1/7/1972)
40. Home Is Where The Heart Was (1/14/1972)
41. Fellini, Bergman, And Partridge (1/21/1972)
42. Waiting For Bolero (1/28/1972)
43. I Am Curious (2/4/1972)
44. My Heart Belongs To A Two-Car Garage (2/11/1972)
45. Hel-l-l-p (2/18/1972)
46. Promise Her Anything, But Give Her A Punch (2/25/1972)
47. The Partridge Papers (3/3/1972)
48. All's War In Love And Fairs (3/10/1972)
49. Who Is Max Ledbetter And Why Is He Saying All Those Horrible Things? (3/17/1972)
Season 3
50. This Male Chauvinist Piggy Went To Market (9/15/1972)
51. M Is For The Many Things (9/22/1972)
52. Princess And The Partridge (9/29/1972)
53. Each Dawn I Diet (10/6/1972)
54. A Penny For His Thoughts (10/13/1972)
55. You're Only Young Twice (10/20/1972)
56. The Mod Father (10/27/1972)
57. A Likely Candidate (11/3/1972)
58. Swiss Family Partridge (11/10/1972)
59. Ain't Love Grand (11/17/1972)
60. Whatever Happened To Keith? (11/24/1972)
61. Nag, Nag, Nag (12/1/1972)
62. For Sale By Owner (12/8/1972)
63. Aspirin At 7, Dinner At 8 (12/15/1972)
64. For Whom The Bell Tolls..And Tolls..And Tolls (1/5/1973)
65. Trial Of Partredge One (1/12/1973)
66. I Left My Heart In Cincinnati (1/19/1973)
67. The Eleven-Year Itch (1/26/1973)
68. Bedknobs And Drumsticks (2/2/1973)
69. Everything You Wanted To Know About Sex...But Couldn't Pronounce (2/9/1973)
70. Forgive Us Our Debts (2/16/1973)
71. The Partridge Connection (2/23/1973)
72. The Selling Of The Partridges (3/2/1973)
73. Diary Of A Mad Millionaire (3/9/1973)
74. Me And My Shadow (3/16/1973)
Season 4
75. Hate They Neighbor (9/22/1973)
76. None But The Lonely (9/29/1973)
77. Beethoven, Brahms, And Partredge (10/6/1973)
78. The Strike-Out King (10/13/1973)
79. Reuben Kincaid Lives (10/20/1973)
80. Double Trouble (10/27/1973)
81. The Last Howard (11/3/1973)
82. The Diplomat (11/10/1973)
83. Heartbreak Keith (11/17/1973)
84. A Day Of Honesty (11/24/1973)
85. Al In The Family (12/1/1973)
86. Made In San Pueblo (12/8/1973)
87. Art For Mom's Sake (12/15/1973)
88. Two For The Show (1/5/1974)
89. Danny Drops Out (1/12/1974)
90. Queen For A Minute (1/19/1974)
91. Danny Converts (1/26/1974)
92. Laurie, The Teacher (7/27/1974)
93. Keith And Lauriebelle (8/3/1974)
94. Morning Becomes Electric (8/10/1974)
95. Pin It On Danny (8/17/1974)
96. ... _ _ _ ... (S.O.S.) (8/24/1974)
97. Anchors Aweigh (8/31/1974)
TV Special
A Thanksgiving Reunion with The Partridge Family and My Three Sons (11/25/1977)
Find Thousands of
Your Favorite
Shows

By Starting Letter
A B C D E F G
H I J K L M N
O P Q R S T U
V W X Y Z
Thank you for visiting our Partridge Family TV show page!
Copyright © 1997-Present CrazyAboutTV.com
All rights reserved