Search CrazyAboutTV for your
favorite show or your
favorite star!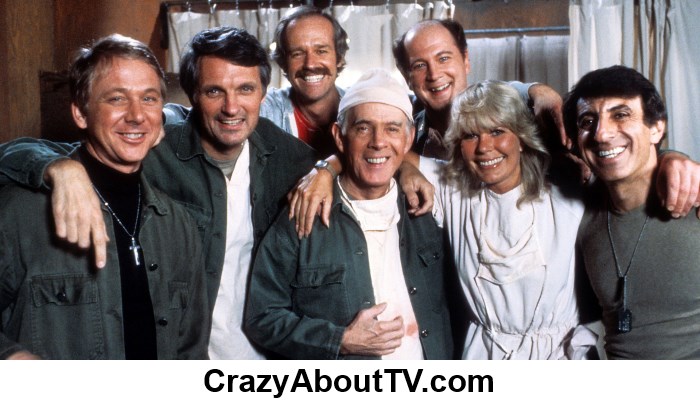 Series Description
The M*A*S*H TV show was a 30 minute comedy series that aired on CBS for 251 episodes over 11 seasons from 1972-1983. It was inspired by a 1970 movie starring Donald Sutherland. Both were about a unit of doctors and nurses who had been torn from their personal lives and thrown into a muddy, bug infested camp in the middle of the Korean war! Most of them didn't want to be there. Their careers had just been "taking off" after years of medical education and training and now their rewards were being denied them. But when they heard the "choppers" coming in with wounded soldiers, all that was forgotten. They became the only hope close enough to the fighting to help the injured. When their work was done, they could go back to their drinking and complaining and sometimes romance in an effort to forget their miserable plight. This TV series did the impossible. It somehow found a way to be a comedy with a very non-comical premise. Most of the comedy revolved around the "draftees" pulling practical jokes on the career military personnel.
M*A*S*H Cast
Alan Alda .... Captain "Hawkeye" Pierce
Wayne Rogers .... Captain "Trapper" John McIntyre
Mike Farrell .... Captain B. J. Hunnicutt
McLean Stevenson .... Lieutenant Colonel Henry Blake
Harry Morgan .... Colonel Sherman T. Potter
Gary Burghoff .... Corporal "Radar" O'Reilly
Loretta Swit .... Major Margaret "Hot Lips" Houlihan
Jamie Farr .... Corporal Maxwell Q. Klinger
David Ogden Stiers .... Major Charles Emerson Winchester III
William Christopher .... Father Francis Mulcahy
M*A*S*H Trivia
The only regular cast member who died on M*A*S*H was Colonel Henry Blake. He perished when the plane that was carrying him out of the war to return to the U.S. crashed.
The program actually lasted 8 years longer than the real Korean War did.
The character played by Wayne Rogers was "spun-off" into a program called "Trapper John, M.D. (1979)" and mentioned his time at the 4077th M*A*S*H unit on several episodes. The actor playing Trapper John in that series, however, was Pernell Roberts (star of the series, "Bonanza (1959)"), not Wayne Rogers. It lasted seven years!
M*A*S*H produced two more "spin-offs" titled, "AfterMASH" and "W*A*L*T*E*R". AfterMASH started the very next season after M*A*S*H ended. In it, Potter, Klinger, and Father Mulcahy work at a hospital in Missouri. It lasted barely over one year. W*A*L*T*E*R only made it to the pilot stage of production. The pilot was broadcast but the show was not picked up by any network. In that pilot, Walter "Radar" O'Reilly ends out a cop in St. Louis, Missouri.
Radar O'Reilly's first name was actually Walter. He was called "Radar" because he always seemed to know what was going to happen right before it did happen. He would say, "Incoming Choppers" before anyone heard anything. Then 15 seconds later, you'd hear them. He would also finish people's sentences for them as if he knew what they were thinking.
Do you remember the signpost on M*A*S*H? It pointed to between nine and eleven different locations during the show's run. The nine were Boston, Seoul, Coney Island, San Francisco, Tokyo, Burbank, Death Valley, Toledo and Decatur. At some point Honolulu was added and for some reason, another Seoul was added so there was one near the top and another at the bottom.
Long before he was Colonel Potter on the M*A*S*H TV show (approximately 20 years before), Harry Morgan had a regular cast member role on the TV show, "Dragnet (1951)". He played the role of Officer Bill Gannon ... Sergeant Joe Friday's partner.
The series was based on the movie with the same name from 1970, however in the movie, Donald Sutherland was Hawkeye Pierce and Elliot Gould was Trapper John. In fact, the only major character to appear in both was Gary Burghoff as Radar O'Reilly. Both the movie and the TV show were based on the experiences of Dr. Richard Hooker. He refused to watch the show because he was a die-hard conservative Republican and felt the show was ridiculously liberal.
The 2 1/2 hour M*A*S*H finale set a record for the most watched television episode of all time with 106 million viewers. The "Cheers (1982)" finale holds second place with 80 million and the final episode of "Seinfeld (1990)" comes in at #3 with 76 million. (Statistics verified as of June 2004)
M*A*S*H Theme Song
Title: "Suicide is Painless"
By: "Johnny Mandel"
Through early morning fog I see
visions of the things to be
the pains that are withheld for me
I realize and I can see...
That suicide is painless
It brings on many changes
and I can take or leave it if I please.
...and you can do the same thing if you choose.
Find Thousands of
Your Favorite
Shows

By Starting Letter
A B C D E F G
H I J K L M N
O P Q R S T U
V W X Y Z
Thank you for visiting our M*A*S*H TV show page!
Copyright © 1997-Present CrazyAboutTV.com
All rights reserved