Search CrazyAboutTV for your
favorite show or your
favorite star!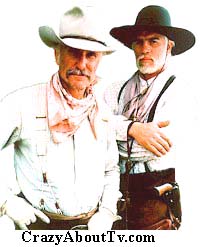 Series Description:
Lonesome Dove was a western action miniseries on CBS about two former Texas Rangers were living a quiet life running a cattle company near Lonesome Dove, Texas. A third former Ranger showed up on their doorstep while fleeing from the law after accidentally killing someone. He talked the other two into being the first to take cattle into the Montana territories. They're all not so young anymore and this was one last chance to re-live some of the excitement they experienced in their younger years. They stole some horses and a herd of cattle, signed on a crew and headed for Montana. Along the way they faced many dangers such as wild indians, rustlers, wind storms and snake-infested waters. There's one big question you'll have after viewing this feature. "Why wasn't this epic film released on the big screen?" The great stars, cinematography and script certainly merited being seen in theaters!
Lonesome Dove Cast
The Original Movie: Robert Duvall .... Augustus "Gus" McCrae
Tommy Lee Jones .... Woodrow F Call
Danny Glover .... Joshua Deets
Robert Urich .... Jake Spoon
Diane Lane .... Lorena Wood
Frederic Forrest .... Blue Duck
Rick Schroder .... Newt Dobbs
D.B. Sweeney .... Dish Boggett
Anjelica Huston .... Clara Allen
Lonesome Dove Trivia
The Lonesome Dove script was originally written in 1971 by Larry McNurtry as a movie script with John Wayne, Henry Fonda and James Stewart in mind for the main characters! Well, John Wayne turned it down and the movie never happened. After several years, McNurtry rewrote it as a novel that ended out winning a Pulitzer Prize! Eventually, the novel was adapted to serve as the screenplay for the movie and the TV miniseries.
Robert Duvall was originally cast as Woodrow Call in the movie but was later changed to Gus McCrae. James Garner ("The Rockford Files") was next cast as Woodrow but had to drop out because of an illness. Jon Voight was offered the role but turned it down. Finally, Tommy Lee Jones was cast in the part which he played to perfection!
Lonesome Dove was so popular that two sequels and a prequel were produced. One of the sequels was titled, "Streets of Laredo" where James Garner stars as Woodrow Call who is hired by the railroad to track down a criminal. "Dead Man's Walk" is a prequel to Lonesome Dove starring David Arquette ("In Case of Emergency") as Gus and Johnny Lee Miller ("Eli Stone") as Woodrow in their younger years as Texas Rangers.
You may recognize D.B. Sweeney from his roles on "C-16", "Harsh Realm" and "Life as We Know It".
Find Thousands of
Your Favorite
Shows

By Starting Letter
A B C D E F G
H I J K L M N
O P Q R S T U
V W X Y Z
Thank you for visiting our Lonesome Dove Miniseries page!
Copyright © 1997-Present CrazyAboutTV.com
All rights reserved