Search CrazyAboutTV for your
favorite show or your
favorite star!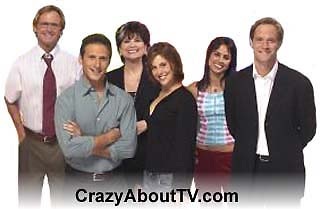 Series Description
The Good Morning, Miami TV show was a 30 minute comedy series on NBC. Good Morning Miami was a morning new show and it was in big trouble! It was the lowest rated such show in the U.S.! So a young progressive TV producer was brought in to totally rework the show. Of course, no one likes change and that was certainly true of everyone involved in the production of Good Morning Miami!
Good Morning, Miami Cast
Mark Feuerstein .... Jake Silver
Ashley Williams .... Dylan Messinger
Matt Letscher .... Gavin Stone
Constance Zimmer .... Penny Barrington
Jere Burns .... Frank Alfano
Suzanne Pleshette .... Claire Arnold (2002-2003)
Stephon Fuller .... Robby (2002-2003)
Tiffani Amber Thiessen .... Victoria Hill (2003-2004)
Tessie Santiago .... Lucia Rojas-Klein (2002)
Brooke Dillman .... Sister Brenda (2002)
Good Morning, Miami Trivia
The creators of Good Morning, Miami (David Kohan and Max Mutchnick) actually produced a real life morning talk show titled, "Mike and Matty" and that's where the inspiration came from for Good Morning, Miami's morning show.
There was a Good Morning, Miami pilot produced to sell the series to NBC that never aired. A new pilot was shot for the series' premiere.
The producers, cast and crew of Good Morning, Miami can't blame NBC for not supporting the series. It was placed on NBC's coveted "Must See TV" Thursday night lineup and stayed there for the entire first season! It had "Friends", "Scrubs" and "Will and Grace" as lead-ins and was followed by "ER" which were all hit shows! Then in the second season it was moved to Tuesday nights and that wasn't so terrible either! It was preceded by "Frasier" and followed by "Law & Order: SVU", two more highly rated shows!
Heather Locklear was first offered the role of Victoria Hill but unfortunately for Good Morning, Miami, she turned it down. Heather took many of her series to top rating and saved more than a few by joining the cast when they were floundering. Famed producer Aaron Spelling called her his "lucky charm" because everything he convinced her to star in became super successful. He hired her over and over again on series including "Dynasty", "TJ Hooker" and the original "Melrose Place".
There were nine episodes that were produced but did not originally air after Good Morning, Miami was canceled. Their titles were: "You Bet Your Relationship", "Subterranean Workplace Blues", "Nightmare at 2000 Feet", "Victoria's Secret", "A Sample Plan", "Gays and Confused", "The Return of the Ring", "The Wait Problem", "Three Ring Circus".
Episodes List With Original Air Dates
Season 1

Pilot Episode (9/26/2002)
Power Failure (10/3/2002)
The Way to Dylan's Heart (10/10/2002)
Swan Jake (10/17/2002)
The Heart Is a Lonely Apartment Hunter (10/24/2002)
Kiss of the Spiderman (10/31/2002)
Penny Wise, Jake Foolish (11/14/2002)
If It's Not One Thing, It's a Mother (12/5/2002)
I'm With Stupid (12/12/2002)
Hi, My Name Is Jake (1/2/2003)
Jake's Nuts Roasting on an Open Fire (1/9/2003)
Mee So Torny (1/16/2003)
Take a Penny, Leave a Penny (1/23/2003)
Mutt and Jake (2/27/2003)
The Big Leap (3/6/2003)
Fear and Loathing in Miami (3/13/2003)
About a Ploy (3/20/2003)
Three Weeks Notice (3/27/2003)
Someone to Watch Over Gavin (4/3/2003)
The Slow and the Furious (4/10/2003)
One Flu Over the Cuckold's Nest (4/17/2003)
Season 2
The New Good Morning, Miami - Part 1 (9/30/2003)
Good Morning, Manhattan - Part 2 (10/7/2003)
I Second That Promotion (10/14/2003)
With Friends Like These, Who Needs the Emmys? (10/21/2003)
The Ex Games (10/28/2003)
Will You Still Leave Me Tomorrow? (11/11/2003)
A Kiss Before Lying (11/18/2003)
Her Place or Mine? (12/11/2003)
Looking For Love in All The Wrong Cages (12/18/2003)
Find Thousands of
Your Favorite
Shows

By Starting Letter
A B C D E F G
H I J K L M N
O P Q R S T U
V W X Y Z
Thank you for visiting our Good Morning, Miami page!
Copyright © 1997-Present CrazyAboutTV.com
All rights reserved