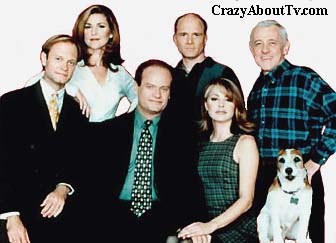 Series Description

The Frasier TV show was a 30 minute comedy series on NBC that was a "spin-off" of the, "Cheers TV Show". Dr. Frasier Crane moved from Boston to Seattle, Washington, his hometown. He got a job as an on the air psychiatrist on a Seattle radio station talk show. He reluctantly lived with his father who was a retired police officer who had health problems due to his having been shot on duty. Along with his father came a scruffy little dog and a cute lady health care worker from England. Frasier also had a brother who was also a psychiatrist and just as self-centered as Frasier. Frasier was still the "know it all" who thought that he knew better than everyone else while failing miserable at running his own life.

Frasier Cast

Kelsey Grammer .... Frasier Crane
David Hyde Pierce .... Niles Crane
John Mahoney .... Martin Crane
Peri Gilpin .... Roz Doyle
Jane Leeves .... Daphne Moon

Frasier Trivia

Kelsey Grammer has had some problems with substance abuse. Fans often have trouble understanding how a TV star could allow drugs to get the better of themselves. We forget that stars have most of the same problems that we do. Kelsey, for example, has had to deal with the murders of both his sister and his father! To make matters worse, their deaths happened at different times! Fame and fortune do not make such events easier to deal with.

If the phone-in callers to Frasier's radio show sounded especially realistic to you, it's probably due to the fact that actors would often phone in their lines rather than come to the studio to read them! No travel time and no sound editing were required!

The Frasier TV show had a pretty sweet time slot for its first season. It followed the hit series "Seinfeld" with a huge comedy audience! The other networks weren't broadcasting any real competition at that time. ABC was airing the last half-hour of "Matlock" which, while a popular show, it didn't draw any comedy viewers. CBS was running "Eye to Eye With Connie Chung" and the FOX series, "Herman's Head" was a comedy in its final season with slipping ratings.

Frasier was the only TV series to have won five consecutive Emmys for "Outstanding Comedy Series" at the time it left the air!

Frasier and his father lived at the fictional, high-class Elliot Bay Towers condominiums in unit #1901. From things said in various episodes, we know that the complex was at least 20 stories tall and had at least 14 units per floor. It was named after Elliot Bay which is the body of water that Seattle sits on and it's location is somewhere on the southern side of Queen Anne Hill and on Queen Anne Avenue. Many fans think that Frasier lived in an apartment building but his "Condominium Association" meetings were mentioned a few times throughout the series.

The call letters of the radio station that Frasier broadcasted his show from were "KACL".

We all realize that the TV personas of actors can be dramatically different from their real life personas. As a perfect example of this, on the air David Hyde Pierce's character was a lover of fine things while John Mahoney's character was an everyday Joe who drank canned beer and watched football from his raggedy old chair. In real life, however, David Hyde Pierce had little interest in the finer things until John Mahoney introduced him to fine wines and the opera!

Frasier Crane had never mentioned having a brother on "Cheers". In fact, there had been vague references on that series to his being an only child. The first few scripts were written that way but then one of the show's producers saw a photo of David Hyde Pierce and said that he was a "clone" of Kelsey Grammer the way he looked when Cheers first went on the air. The storyline was therefore changed so that Frasier would have a younger brother who would be so much like him that they would constantly be at each other's throats!

Many TV fans are aware of the Cast on the TV series, "Friends" receiving $1 Million per episode but Kelsey Grammer beat that in Frasier's final season when he was paid a record $38 Million. That set a new record at more than $1.5 Million per episode!

In another record-setting event, David Hyde Pierce was nominated for an Emmy for the same character more times than any other actor in the "Best Supporting Actor" category. Kelsey Grammer also became the only actor to have been nominated for the same character on three different series. In addition to the obvious Cheers and Frasier nominations, Kelsey also got one for appearing as Frasier Crane on an episode of the "Wings TV Show!

Frasier Theme Song

Title: "Tossed Salad And Scrambled Eggs"

Written By: "Darryl Phinessee" & "Bruce Miller"

Performed By: "Kelsey Krammer"

Hey baby, I hear the blues a-callin',
Tossed salad and scrambled eggs

Oh My
Mercy! (Or Sometimes "Quite stylish")

And maybe I seem a bit confused,
Yeah maybe, but I got you pegged!
Ha, Ha, Ha, Ha!

But I don't know what to do with those tossed salads and scrambled eggs.
They're callin' again.


There were several different last lines of the Frasier theme song used from week to week.
Here are all those we're aware of:

They're callin' again.
Good night, Seattle, we love you.
What is a boy to do. Good night.
Frasier has left the building.
Thank You!
Scambled eggs all over my face. What is a boy to do. Goodnight, everybody.
See you next year, we love ya.
Episodes List With Original Air Dates

Frasier First Season

1... The Good Son (9/16/1993)
2... Space Quest (9/23/1993)
3... Dinner At Eight (9/30/1993)
4... I Hate Frasier Crane (10/7/1993)
5... Here's Looking At You (10/14/1993)
6... The Crucible (10/21/1993)
7... Call Me Irresponsible (10/28/1993)
8... Beloved Infidel (11/4/1993)
9... Selling Out (11/11/1993)
10. Oops (11/18/1993)
11. Death Becomes Him (12/2/1993)
12. Miracle On Third Or Fourth Street (12/16/1993)
13. Guess Who's Coming To Breakfast (1/6/1994)
14. Can't Buy Me Love (1/20/1994)
15. You Can't Tell A Crook By His Cover (1/27/1994)
16. The Show Where Lilith Comes Back (2/3/1994)
17. A Midwinter Night's Dream (2/10/1994)
18. And The Whimper Is... (2/17/1994)
19. Give Him The Chair! (3/17/1994)
20. Fortysomething (3/31/1994)
21. Travels With Martin (4/14/1994)
22. Author, Author (5/4/1994)
23. Frasier Crane's Day Off (5/12/1994)
24. My Coffee With Niles (5/19/1994)


Frasier Second Season

25. Slow Tango In South Seattle (9/20/1994)
26. The Unkindest Cut Of All (9/27/1994)
27. The Matchmaker (10/4/1994)
28. Flour Child (10/11/1994)
29. Duke's, We Hardly Knew You (10/18/1994)
30. The Botched Language Of Cranes (11/1/1994)
31. The Candidate (11/8/1994)
32. Adventures In Paradise - Part 1 (11/15/1994)
33. Adventures In Paradise - Part 2 (11/22/1994)
34. Burying A Grudge (11/29/1994)
35. Seat Of Power (12/13/1994)
36. Roz In The Doghouse (1/3/1995)
37. Retirement Is Murder (1/10/1995)
38. Fool Me Once, Shame On You, Fool Me Twice... (2/7/1995)
39. You Scratch My Book... (2/14/1995)
40. The Show Where Sam Shows Up (2/21/2000)
41. A Room With A View (2/28/1995)
42. The Club (3/21/1995)
43. Someone To Watch Over Me (3/28/1995)
44. Breaking The Ice (4/18/1995)
45. An Affair To Forget (5/2/1995)
46. Agents In America - Part III (5/9/1995)
47. The Innkeepers (5/16/1995)
48. Dark Victory (5/23/1995)


Frasier Third Season

49. She's The Boss (9/19/1995)
50. Shrink Rap (9/26/1995)
51. Martin Does It His Way (10/10/1995)
52. Police Story (10/31/1995)
53. Kisses Sweeter Than Wine (11/7/1995)
54. Sleeping With The Enemy (11/14/1995)
55. The Adventures Of Bad Boy And Dirty Girl (11/21/1995)
56. The Last Time I Saw Maris (11/28/1995)
57. Frasier Grinch (12/19/1995)
58. It's Hard To Say Goodbye If You Won't Leave (1/9/1996)
59. The Friend (1/16/1996)
60. Come Lie With Me (1/30/1996)
61. Moon Dance (2/6/1996)
62. The Show Where Diane Comes Back (2/13/1996)
63. A Word To The Wiseguy (2/20/1996)
64. Look Before You Leap (2/27/1996)
65. High Crane Drifter (3/12/1996)
66. Chess Pains (3/26/1996)
67. Crane Vs. Crane (4/9/1996)
68. Police Story (4/23/1996)
69. Where There's Smoke There's Fired (4/30/1996)
70. Frasier Loves Roz (5/7/1996)
71. The Focus Group (5/14/1996)
72. You Can Go Home Again (5/21/1996)


Frasier Fourth Season

73. The Two Mrs. Cranes (9/17/1996)
74. Love Bites Dog (9/24/1996)
75. The Impossible Dream (10/15/1996)
76. A Crane's Critique (10/22/1996)
77. Head Game (11/12/1996)
78. Mixed Doubles (11/19/1996)
79. A Lilith Thanksgiving (11/26/1996)
80. Our Father Whose Art Ain't Heaven (12/9/1996)
81. Dad Loves Sherry, The Boys Just Whine (1/7/1997)
82. Liar! Liar! (1/14/1997)
83. Three Days Of The Condo (1/21/1997)
84. Death And The Dog (2/11/1997)
85. Four For The Seesaw (2/18/1997)
86. To Kill A Talking Bird (2/25/1997)
87. Roz's Krantz & Gouldenstein Are Dead (3/11/1997)
88. The Unnatural (4/1/1997)
89. Roz's Turn (4/15/1997)
90. Ham Radio (4/22/1997)
91. Three Dates And A Breakup - Part 1 (4/29/1997)
92. Three Dates And A Breakup - Part 2 (4/29/1997)
93. Daphne Hates Sherry (5/6/1997)
94. Are You Being Served? (5/13/1997)
95. Ask Me No Questions (5/21/1997)
96. Odd Man Out (5/21/1997)


Frasier Fifth Season

97. Frasier's Imaginary Friend (9/23/1997)
98. The Gift Horse (9/30/1997)
99. Halloween (10/28/1997)
100. The Kid (11/4/1997)
101. The 1,000th Show (11/11/1997)
102. Voyage Of The Damned (11/18/1997)
103. My Fair Frasier (11/25/1997)
104. Desparately Seeking Closure (12/9/1997)
105. Perspectives On Christmas (12/16/1997)
106. Where Every Bloke Knows Your Name (1/6/1998)
107. Ain't Nobody's Business If I Do (1/13/1998)
108. The Zoo Story (1/20/1998)
109. The Maris Counselor (2/3/1998)
110. The Ski Lodge (2/24/1998)
111. Room Service (3/3/1998)
112. Beware Of Greeks (3/17/1998)
113. The Perfect Guy (3/24/1998)
114. Bad Dog (4/9/1998)
115. Frasier's Gotta Have It (4/21/1998)
116. First Date (4/28/1998)
117. Roz And The Schnoz (5/5/1998)
118. The Life Of The Party (5/12/1998)
119. Party - Party (5/19/1998)
120. Sweet Dreams (5/19/1998)


Frasier Sixth Season

121. Good Grief (9/24/1998)
122. Frasier's Curse (10/1/1998)
123. Dial M For Martin (10/8/1998)
124. Hot Tickets (10/15/1998)
125. First Do No Harm (10/29/1998)
126. Secret Admirer (11/5/1998)
127. How To Bury A Millionaire (11/12/1998)
128. The Seal Who Came To Dinner (11/19/1998)
129. Roz, A Loan (12/10/1998)
130. Merry Christmas, Mrs. Moskowitz (12/17/1998)
131. A Good Samaritan (1/7/1999)
132. Our Parents, Ourselves (1/21/1999)
133. The Show Where Woody Shows Up (2/4/1999)
134. Three Valentines (2/11/1999)
135. To Tell The Truth (2/18/1999)
136. Decoys (2/25/1999)
137. Dinner Party (3/11/1999)
138. Taps At The Montana (3/25/1999)
139. IQ (4/8/1999)
140. Dr. Nora (4/29/1999)
141. When A Man Loves Two Women (5/6/1999)
142. Visions Of Daphne (5/13/1999)
143. Shutout In Seattle - Part 1 (5/20/1999)
144. Shutout In Seattle - Part 2 (5/20/1999)


Frasier Seventh Season

145. Momma Mia (9/23/1999)
146. Father Of The Bride (9/30/1999)
147. Radio Wars (10/7/1999)
148. Everyone's A Critic (10/14/1999)
149. The Dog That Rocks The Cradle (10/21/1999)
150. Rivals (11/4/1999)
151. A Tsar Is Born (11/11/1999)
152. The Late Dr. Crane (11/18/1999)
153. The Apparent Trap (11/25/1999)
154. Back Talk (12/9/1999)
155. The Fight Before Christmas (12/16/1999)
156. Rdwrer (1/6/2000)
157. They're Playing Our Song (1/13/2000)
158. Big Crane On Campus (2/3/2000)
159. Out With Dad (2/10/2000)
160. Something About Dr. Mary (2/17/2000)
161. Whine Club (2/24/2000)
162. Hot Pursuit (3/23/2000)
163. Morning Becomes Entertainment (4/6/2000)
164. To Thine Own Self Be True (4/27/2000)
165. Three Faces Of Frasier (5/4/2000)
166. Dark Side Of The Moon (5/11/2000)
167. Season Finale - Part 1 (5/18/2000)
168. Season Finale - Part 2 (5/18/2000)

Frasier Eighth Season

169. And The Dish Ran Away With The Spoon - Part 1 (10/24/2000)
170. And The Dish Ran Away With The Spoon - Part 2 (10/24/2000)
171. The Bad Son (10/31/2000)
172. The Great Crane Robbery (11/14/2000)
173. Taking Liberties (11/21/2000)
174. Legal Tender Love And Care (11/28/2000)
175. The New Friend (12/5/2000)
176. Mary Christmas (12/12/2000)
177. Frasier's Edge (1/9/2001)
178. Cranes Unplugged (1/16/2001)
179. Motor Skills (1/30/2001)
180. The Show Must Go Off (2/6/2001)
181. Sliding Frasiers (2/13/2001)
182. Hungry Heart (2/20/2001)
183. Docu.Drama (3/6/2001)
184. It Takes Two To Tangle (3/27/2001)
185. Forgotten But Not Gone (4/17/2001)
186. Daphne Returns (5/1/2001)
187. The Wizard And Roz (5/8/2001)
188. Semi-Decent Proposal/A Passing Fancy (5/15/2001)
189. A Day In May (5/22/2001)
190. Cranes Go Caribbean (5/22/2001)


Frasier Ninth Season
Don Juan In Hell (2-Part Special) (9/25/2001)
The First Temptation Of Daphne (10/2/2001)
The Return Of The Martin Crane (10/9/2001)
Love Stinks (10/16/2001)
Room Full Of Heroes (10/30/2001)
Bla-Z-Boy (11/6/2001)
The Two Hundredth (11/13/2001)
Sharing Kirby (11/20/2001)
Junior Agent (11/27/2001)
Bully For Martin (12/11/2001)
Mother Load - Part 1 (1/8/2002)
Mother Load - Part 2 (1/15/2002)
Juvenilia (1/22/2002)
The Proposal (2/5/2002)
Wheels Of Fortune (2/26/2002)
Three Blind Dates (3/5/2002)
War Of The Words (3/12/2002)
Deathtrap (4/2/2002)
The Love You Fake (4/9/2002)
Cheerful Goodbye (4/30/2002)
Frasier Has Spokane (5/7/2002)
The Guilt Trippers (5/14/2002)
Moons Over Seattle (5/21/2002)
Frasier Tenth Season
The Ring Cycle (9/24/2002)
Enemy At The Gate (10/1/2002)
Proxy Prexy (10/8/2002)
Kissing Cousin (10/15/2002)
Tales From The Crypt (10/29/2002)
Star Mitzvah (11/5/2002)
Bristle While You Work - Part 1 (11/12/2002)
Rooms With A View - Part 2 (11/19/2002)
Don't Go Breaking My Heart - Part 3 (11/26/2002)
We Two Kings (12/10/2002)
Door Jam (1/7/2003)
The Harassed (1/14/2003)
Lilith Needs A Favor (2/4/2003)
Daphne Does Dinner (2/11/2003)
Trophy Girlfriend (2/18/2003)
Fraternal Schwinns (2/25/2003)
Kenny On The Couch (3/4/2003)
Roe To Perdition (3/18/2003)
Some Assembly Required (4/1/2003)
Farewell, Nervosa (4/22/2003)
The Devil And Dr. Phil (4/29/2003)
Fathers And Sons (5/6/2003)
Analyzed Kiss (5/13/2003)
A New Position For Roz (5/20/2003)
Frasier Eleventh Season
No Sex Please, We're Skittish (9/23/2003)
A Man, A Plan And A Gal: Julia (9/23/2003)
The Doctor Is Out (9/30/2003)
The Babysitter (10/7/2003)
The Placeholder (10/14/2003)
I'm Listening (10/28/2003)
Maris Returns - Part 1 (11/4/2003)
Murder Most Maris - Part 2 (11/11/2003)
Guns 'N Neuroses (11/18/2003)
Sea Bee Jeebies (12/2/2003)
High Holidays (12/9/2003)
Frasier-Lite (1/6/2004)
The Ann Who Came To Dinner (1/13/2004)
Freudian Sleep (2/3/2004)
Caught In The Act (2/24/2004)
I'm With Her (3/2/2004)
Coots And Ladders (3/16/2004)
Match Game (3/30/2004)
Miss Right Now (4/6/2004)
And Frasier Makes Three (4/20/2004)
Detour (4/27/2004)
Crock Tales (5/4/2004)
Goodnight, Seattle (2-Part Series Finale) (5/13/2004)
TV Special

Analyzing The Laughter (5/13/2004)







Find Your Favorite Shows From Our List Of Thousands!

Home Page

1940s 1950s 1960s 1970s 1980s 1990s 2000+

Action Comedy Drama Fantasy/Horror For Kids

Miniseries Reality Sci-Fi Game Shows Others

TV on Dvd Theme Songs TV Schedule Spin-Offs Privacy Policy





Thank you for visiting our Frasier TV show page!

Copyright © 1997-2014 CrazyAboutTV.com
All rights reserved