Search CrazyAboutTV for your
favorite show or your
favorite star!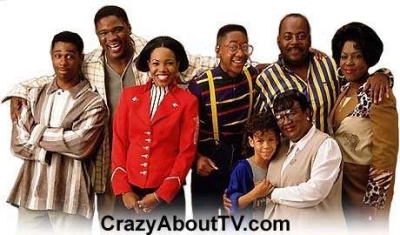 Series Description
The Family Matters TV show was a 30 minute comedy series on ABC for the first eight seasons and on CBS for a ninth season. It was about a very normal family who is driven out of their minds by their next door neighbor who happens to be a nerd, a blunderhead, and a genius all at the same time!
Family Matters Cast
Jaleel White .... Steven Urkel / Myrtle Urkel / Stephan Urkel
Reginald VelJohnson .... Carl Winslow
Jo Marie Payton-Noble .... Harriette Winslow (1989-1994)
Judyann Elder .... Harriette Winslow (1994-1998)
Darius McCrary .... Eddie Winslow
Rosetta Le Noire .... Estelle Winslow (1989-1997)
Kellie Shanygne Williams .... Laura Winslow
Valerie Jones .... Judy Winslow (Pilot Only)
Jaimee Foxworth .... Judy Winslow (1989-1993)
Telma Hopkins .... Rachel Crawford (1989-1997)
Joseph Julius Wright .... Richie Crawford (1989-1990)
Bryton McClure .... Richie Crawford (1990-1997)
Michelle Thomas .... Myra Monkhouse (1993-1998)
Shawn Harrison .... Waldo Geraldo Faldo (1990-1996)
Family Matters Theme Song
Title: "As Days Go By"
By: "Jesse Frederick, Bennet Salvay and Scott Roeme"
It's a rare condition, this day and age,
to read any good news on the newspaper page.
Love and tradition of the grand design,
some people say it's even harder to find.
Well then there must be some magic clue inside these tearful walls
Cause all I see is a tower of dreams
real love burstin' out of every seam.
As days go by,
It's the bigger love of the family.
Family Matters Trivia
The Family Matters TV show was a "spinoff" of a series titled, "Perfect Strangers". Harriet Winslow was a elevator operator and Carl Winslow was a cop on that series. Interestingly, Family Matters lasted one season longer than Perfect Strangers!
Most fans don't realize that Urkel did not appear until the 12th episode titled, "Laura's First Date". Jaleel White was hired just to appear on that one episode as Laura's crazy first date. Viewers absolutely loved the unique character and Jaleel was brought on as a regular cast member.
There was a different theme song for the first episode (pilot) only. It was the Louis Armstrong classic tune, "What a Wonderful World".
Jaleel White played a total of eight different characters on Family Matters. In addition to Steve Urkel he played his own female cousin Myrtle Urkel, male cousin Cornelius Eugene Urkel, Stefan Urquelle, Bruce Lee, Elvis Presley, Albert Einstein, and the voice of his invention Urkel-Bot.
Family Matters got a really cherry time slot when it premiered on Friday nights at 8:30 on ABC! It followed ABC's hit sitcom, "Full House" and was followed by the series that inspired it, "Perfect Strangers"!
ABC canceled Family Matters at the end of its eighth season due to disappointing ratings. CBS was desperately trying to draw younger viewers at the time so they decided to pick up the show for a ninth season. The series didn't do any better for CBS so they stopped airing episodes in mid-season. There were seven episodes "in the can" that in most cases would never have been seen but diehard fans made enough noise that CBS aired them the following summer.
Unfortunately, the producers of the show goofed around too long and got canceled before a Steve and Laura marriage could be filmed. That was what everyone including fans hoped would be the finale of the series. Steve and Laura did get engaged during the finale though!
Episodes List With Original Air Dates
Season 1

The Mama Who Came To Dinner (aka: "Pilot") (9/22/1989)
Two-Income Family (9/29/1989)
Short Story (10/6/1989)
Rachel's First Date (10/13/1989)
Straight A's (10/20/1989)
Basketball Blues (11/3/1989)
Body Damage (11/10/1989)
Mr. Badwrench (11/17/1989)
Stake-Out (11/24/1989)
False Arrest (12/1/1989)
The Quilt (12/8/1989)
Laura's First Date (12/15/1989)
Man's Best Friend (1/5/1990)
Baker's Dozens (1/12/1990)
The Big Reunion (1/26/1990)
The Party (2/2/1990)
The Big Fix (2/9/1990)
Sitting Pretty (2/16/1990)
In A Jam (2/23/1990)
The Candidate 3/16/1990)
Bowl Me Over (4/17/1990)
Rock Video (4/30/1990)
Season 2
Rachel's Place (9/14/1990)
Torn Between Two Lovers (9/21/1990)
Marriage 101 (9/28/1990)
Flashpants (10/5/1990)
The Crash Course (10/12/1990)
Boxcar Blues (10/19/1990)
Dog Day Halloween (10/26/1990)
Cousin Urkel (11/2/1990)
Dedicated To The One I Love (11/9/1990)
The Science Project (11/16/1990)
Requiem For An Urkel (11/23/1990)
Fast Eddie Winslow (11/30/1990)
Have Yourself A Very Winslow Christmas (12/21/1990)
Ice Station Winslow (1/4/1991)
Son (1/11/1991)
Do The Right Thing (1/18/1991)
High Hopes (2/1/1991)
Life Of The Party (2/8/1991)
Busted (2/15/1991)
Fight The Good Fight (2/22/1991)
Taking Credit (3/15/1991)
Finding The Words (3/22/1991)
Skip To My Lieu (4/5/1991)
I Should Have Done Something (4/26/1991)
The Good The Bad And The Urkel (5/3/1991)
Season 3
Boom! (9/20/1991)
Brain Over Brawn (9/27/1991)
The Show Must Go On (10/4/1991)
Words Hurt (10/11/1991)
Daddy's Little Girl (10/18/1991)
Citizen's Court (10/25/1991)
Robo-Nerd (11/1/1991)
Making The Team (11/8/1991)
Born To Be Mild (11/15/1991)
The Love God (11/22/1991)
Old And Alone (11/29/1991)
A Pair Of Ladies (12/6/1991)
Choir Trouble (12/20/1991)
A Test Of Friendship (1/10/1992)
Jailhouse Blues (1/17/1992)
Brown Bombshell (1/31/1992)
Food, Lies And Videotape (2/7/1992)
My Broken-Hearted Valentine (2/14/1992)
Woman Of The People (2/21/1992)
Love And Kisses (2/28/1992)
Stop, In The Name Of Love (3/13/1992)
The Urkel Who Came To Dinner (4/3/1992)
Robo-Nerd II (4/24/1992)
Dudes (5/1/1992)
Farewell, My Laura (5/8/1992)
Season 4
Surely You Joust (9/18/1992)
Dance To The Music (10/2/1992)
Driving Carl Crazy (10/9/1992)
Rumor Has It (10/16/1992)
Number One With A Bullet (10/23/1992)
Whose Kid Is It Anyway? (10/30/1992)
An Officer And A Waldo (11/6/1992)
Just One Date! (11/13/1992)
The Oddest Couple (11/20/1992)
It's Beginning To Look A Lot Like Urkel (12/11/1992)
Muskrat Love (1/8/1993)
Hot Wheels (1/15/1993)
The Way The Ball Bounces (1/22/1993)
A Thought In The Dark (1/29/1993)
Tender Kisses (2/5/1993)
Heart Strings (2/12/1993)
It's A Mad, Mad, Madhouse (2/19/1993)
Higher Anxiety (2/26/1993)
Mama's Wedding (3/5/1993)
Pulling Teeth (3/12/1993)
Walk On The Wild Side (3/26/1993)
Hot Stuff (4/30/1993)
Stormy Weather (5/7/1993)
Buds 'N' Buns (5/14/1993)
Season 5
Hell Toupee (9/24/1993)
It Didn't Happen One Night (10/1/1993)
Saved By The Urkel (10/8/1993)
A Matter Of Principle (10/15/1993)
Money Out The Window (10/22/1993)
Best Friends (10/29/1993)
Grandmama (11/5/1993)
Doctor Urkel And Mr. Cool (11/12/1993)
Car Wars (11/19/1993)
All The Wrong Moves (11/26/1993)
Christmas Is Where The Heart Is (12/10/1993)
Scenes From A Mall (12/17/1993)
Rock Enroll (1/7/1994)
Like A Virgin (1/14/1994)
Good Cop, Bad Cop (1/21/1994)
Presumed Urkel (2/4/1994)
Father Of The Bride (2/11/1994)
Psycho Twins (2/18/1994)
That's What Friends Are For (3/4/1994)
Opposites Attract (3/18/1994)
A-Camping We Will Go (4/1/1994)
Nunsense (4/29/1994)
Aunt Oona (5/6/1994)
Stefan Returns (5/20/1994)
Season 6
To Be Or Not To Be - Part 1 (9/23/1994)
To Be Or Not To Be - Part 2 (9/30/1994)
Till Death Do Us Apartment (10/7/1997)
The Looney Bin (10/14/1994)
Beta Chi Guy (10/21/1994)
A Dark And Stormy Night (10/28/1994)
Par For The Course (11/4/1994)
Sink Or Swim (11/11/1994)
Paradise Bluff (11/18/1994)
Flying Blind (11/25/1994)
Miracle On Elm Street (12/16/1994)
Midterm Crisis (1/6/1995)
An Unlikely Match (1/20/1995)
The Substitute Son (2/3/1995)
The Gun (2/10/1995)
Wedding Bell Blues (2/17/1995)
Ain't Nothin' But An Urkel (2/24/1995)
My Uncle Hero (3/3/1995)
My Bodyguard (3/17/1995)
Cheers Looking At You, Kid (3/24/1995)
What's Up Doc? (3/31/1995)
We're Going To Disney World - Part 1 (4/28/1995)
We're Going To Disney World - Part 2 (5/5/1995)
They Shoot Urkels, Don't They? (5/12/1995)
Home Sweet Home (5/19/1995)
Season 7
Little Big Guy (9/22/1995)
The Naked And The Nerdy (9/29/1995)
Bugged (10/13/1995)
Teacher's Pet (10/20/1995)
Walking My Baby Back Home (10/27/1995)
She's Back (11/3/1995)
Hot Rods To Heck (11/10/1995)
Talk's Cheap (11/17/1995)
Struck By Lightning (11/24/1995)
Best Years Of Our Lives (12/8/1995)
Fa La La La Laagghh! (12/15/1995)
Friendship Cycles (1/5/1996)
South Of The Border (1/12/1996)
Life In The Fast Lane (1/26/1996)
Random Acts Of Science (2/2/1996)
Tips For A Better Life (2/9/1996)
Swine Lake (2/16/1996)
My Big Brother (2/23/1996)
Eau De Love (3/8/1996)
Twinkle Toes Faldo (3/15/1996)
Scammed (3/29/1996)
Dream Date (4/26/1996)
A Ham Is Born (5/10/1996)
Send In The Clone (5/17/1996)
Season 8
Paris Vacation - Part 1 (9/20/1996)
Paris Vacation - Part 2 (9/20/1996)
Paris Vacation - Part 3 (9/27/1996)
Movin' On (10/4/1996)
3J In The House (10/11/1996)
Getting Buff (10/18/1996)
Stevil (10/25/1996)
Karate Kids (11/1/1996)
Home Again (11/8/1996)
Nightmare At Urkel Oaks (11/15/1996)
Chick-A-Boom (11/22/1996)
The Jury (12/6/1996)
It Came Upon A Midnight Clear (12/13/1996)
Revenge Of The Nerd (1/3/1997)
Love Triangles (1/17/1997)
Father Time (1/31/1997)
Beauty And The Beast (2/7/1997)
Le Jour D'Amour (2/14/1997)
What Do You Know? (2/28/1997)
Odd Man In (3/14/1997)
Flirting With Disaster (3/28/1997)
Pound Foolish (4/25/1997)
The Brother Who Came To Dinner (5/2/1997)
A Pirate's Life For Me (5/9/1997)
Season 9
Out With The Old (9/19/1997)
They Shoot Ducks, Don't They? (9/26/1997)
Dumb Belle Of The Ball (10/3/1997)
Drinking And Jiving (10/10/1997)
Who's Afraid Of The Big Black Book? (10/17/1997)
A Mind Is A Terrible Thing To Read (10/24/1997)
Stevil II: This Time He's Not Alone (10/31/1997)
Trading Places (11/7/1997)
A Pain In Harassment (11/28/1997)
Original Gangsta Dawg (12/5/1997)
Deck The Malls (12/19/1997)
Grill Of My Dreams (1/9/1998)
Breaking Up Is Hard To Do (1/16/1998)
Crazy For You - Part 1 (1/23/1998)
Crazier For You - Part 2 (1/30/1998)
Whose Man Is It Anyway? (6/5/1998)
Polkapalooza (6/12/1998)
Throw Urkel From The Train (6/19/1998)
Don't Make Me Over (6/26/1998)
Pop Goes The Question (7/3/1998)
Lost In Space - Part 1 (7/10/1998)
Lost In Space - Part 2 (7/17/1998)
Find Thousands of
Your Favorite
Shows

By Starting Letter
A B C D E F G
H I J K L M N
O P Q R S T U
V W X Y Z
Thank you for visiting our Family Matters TV show page!
Copyright © 1997-Present CrazyAboutTV.com
All rights reserved