Search CrazyAboutTV for your
favorite show or your
favorite star!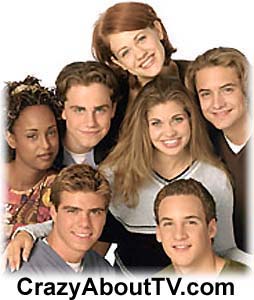 Series Description
Boy Meets World was a 30 minute comedy series on ABC about a boy's life. It dealt with his interactions with friends, family, bullies, girls and teachers.
Boy Meets World Cast
Ben Savage .... Cory Matthews
Rider Strong .... Shawn Hunter
Danielle Fishel .... Topanga Lawrence
Anthony Tyler Quinn .... Jonathan Turner
Betsy Randle .... Amy Matthews
Will Friedle .... Eric Matthews
William Russ .... Alan Matthews
Lindsay Ridgeway .... Morgan Matthews
Matthew Lawrence .... Jack
William Daniels .... George Feeny
Trina McGee-Davis .... Angela
Maitland Ward .... Rachel McGuire
Boy Meets World Trivia
Often, during the series' run, Cory and Topanga talk about the fact that they've dated since the age of two but in the early episodes, they are not dating.
Ben Savage started in show business at 5-years-old in a TV commercial. A few years later, he landed his first major role with dialog on the TV series, "Dear John". Then he starred in a few TV movies and a miniseries titled, "Wild Palms". Those roles led to his starring role on Boy Meets World. After the series ended, Ben decided to continue his education, graduating in 2004 with a degree in Political Science from Stanford! Over the summer between his junior and senior years, he even served as an intern for Senator Arlen Specter! Ben has done a few acting roles again since graduating too so who knows? Will we next be seeing Senator Savage or Superstar Savage! Good luck, Ben!
The name of the High School on Boy Meets World was, "John Adams High". William Daniels who was cast as the school's principal, George Feeny, also played the part of revolutionary and future President, John Adams in the 1972 historical movie, "1776".
The show used the Hughes High School in Cincinnati, Ohio for the exterior scenes of John Adams High School on the show.
In one of the episodes, Cory's "sister" straightens his hair and then later on another episode, it's stated that Cory doesn't have a sister.
There were a set of rules posted in the John Adams High School cafeteria. They said, "No loud talking, no reading, no shooting".
Ben Savage is the younger brother of Fred Savage who was the lead cast member on the series, "The Wonder Years (1988)" and "Working (1997)". Ben is the member of a very small group of actors who have played the same role on multiple series. He played Cory Matthews on "Boy Meets World (1993)", "Maybe This Time (Episode #15)", and "Teen Angel (Episode #7)".
The only two Cast who appeared in every single episode of Boy Meets World were Ben Savage and Rider Strong.
Theme Song
Title: "Boy Meets World"
Written By: "Phil Rosenthal"
When this Boy Meets World
Boy Meets World
Wandering down this road, that we call life
Is what we're doin'
It's good to know I have friends that will always
Stand by me
When this Boy Meets World.
Find Thousands of
Your Favorite
Shows

By Starting Letter
A B C D E F G
H I J K L M N
O P Q R S T U
V W X Y Z
Thank you for visiting our Boy Meets World page!
Copyright © 1997-Present CrazyAboutTV.com
All rights reserved