Search CrazyAboutTV for your
favorite show or your
favorite star!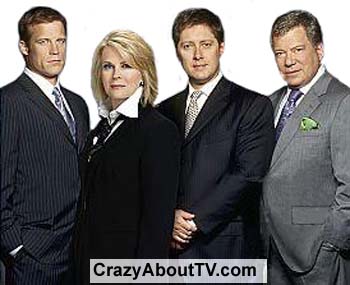 Series Description
The Boston Legal TV show is a 60 minute legal comedy drama series on ABC about an obnoxious attourney (Alan Shore), his mentor and partially senile partner (Denny Crane), their partners who try to keep them in line (Paul Lewiston and Shirley Schmit), and their junior partners who somehow find a way to cope with their strange (but often brilliant) superiors.
Boston Legal Cast
James Spader .... Alan Shore
William Shatner .... Denny Crane
Rene Auberjonois .... Paul Lewiston
Candice Bergen .... Shirley Schmidt (2005-2008)
Ryan Michelle Bathe .... Sara Holt (2005-2006)
Julie Bowen .... Denise Bauer (2005-2008)
Christian Clemenson .... Jerry Espenson (2005-2008)
Gary Anthony Williams .... Clarence (2006-2008)
John Larroquette .... Carl Sack (2007-2008)
Mark Valley .... Brad Chase (2004-2007)
Henry Gibson .... Judge Clark Brown (2004-2008)
Lake Bell .... Sally Heep (2004-2006)
Monica Potter .... Lori Colson (2004-2005)
Rhona Mitra .... Tara Wilson (2004-2005)
Betty White .... Catherine Piper (2005-2008)
Tara Summers .... Katie Lloyd (2007-2008)
Boston Legal Trivia
Boston Legal is a "spin-off" of the series, "The Practice".
During some commercial breaks on "The Practice", there were promotional spots for Boston Legal except that they were calling the show, "Fleet Street"! Apparently, someone decided to change the title before Boston Legal began airing.
Although Rene Auberjoinos ("Star Trek: Deep Space Nine") is credited as a cast member starting with the second season, he actually appeared in a considerable number of the first season's episodes.
There's a television industry term "breaking the fourth wall" that refers to an instance where an actor lets the audience know that they're aware that they're on a TV show. For example, at the end of episode #42, "Squid Pro Quo", Denny said, "I can't wait until next week"! Alan Shore once mentioned that Boston Legal used to air on Monday nights and he also once told Denny, "I've hardly seen you this episode"! On another occasion, Alan Shore's assistant, Melissa, said that he shouldn't fall for a woman because, "She's only a guest-star"!
Most William Shatner fans are well aware of his starring roles on "$#*! My Dad Says", "Boston Legal", "T.J. Hooker" and "Star Trek" but he also held starring roles on 3 less well known series: "Tekwar", "Barbary Coast" and his second acting role as Ranger Bob on "The Howdy Doody Show"!
All Boston Legal fans know that Denny Crane has never lost a case. In episode #12, "From Whence We Came", we found out that Denny has won all 6043 of his trials over a legal career spanning 45 years!
Lake Bell quit Boston Legal to star on the series, "Surface" which, unfortunately only lasted 15 episodes. She returned to Boston Legal a few times during the third season as a guest star. Don't worry about Lake though! After a short hiatus, she began landing some decent movie roles including ones in four films in 2008 alone!
Find Thousands of
Your Favorite
Shows

By Starting Letter
A B C D E F G
H I J K L M N
O P Q R S T U
V W X Y Z
Thank you for visiting our Boston Legal TV show page!
Copyright © 1997-Present CrazyAboutTV.com
All rights reserved