Search CrazyAboutTV for your
favorite show or your
favorite star!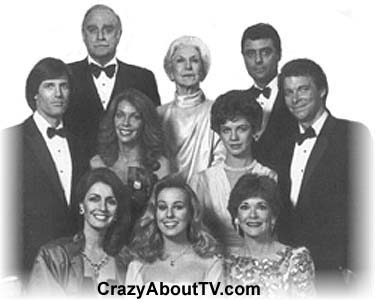 Series Description
The Bare Essence TV show was a primetime soap drama series that continued where the Bare Essence miniseries left off. When Chase Marshall, the head of his family's perfume empire got murdered, his wife "Tyger" has to fight off the shameless attempts by Chase's heirs to "cut her out" from his estate. The series continued with Tyger developing her own perfume company and the ongoing questions of "Who murdered Chase" and "Why was Chase murdered"?
Bare Essence Cast
Genie Francis .... Patricia "Tyger" Hayes-Marshall
Jennifer O'Neill .... Lady Bobbi Rowan
Jessica Walter .... Ava Marshall
Ian McShane .... Niko Theophilus
Penny Fuller .... Laura Parker
Michael Woods .... Sean Benedict
Wendy Fulton .... Muffin Marshall
Susan French .... Margaret Marshall
Jaime Lyn Bauer .... Barbara Fisher
Jonathan Frakes .... Marcus Marshall
Morgan Stevens .... Larry DeVito
John Dehner .... Hadden Marshall
Al Corley .... Chase Marshall
Michael Nader .... Alexi Theophilus
Laura Bruneau .... Cathy
Anulka Dziubinska .... Natasha
Bare Essence Trivia
The Bare Essence miniseries was 4 1/2 hours long and a huge ratings success for CBS. The possibility of continuing it as a hit TV series was obvious but CBS already had three other prime-time soaps on the air at that time in "Dallas", "Knots Landing", and "Falcon Crest". Anyway, when CBS passed on the idea of producing a Bare Essence TV show, NBC jumped at the opportunity, hoping to score their first successful prime-time soap series! Unfortunately, the series was one of the lowest rated ones that season!
Genie Francis was the only major cast member who appeared in both the miniseries and on the TV show. On the Bare Essence miniseries, Bruce Boxleitner played Chase Marshall, Linda Evans portrayed Bobbi Rowan, and Lee Grant played Ava Marshall. As you can see, the miniseries cast was much more famous than that of the TV show. That may have added to the fact that the miniseries was much more popular with audiences.
Find Thousands of
Your Favorite
Shows

By Starting Letter
A B C D E F G
H I J K L M N
O P Q R S T U
V W X Y Z
Thank you for visiting our Bare Essence TV show page!
Copyright © 1997-Present CrazyAboutTV.com
All rights reserved