Search CrazyAboutTV for your
favorite show or your
favorite star!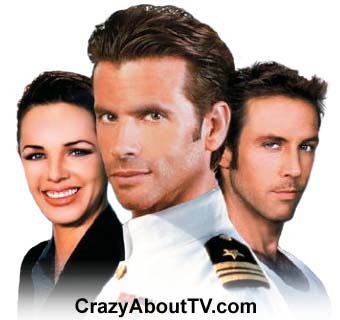 Series Description
Air America was a 60 minute action series that aired in syndication about two government agents who worked undercover for the U.S. State Department. Their covers were as two pilots working for a Latin American airline called "Air America". Their duties included carrying out rescue missions, investigating criminal activities and other covert activities.
Air America Cast
Lorenzo Lamas .... Rio Arnett
Scott Plank .... Wiley Ferrell
Diana Barton .... Alison Stratton
Ismael Carlo .... Secretary Morales
Gary Wood .... Edward Furman
Shauna Sand-Lamas .... Dominique
Gilbert Montoya .... Pablo
John Bennett Perry .... Frank Arnett
Gary Hudson .... Henry Stanley
Air America Trivia
There were four episodes of the Air America TV show that were produced but were not broadcast. Their titles were: "Betrayal", "Safe Passage", "The Cure", and "The Miracle".
Lorenzo Lamas is an international TV and movie star with an impressively long list of roles! His other best known TV series include "Falcon Crest", "Renegade", "The Immortal", and "The Bold and the Beautiful".
Lorenzo was born to highly successful show business parents. His father was "Fernando Lamas", one of MGM Studios headline actors during the 1940s through the 1960s and his mother was Arlene Dahl who never achieved the same level of success but nevertheless starred in numerous MGM films. Arlene also appeared as a guest star on Air America in episode #16, "Eye of the Storm" as her final role! A few years earlier she also appeared on two episodes of "Renegade".
While the titles are identical, this series has no connection to the 1990 movie starring Mel Gibson and Robert Downey Jr.
Rio and Wiley often found themselves in difficult and dangerous situations caused by their boss, Edward Furman who cared about little more than enriching himself.
The agents operated out of the ficticious community of Costa Perdida that was overwhelmed by drug kingpins and paramilitary organizations.
Shauna Sand who played Dominique on Air America was married to Lorenzo Lamas at the time. She also had guest-starred on five episodes of "Renegade".
Find Thousands of
Your Favorite
Shows

By Starting Letter
A B C D E F G
H I J K L M N
O P Q R S T U
V W X Y Z
Thank you for visiting our Air America TV Show page!
Copyright © 1997-Present CrazyAboutTV.com
All rights reserved