Search CrazyAboutTV for your
favorite show or your
favorite star!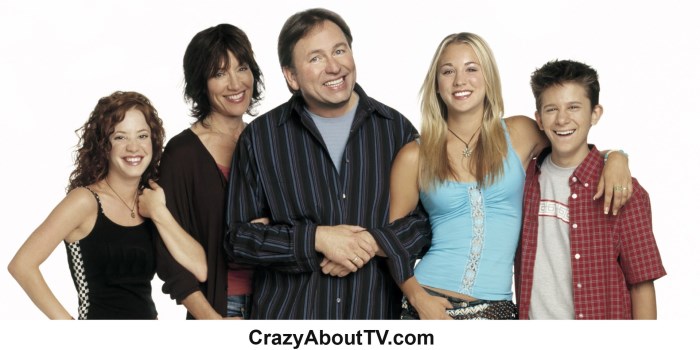 Series Description
8 Simple Rules For Dating My Teenage Daughter was a 30 minute comedy series on ABC that began as the typical mom, dad, and kids sitcom which followed the often comical trial and tribulations of family relationships and also followed the individuals into their separate lives and friendships. Then John Ritter ("Three's Company" and "Three's a Crowd") passed away suddenly. The second season found the Hennessy's dealing with the loss of their beloved husband and father. Cate Hennessey's father (James Garner of "Maverick" and "The Rockford Files fame) joined the cast along with her nephew C.J. (David Spade of "Saturday Night Live" and "Just Shoot Me"). Somehow, the cast did a wonderful job of combining the necessary dramatic theme due to Paul Hennessey's death with a continuing positive outlook about "going on" which allowed the series to remain a comedy success. (We all miss you John!)
8 Simple Rules Cast
John Ritter .... Paul Hennessy (2002-2003)
Katey Sagal .... Cate Hennessy
Kaley Cuoco .... Bridget Hennessy
Amy Davidson .... Kerry Hennessy
Martin Spanjers .... Rory Hennessy
James Garner .... Grandpa Jim (2003-)
David Spade .... C.J. (2004-)
8 Simple Rules Trivia
John Ritter collapsed on the set of 8 Simple Rules For Dating My Teenage Daughter and later died at the hospital. He had completed filming of the first three episodes of the second season before his untimely death at 55 years of age. Katey Sagal hosted the final episodes featuring John and as a further tribute to his memory, the very first episode without him, "Goodbye - Parts 1 & 2" were filmed without laugh tracks or a studio audience. In 2004, John also received a posthumous Emmy nomination for "Outstanding Lead Actor in a Comedy Series". Prior to episode #35, "What Dad Would Want", the series had been titled, "8 Simple Rules for Dating My Teenage Daughter". Due to Ritter's passing, the title was shortened to "8 Simple Rules".
In episode #16, "Come and Knock on Our Door", the set of John Ritter's 1977-1984 sitcom, "Three's Company" was rebuilt to the exact same specifications!
The 8 Simple Rules are:
1. If you pull into my driveway and honk you'd better be delivering a package, because you're sure as heck not picking anything up.
2. You do not touch my daughter in front of me. You may glance at her, so long as you do not peer at anything below her neck. If you cannot keep your eyes or hands off of my daughter's body, I will remove them.
3. I am aware that it is considered fashionable for boys of your age to wear their trousers so loosely that they appear to be falling off their hips. Please don't take this as an insult, but you and all of your friends are complete idiots. Still, I want to be fair and open minded about this issue, so I propose this compromise: You may come to the door with your underwear showing and your pants ten sizes too big, and I will not object. However, In order to assure that your clothes do not, in fact, come off during the course of your date with my daughter, I will take my electric staple gun and fasten your trousers securely in place around your waist.
4. I'm sure you've been told that in today's world, sex without utilizing a "barrier method" of some kind can kill you. Let me elaborate: when it comes to sex, I am the barrier, and I WILL kill you.
5. In order for us to get to know each other, we should talk about sports, politics, and other issues of the day. Please do not do this. The only information I require from you is an indication of when you expect to have my daughter safely back at my house, and the only word I need from you on this subject is "early."
6. I have no doubt you are a popular fellow, with many opportunities to date other girls. This is fine with me as long as it is okay with my daughter. Otherwise, once you have gone out with my little girl, you will continue to date no one but her until she is finished with you. If you make her cry, I will make YOU cry.
7. As you stand in my front hallway, waiting for my daughter to appear, and more than an hour goes by, do not sigh and fidget. If you want to be on time for the movie, you should not be dating. My daughter is putting on her makeup, a process which can take longer than painting the Golden Gate Bridge. Instead of just standing there, why don't you do something useful, like changing the oil in my car?
8. The following places are not appropriate for a date with my daughter: Places where there are beds, sofas, or anything softer than a wooden stool. Places lacking parents, policemen, or nuns. Places where there is darkness. Places where there is dancing, holding hands, or happiness. Places where the ambient temperature is warm enough to induce my daughter to wear shorts, tank tops, midriff T-shirts, or anything other than overalls, a sweater, and a goose down parka zipped up to her chin. Movies with a strong romantic or sexual theme are to be avoided; movies which feature chainsaws are okay. Hockey games are okay.
In episode #37, "The Story of Anne Frank and Skeevy", Jim (James Garner) told Bridget (Kaley Cuoco) that her play was so important to him that he didn't even mind missing an episode of "The Rockford Files" to see it. James Garner was the star of The Rockford Files that aired from 1974-1980!
Amy Davidson ("So Little Time") played the younger sister of Kaley Cuoco ("Ladies Man", "Big Bang Theory" and "Charmed") on 8 Simple Rules. In real life, Amy is six years older than Kaley!
Find Thousands of
Your Favorite
Shows

By Starting Letter
A B C D E F G
H I J K L M N
O P Q R S T U
V W X Y Z
Thank you for visiting our 8 Simple Rules TV Show page!
Copyright © 1997-Present CrazyAboutTV.com
All rights reserved