Search CrazyAboutTV for your
favorite show or your
favorite star!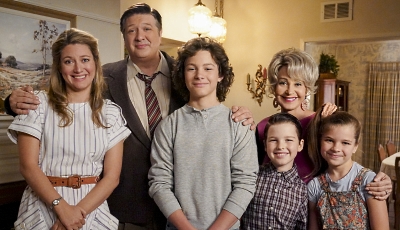 Series Description
The Young Sheldon TV show is a 30 minute comedy series that premiered on September 25, 2017 on CBS. It is about a nine year old genius starting high school who is way ahead of his fellow 15 year old students and has no comprehension whatsoever on how to deal with the much less intelligent humans with which he must interact.
Young Sheldon Cast
Iain Armitage .... Sheldon Cooper
Zoe Perry .... Mary Cooper
Lance Barber .... George Cooper Senior
Montana Jordan .... Georgie Cooper Junior
Raegan Revord .... Missy Cooper
Annie Potts .... Connie "Meemaw" Tucker
Wyatt McClure .... Billy Sparks
Matt Hobby .... Pastor Jeff
Ryan Phuong .... Tam
Wallace Shawn .... Doctor John Sturgis (2018-)
Jim Parsons .... The Voice of Adult Sheldon
Young Sheldon Trivia
Young Sheldon is a "spin-off" of "The Big Bang Theory".
The idea for Young Sheldon began in November of 2016 when Jim Parsons passed on his idea for the series to the producers of "The Big Bang Theory". CBS ordered a full season of 22 episodes on September 27, 2017 just two days after the pilot aired. That may have had something to do with the fact that the pilot garnered an audience of 22.46 million viewers!
The premiere of the Annie Potts series "Dangerous Minds" was most watched Monday drama series premiere on ABC until "The Good Doctor" 21 years later.
It's so much fun to see your favorite actors on earlier TV series! Besides his role on "The Big Bang Theory" Jim Parsons appeared on 7 episodes of "Judging Amy" in its sixth and final season!
Did you wonder where you've heard the voice Wallace Shawn (Doctor Sturgis) before? If so you are probably a trekkie because he played the role as the Nagus (Ferengi ruler) Zek on the series, "Star Trek: Deep Space Nine. He was in heavy makeup as an alien on that show but his unique voice is unmistakeable!
Find Thousands of
Your Favorite
Shows

By Starting Letter
A B C D E F G
H I J K L M N
O P Q R S T U
V W X Y Z
Thank you for visiting our Young Sheldon TV Show page!
Copyright © 1997-Present CrazyAboutTV.com
All rights reserved