Search CrazyAboutTV for your
favorite show or your
favorite star!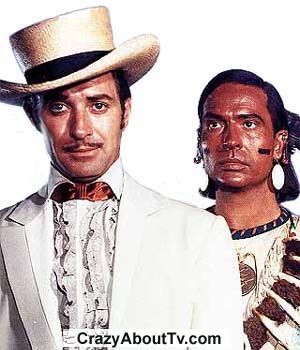 Series Description
Yancy Derringer was a 30 minute action series on CBS about a sharp-dressing, former Confederate officer who became a crime fighter in New Orleans, Louisiana after the end of the civil war.
Yancy Derringer Cast
Jock Mahoney .... Yancy Derringer
Kevin Hagen .... John Colton
X. Brands .... Pahoo-Ka-Ta-Wah
Lisa Lu .... Miss Mandarin
Frances Bergen .... Madame Francine
Theme Song
Title: "Yancy Derringer Theme"
Music By: "Henry Russell"
Lyrics By: "Don Quinn"
They sing of Yancey Derringer
On every danger trail,
On riverboat, in manor house
And now and then in jail.
They say that Yancy Derringer
Had ruffles at his wrists,
Brocade and silver buckles
And iron in his fists.
Yancy, Yancy Derringer,
Yancy, Yancy Derringer
In every tale of derring do
They tell of Yancy D.
Episodes List With Original Air Dates
The First And Only Season
1. Return To New Orleans (10/2/1958)
2. Gallatin Street (10/9/1958)
3. Ticket To Natchez (10/23/1958)
4. An Ace Called Spade (10/30/1958)
5. A Bullet For Bridget (11/6/1958)
6. The Belle From Boston (11/13/1958)
7. The Loot From Richmond (11/20/1958)
8. The Saga Of Lonesome Jackson (11/27/1958)
9. Memo To A Firing Squad (12/4/1958)
10. Three Knaves From New Haven (12/11/1958)
11. Marble Fingers (12/18/1958)
12. Old Dixie (12/25/1958)
13. Two Of A Kind (1/1/1959)
14. Nightmare On Bourbon Street (1/8/1959)
15. The Fair Freebooter (1/15/1959)
16. Mayhem At The Market (1/22/1959)
17. The Night The Russians Landed (1/29/1959)
18. A Game Of Chance (2/5/1959)
19. Panic In Town (2/12/1959)
20. Hell And High Water (2/19/1959)
21. The Louisiana Dude (2/26/1959)
22. Longhair (3/5/1959)
23. Thunder On The River (3/12/1959)
24. The Gun That Murdered Lincoln (3/19/1959)
25. Collector's Item (3/26/1959)
26. Fire On The Frontier (4/2/1959)
27. Duel At The Oaks (4/9/1959)
28. The Wayward Warrior (4/16/1959)
29. A State Of Crisis (4/30/1959)
30. Outlaw At Liberty (5/7/1959)
31. V As In Voodoo (5/14/1959)
32. The Quiet Firecracker (5/21/1959)
33. Gone But Not Forgotten (5/28/1959)
34. Two Tickets To Promontory (6/4/1959)
Find Thousands of
Your Favorite
Shows

By Starting Letter
A B C D E F G
H I J K L M N
O P Q R S T U
V W X Y Z
Thank you for visiting our Yancy Derringer page!
Copyright © 1997-Present CrazyAboutTV.com
All rights reserved