Search CrazyAboutTV for your
favorite show or your
favorite star!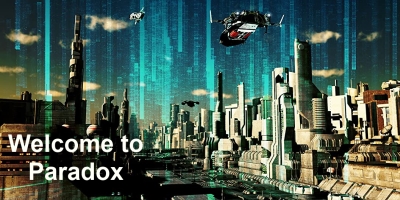 Series Description
Welcome To Paradox was a 60 minute anthology sci-fi series on the Sci-Fi Channel similar to "The Twilight Zone" and "Outer Limits", just not nearly as good.
Welcome To Paradox Host
Michael Philip
Episodes List With Original Air Dates
Welcome to Paradox - The First And Only Season
Our Lady Of The Machine (8/17/1998)
Research Alpha (8/24/1998)
The Winner (8/31/1998)
The News From D Street (9/7/1998)
The Girl Who Was Plugged In (9/14/1998)
The Extra (9/21/1998)
Alien Jane (9/28/1998)
Hemeac (10/5/1998)
All Our Sins Forgotten (10/12/1998)
Acute Triangle (10/19/1998)
Options (10/26/1998)
Blue Champagne (11/2/1998)
Into The Shop (11/9/1998)
Find Thousands of
Your Favorite
Shows

By Starting Letter
A B C D E F G
H I J K L M N
O P Q R S T U
V W X Y Z
Thank you for visiting our Welcome To Paradox page!
Copyright © 1997-Present CrazyAboutTV.com
All rights reserved