Search CrazyAboutTV for your
favorite show or your
favorite star!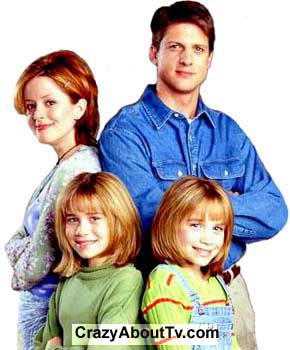 Series Description
Two Of A Kind was a 30 minute comedy series on ABC.
Two Of A Kind Cast
Mary-Kate Olsen .... Mary-Kate Burke
Ashley Olsen .... Ashley Burke
Sally Wheeler .... Carrie Moore
Christopher Sieber .... Kevin Burke
David Valcin .... Eddie Fairbanks
Ernie Grunwald .... Paul
Martin Spanjers .... Brian
Orlando Brown .... Max
Anastasia Emmons .... Jennifer
Jesse Lee Soffer .... Taylor Donovan
Samantha Smith .... Nancy Carlson
David Lascher .... Matt Burke (1999)
Jean Speegle Howard .... Mrs. Baker (1998)
Rance Howard .... Mr. Fillmore (1998)
Brendon Ryan Barrett .... Ethan Killion (1999)
Kimberly J. Brown .... Nicole
Mark Cirillo .... David
Imia Fleur Edwards .... School Friend
Michael DeMay .... Delivery Man
Episodes List With Original Air Dates
The First And Only Season

Putting Two'N Two Together (9/25/1998)
The Tutor (10/2/1998)
Prelude To A Kiss (10/9/1998)
First Crush (10/16/1998)
Breaking Them Up Is Hard To Do (10/23/1998)
Nightmare On Carrie's Street (10/30/1998)
The Heartbreak Kid (11/6/1998)
You've Got A Friend (11/13/1998)
Model Behavior (11/20/1998)
Peeping Twins (11/27/1998)
A Very Carrie Christmas (12/11/1998)
Let's Dance (1/8/1999)
Split Decision (1/15/1999)
My Boyfriend's Back (1/29/1999)
No Man's Land (2/12/1999)
Carrie Moves In (2/19/1999)
Mr. Right Under Your Nose (2/26/1999)
Welcome Matt (3/12/1999)
The Odd Couples (3/19/1999)
When A Man Leaves A Woman (3/26/1999)
The Goodbye Girl (4/2/1999)
Find Thousands of
Your Favorite
Shows

By Starting Letter
A B C D E F G
H I J K L M N
O P Q R S T U
V W X Y Z
Thank you for visiting our Two Of A Kind page!
Copyright © 1997-Present CrazyAboutTV.com
All rights reserved