Search CrazyAboutTV for your
favorite show or your
favorite star!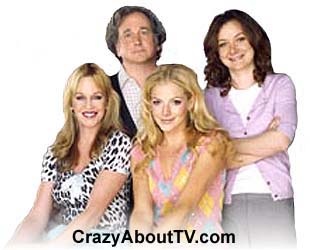 Series Description
The Twins TV show was a 30 minute situation comedy series on the WB Network (now the CW Network) about two twins (not identical) sisters who had taken over the running of a business started by their parents. That created a difficult situation as their personalities were about as different as they could possibly be. One was smart and savy about worldly things while the other was the typical "dumb blonde".
Twins Cast
Sara Gilbert .... Mitchee Arnold
Melanie Griffith .... Lee Arnold
Molly Stanton .... Farrah Arnold
Mark Linn-Baker .... Alan Arnold
Christopher Fitzgerald .... Neil
Bob Clendenin .... Bob
Steve Braun .... Jordan
Patricia Belcher .... Dolly
Dennis Cruzado .... Jeff
Andrew Friedman .... Henry
Jennifer Elise Cox .... Cara
Tracey McCall .... Ashley
Ajay Vidure .... Sanjay
Craig Welzbacher .... Richard
Christy Keefe .... Claudia
Episodes List With Original Air Dates
The First And Only Season

Pilot Episode (9/16/2005)
Fruit of the Lunatics (9/23/2005)
Treat Her Like a Lady (9/30/2005)
Twist of Fate (10/7/2005)
Really, It's the Thought That Counts (10/14/2005)
Model Student (10/21/2005)
Halloween Boo (10/28/2005)
Horse Sense (11/4/2005)
I Love You, You're Fired (11/11/2005)
Sister's Keeper (11/18/2005)
Musical Chairs (12/9/2005)
Blonde Ambition (1/13/2006)
Dancin' & Pantsin' (1/20/2006)
Sneaks and Geeks (1/27/2006)
When I Move, You Move (2/3/2006)
The Housing Crisis (2/17/2006)
Himbo (2/24/2006)
Blast from the Past (3/3/2006)
Find Thousands of
Your Favorite
Shows

By Starting Letter
A B C D E F G
H I J K L M N
O P Q R S T U
V W X Y Z
Thank you for visiting our Twins TV show page!
Copyright © 1997-Present CrazyAboutTV.com
All rights reserved