Search CrazyAboutTV for your
favorite show or your
favorite star!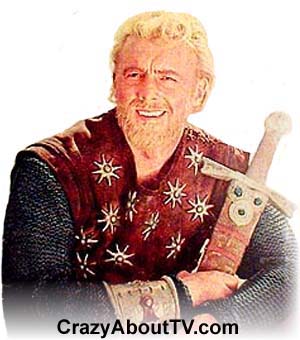 Series Description
The Tales of the Vikings TV show was a 30 minute Canadian action/adventure series that aired in syndication. It was about the legendary Leif Ericson and his 10th century seagoing warriors engaged in one exciting adventure of conquest after another.
Tales of the Vikings Cast
Jerome Courtland .... Leif Ericson
Stefan Schnabel .... Firebeard
Walter Barnes .... Finn
June Thorburn .... Jessica
Peter Bull .... Haldar
Buddy Baer .... Viking Crewman
Tales of the Vikings Theme Song Lyrics
From out of the North like an icy wind
Came Odin's fair warriors breed
With broadaxe and spear they followed a star
Adventure and glory their need
They conquered the seas in their dragon ships
Fought bravely in many a land
For the Valkyrie maids will come for the man
Who dies with a sword in his hand
Tales of the Vikings Trivia
The Tales of the Vikings was filmed in Toronto, Ontario and was inspired by the 1958 blockbuster film, "The Vikings" that starred hollywood legends Kirk Douglas, Tony Curtis, Janet Leigh and Ernest Borgnine!
In order to keep production costs low and yet give the TV series a quality look, lots of footage from the movie was used on the show.
Buddy Baer was the younger brother of heavyweight boxing champion, Max Baer, Sr. and the uncle of Max Baer, Jr. who played the role of Jethro Bodine on the TV series, "The Beverly Hillbillies".
Episodes List With Original Air Dates
The First And Only Season
Note: Since Tales of the Vikings aired in syndication, air dates varied from one TV station to another during the 1959/1960 season.

Saracen Gold
The Weapon
Pedigree
The Ransom
Journey To Bretland
Victory Saga
Shipwreck
The Witch
Banished Woman
Return Of The Viking
The Bread Of Life
The Treasure
Treasure of Erin
The Black Stone
The Madness
Return of Aud
Doom at the All-Thing
House Divided
The Oathbreaker
Port of Thieves
Cold Steel
The Bowman
The Dragon
The Thing
Blood Sacrifice
A Marriage of State
Days of Blood
False Neighbor
The Merchants of Venice
The Shield
The Noble Thrall
The Voyage
The Women
The Diplomat
Galley Slaves
The Barbarian
The Salt Mine
The Mercenaries
The Harem Dancer
Find Thousands of
Your Favorite
Shows

By Starting Letter
A B C D E F G
H I J K L M N
O P Q R S T U
V W X Y Z
Thank you for visiting our Tales of the Vikings page!
Copyright © 1997-Present CrazyAboutTV.com
All rights reserved