Search CrazyAboutTV for your
favorite show or your
favorite star!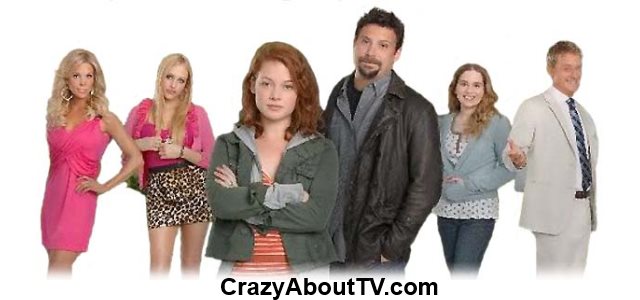 Series Description
Suburgatory is a 60 minute comedy series that premiered on September 28, 2011 on ABC. It's about a New York City father who found a box of condoms in his teenage daughter Tessa's dresser drawer and decided that she needed a change of atmosphere so they moved to a small suburban community with a lifestyle reminiscent of that seen on "Leave it to Beaver". Everyone was just perfect and Tessa absolutely hated it!
Suburgatory Cast
Jane Levy .... Tessa Altman
Jeremy Sisto .... George Altman
Cheryl Hines .... Dallas Royce
Carly Chaikin .... Dalia Royce
Alan Tudyk .... Noah Werner
Allie Grant .... Lisa Shay
Rex Lee .... Mr. Wolf
Ana Gasteyer .... Sheila Shay
Chris Parnell .... Fred Shay
Kara Pacitto .... Kenzie
Katelyn Pacitto .... Kaitlin
Suburgatory Trivia
In the unlikely event that you haven't figured it out, Suburgatory is a combination of the words suburban and purgatory which reflects the fact that 16-year-old Tessa despised her move from the big city to the suburbs.
Suburgatory will air on Citytv stations in Canada on the same day but not neccessarily in the same time slot depending on location.
Episodes List With Original Air Dates
Suburgatory - Season 1

Pilot Episode (9/28/2011)
The Barbecue (10/5/2011)
The Chatterer (10/12/2011)
Don't Call Me Shirley (10/19/2011)
Halloween (10/26/2011)
Charity Case (11/2/2011)
Sweet Sixteen (11/16/2011)
Thanksgiving (11/23/2011)
The Nutcracker (12/7/2011)
Driving Miss Dalia (1/4/2012)
Out in the Burbs (1/11/2012)
The Casino Trip (1/18/2012)
Sex and the Suburbs (2/8/2012)
The Body (2/15/2012)
Fire with Fire (2/22/2012)
Poetic Injustice (2/29/2012)
Independence Day (3/14/2012)
Down Time (4/11/2012)
Entering Eden (4/18/2012)
Hear No Evil (5/2/2012)
The Great Compromise (5/9/2012)
The Motherload (5/16/2012)
Suburgatory - Season 2
Homecoming (10/17/2012)
The Witch of East Chatswin (10/24/2012)
Ryan's Song (10/31/2012)
Foam Finger (11/7/2012)
The Wishbone (11/14/2012)
Friendship Fish (11/28/2012)
Krampus (12/5/2012)
Black Thai (1/9/2013)
Junior Secretary's Day (1/16/2013)
Chinese Chicken (1/23/2013)
Body Talk (1/30/2013)
Yakult Leader (2/6/2013)
Blowtox and Burlap (2/13/2013)
T-Ball & Sympathy (2/20/2013)
Hash and Eggs (2/27/2013)
How to Be a Baby (3/6/2013)
Eat, Pray, Eat (3/20/2013)
Brown Trembler (3/27/2013)
Decemberfold (4/3/2013)
Go, Gamblers (4/10/2013)
Apocalypse Meow (4/17/2013)
Stray Dogs (4/17/2013)
Suburgatory - Season 3
No Me Gusta, Mami (1/15/2014)
Victor Ha (1/22/2014)
Open Door Policy (1/29/2014)
The Birds and the Biederman (2/5/2014)
Blame it on the Rainstick (2/26/2014)
About a Boy-Yoi-Yoing (3/5/2014)
I'm Just That Not That Into Me (3/12/2014)
Catch and Release (3/26/2014)
The Ballad of Piggy Duckworth (4/2/2014)
No, You Can't Sit with Us (4/23/2014)
Dalia Nicole Smith (4/30/2014)
Les Lucioles (5/7/2014)
Stiiiiill Horny (5/14/2014)
Find Thousands of
Your Favorite
Shows

By Starting Letter
A B C D E F G
H I J K L M N
O P Q R S T U
V W X Y Z
Thank you for visiting our Suburgatory page!
Copyright © 1997-Present CrazyAboutTV.com
All rights reserved