Search CrazyAboutTV for your
favorite show or your
favorite star!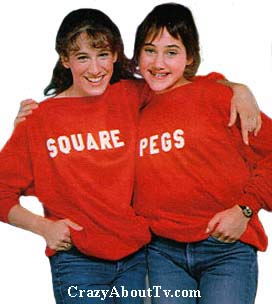 Series Description
Square Pegs was a 30 minute comedy series on CBS.
Square Pegs Cast
Sarah Jessica Parker .... Patty Greene
Amy Linker .... Lauren Hutchison
John Femia .... Marshall Blechtman
Merritt Butrick ..............Johnny "Slash" Ulasewicz
Jami Gertz .... Muffy Tupperman
Jon Caliri .... Vinnie Pasetta
Claudette Wells .... LaDonna Fredericks
Tracy Nelson .... Jennifer DeNuccio
Episodes List With Original Air Dates
Square Pegs - The First and Only Season
Pilot Episode (9/27/1982)
A Cafeteria Line (10/4/1982)
Pac Man Fever (10/11/1982)
Square Pigskins (10/18/1982)
Halloween XII (11/1/1982)
A Simple Attachment (11/8/1982)
Weemaweegate (11/15/1982)
Open 24 Hours (11/22/1982)
Muffy's Bat Mitzvah (11/29/1982)
Hardly Working (12/13/1982)
A Child's Christmas In Weemawee (12/20/1982)
It's All How You See Things (12/27/1982)
Merry Pranksters (1/10/1983)
It's Academical (1/24/1983)
The Stepanowicz Papers (1/31/1983)
To Serve Weemawee All My Days (2/7/1983)
No Substitutions (2/14/1983)
No Joy In Weemawee (2/21/1983)
The Arrangement (3/7/1983)
Find Thousands of
Your Favorite
Shows

By Starting Letter
A B C D E F G
H I J K L M N
O P Q R S T U
V W X Y Z
Thank you for visiting our Square Pegs page!
Copyright © 1997-Present CrazyAboutTV.com
All rights reserved