Search CrazyAboutTV for your
favorite show or your
favorite star!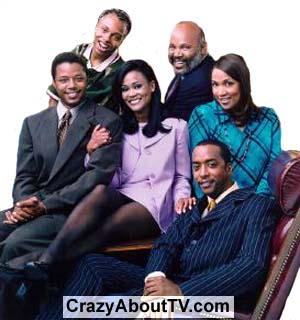 Series Description
The Sparks TV show was a 60 minute comedy series about a man who ran his own law firm and his two adult attorney sons who worked for him. Dad did his best to be a good attorney and boss while he also had to deal with his fanatically competitive offspring.
Sparks Cast
James Avery .... Alonzo Sparks
Robin Givens .... Wilma Cuthbert
Miguel A. Nunez Jr. .... Maxey Sparks
Terrence Dashon Howard .... Greg Sparks
Kim Whitley .... Darice Mayberry
Arif S. Kinchen .... LaMarr Hicks
Episodes List With Original Air Dates
Season 1

Pilot Episode (8/26/1996)
Palimony (9/2/1996)
How Papa Got His Groove Back (9/9/1996)
A Day in the Life (9/16/1996)
Sid, Lies and Videotape (9/23/1996)
Penal Envy (9/30/1996)
No Sweat (10/14/1996)
Pillow Talk (11/4/1996)
One on One (11/5/1996)
Good for the Gander (11/11/1996)
Porky's Revenge (11/18/1996)
Maxey Gets the Bird (11/25/1996)
It's the Gospel (1/13/1997)
I Spy (1/20/1997)
Won't You Be My Neighbor (2/3/1997)
Love Conquers All (2/10/1997)
Self Defense (2/17/1997)
Hoop Schemes (2/24/1997)
The Great Indoors (4/28/1997)
Love in a Cop (5/5/1997)
Too Hot Not to Cool Down (5/12/1997)
A Day in the Life II (5/19/1997)
Season 2
To the Maxey (8/25/1997)
Maxey Loses His Spark (9/1/1997)
Rehearsal of Fortune (9/8/1997)
Dog Gone (9/15/1997)
When a Man is a Woman (9/22/1997)
Defending Claude (9/29/1997)
Don't Get Hooked on Me (10/13/1997)
Bad Reception (10/27/1997)
A Bride for Alonzo (11/3/1997)
Brotherly Love (11/10/1997)
Roots III (11/17/1997)
It's Good to Be Negative (11/24/1997)
Silent Night (12/16/1997)
Flirting with Disaster (1/12/1998)
She's Having My Baby (1/19/1998)
Cain and Abel Sparks (2/16/1998)
Til Your Well Runs Dry - Part 1 (2/23/1998)
Blind Justice - Part 2 (3/2/1998)
Find Thousands of
Your Favorite
Shows

By Starting Letter
A B C D E F G
H I J K L M N
O P Q R S T U
V W X Y Z
Thank you for visiting our Sparks TV show page!
Copyright © 1997-Present CrazyAboutTV.com
All rights reserved