Search CrazyAboutTV for your
favorite show or your
favorite star!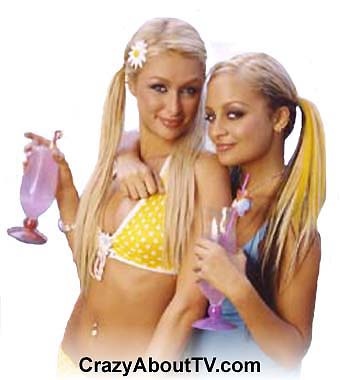 Series Description
The Simple Life was a 60 minute reality television series that aired on the FOX Network for its first three seasons and on the E! Network thereafter. It was about two spoiled rich girls who pretend that they're going to try to live the average person's life and then immediately fall back into their spoiled little rich girl ways. It's all in good fun though and it can be entertaining watching the reactions of "normal" people to the girls carefree, "anything goes" attitudes. Parents with children wanting to watch this series should be aware that it contains foul language, sexual inuendos, and little regard for moral values.
The Simple Life Cast
Paris Hilton
Nicole Richie
James DuMont (Narrator)
Tinkerbell (Paris' Teacup Chihuahua)
Foxy Cleopatra (Nicole's Pomeranian)
Honey Child (Nicole's Shih Tzu)
The Simple Life Theme Song
Title: "The Simple Life Theme"
Written And Performed By: "We 3 Kings"
Note: Lyrics changed slightly from one season to another.

Let's take two girls
Both filthy rich
From the bright lights
Into the sticks
From velvet robes
To cattle poles
Lets take away their limousines
Their credits cards and shopping sprees
Well they're both spoilt rotten
Will they cry when they hit bottom?
Heaven knows who can survive
This simple country kind of life
The Simple Life Trivia
Nicole Richie was not the first choice to be Paris Hilton's co-star on The Simple Life. The show's producers originally asked Paris' sister Nicky Hilton to team up with her. When Nicky turned it down, Paris' best friend (at the time) became the most obvious choice.
One episode of The Simple Life was supposed to have taken place at a school but the uproar from parents prevented that from occuring.
Episodes List With Original Air Dates
The Simple Life - The First Season
Farmers With the Ledding Family (12/2/2003)
Farmers (12/3/2003)
Fast Food Workers (12/9/2003)
Organizers of the Annual Town Festival (12/16/2003)
Cattle Auctioneer Assistants (12/17/2003)
Convenient Store/Bait Shop Workers (1/7/2004)
Farewell Episode (1/14/2004)
Taxidermist's Assistants (1/26/2004)
The Simple Life - The Second Season
Workers at the Batten Family Ranch (6/16/2004)
Workers at Weeki Wachee Springs (6/16/2004)
Nudist Colony Maids (6/23/2004)
The Skinner Family (6/30/2004)
Crawfish Trappers (7/7/2004)
The Lutz-Carrillo Family (7/14/2004)
The Cash Family (7/21/2004)
The Bahm Family (7/28/2004)
The Click Family (8/4/2004)
Cattle Drive Cowgirls (8/4/2004)
The Simple Life - The Third Season
Mechanics/Secretaries (1/26/2005)
Airline (2/9/2005)
Mortuary (2/16/2005)
Plastic Surgery (2/23/2005)
Broadcasting (3/2/2005)
Daycare (3/9/2005)
Zoo (3/16/2005)
Culinary (3/23/2005)
Psychic (3/30/2005)
Nursing Home (4/6/2005)
Ad Agency (4/13/2005)
Firefighters (4/20/2005)
Manufacturing (4/28/2005)
Wedding Planner (5/12/2005)
Dentistry (5/12/2005)
The Simple Life - The Fourth Season
The Nolan Family (6/4/2006)
Ghauri Family (6/11/2006)
The Weekes Family (6/18/2006)
The Padilla Family (6/25/2006)
The Bowden Family (7/9/2006)
The Murrie Family (7/16/2006)
The Contreras Family (7/23/2006)
Beggs Family (7/30/2006)
The Burton Family (8/6/2006)
The Confrontation (8/13/2006)
The Simple Life - The Fifth Season
Welcome to Camp Shawnee (5/28/2007)
Big Primpin (6/3/2007)
Pageant Girls Just Want to Have Fun (6/10/2007)
Showstoppers (6/17/2007)
Flirting With Disaster (6/24/2007)
Committed (7/1/2007)
Say Hello to Myke Hawke (7/8/2007)
Babes in the Woods (7/22/2007)
Almost Fame-Less (7/29/2007)
Hollywood Ending (8/5/2007)
The Simple Life Specials
The Simple Life Reunion (1/13/2004) - Recap Show
The Simple Life 2: Road Trip: The Stuff We Weren't Allowed To Show You (11/17/2004)
Find Thousands of
Your Favorite
Shows

By Starting Letter
A B C D E F G
H I J K L M N
O P Q R S T U
V W X Y Z
Thank you for visiting our The Simple Life TV Show page!
Copyright © 1997-Present CrazyAboutTV.com
All rights reserved