Search CrazyAboutTV for your
favorite show or your
favorite star!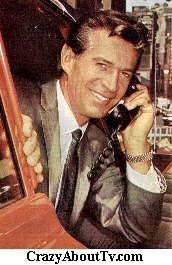 Series Description
The Shannon TV show was a 30 minute crime drama series that aired in syndication.
Shannon Cast
George Nader .... Joe Shannon
Regis Toomey .... Bill Cochran
Episodes List With Original Air Dates
Shannon - The First Season
The Embezzler's Daughter (10/2/1961)
King Leal Report (10/9/1961)
Ironclad Alibi (10/16/1961)
Zendee Report (10/23/1961)
Decoy (10/30/1961)
Porcelain Egg (11/6/1961)
Jade Tortoise (11/13/1961)
Pickup (11/20/1961)
Desert Crossroads (11/27/1961)
Big Fish (12/4/1961)
Lady On The Rocks (12/11/1961)
Cold Trail (12/18/1961)
The Hyatt Fund (1/1/1962)
Professional Widower (1/8/1962)
Legacy In G (1/15/1962)
Fallers (1/22/1962)
Dolphin And The Mermaid (1/29/1962)
Bonds Of Friendship (2/6/1961)
Man From Yesterday (2/12/1962)
Tarnish On The Badge (2/19/1962)
Jungle Kid (2/26/1962)
Deadly Homecoming (3/5/1962)
Saints And Sinners (3/12/1962)
License To Steal (3/19/1962)
Sports Car Story (4/2/1962)
Florentine Prince (4/9/1962)
Play With Fire (4/23/1962)
Never Help A Lady (4/30/1962)
Uneasy Debt (5/14/1962)
Medal (5/21/1962)
Duke Of The Valley (6/4/1962)
The Patriarch (6/11/1962)
Gideon Leap (6/25/1962)
Delayed Delivery (7/2/1962)
Shannon - The Second Season
(Well, kind of a season)

End Of The Line (9/17/1962)
Conspiracy Of Silence (9/24/1962)
Find Thousands of
Your Favorite
Shows

By Starting Letter
A B C D E F G
H I J K L M N
O P Q R S T U
V W X Y Z
Thank you for visiting our Shannon TV show page!
Copyright © 1997-Present CrazyAboutTV.com
All rights reserved