Search CrazyAboutTV for your
favorite show or your
favorite star!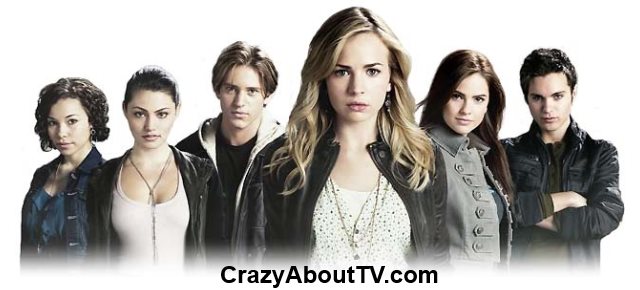 Series Description
The Secret Circle is a 60 minute dramatic fantasy series that premiered on September 15, 2011 on the CW Network. It's about a sixteen-year-old girl named Cassie whose mother suddenly and mysteriously dies in a fire. She moves from California to Chance Harbor, Washington to live with her grandmother. Upon arrival she meets five other girls who tell her that all six of them are witches! If they form a "secret circle" they can combine their powers and do amazing things. While Cassie wants to use her powers for good, the leader of the girls named Diana is overcome with dreams of power and has other ideas about how to use their powers. There's a struggle between Cassie's good and Diana's evil intentions and to make matters worse, they both want the same guy! As if that's not enough, Cassie also learns that her father and the other girls' parents have their own sinister agenda!
The Secret Circle Cast
Britt Robertson .... Cassie Blake
Thomas Dekker .... Adam Conant
Shelley Hennig .... Diana Meade
Phoebe Tonkin .... Faye Chamberlain
Jessica Parker Kennedy .... Melissa Glaser
Louis Hunter .... Nick Armstrong
Natasha Henstridge .... Dawn Chamberlain
Gale Harold .... Charles Meade
Chris Zylka .... Jake Armstrong
Ashley Crow .... Jane Blake
Adam Harrington .... Ethan Conant
Louis Hunter .... Nick Armstrong
Joe Lando .... John Blackwell (2012)
Grey Damon .... Lee LaBeque (2012)
Sammi Rotibi .... Eben (2012)
The Secret Circle Trivia
This series is based on books written by "L.J. Smith" who is also the author of "The Vampire Diaries".
Episodes List With Original Air Dates
The Secret Circle - The First And Only Season
Pilot Episode (9/15/2011)
Bound (9/22/2011)
Loner (9/29/2011)
Heather (10/6/2011)
Slither (10/13/2011)
Wake (10/20/2011)
Masked (10/27/2011)
Beneath (11/3/2011)
Balcoin (11/10/2011)
Darkness (1/5/2012)
Fire / Ice (45 Minutes) (1/12/2012)
Witness (1/19/2012)
Medallion (2/2/2012)
Valentine (2/9/2012)
Return (2/16/2012)
Lucky (3/15/2012)
Curse (3/22/2012)
Sacrifice (3/29/2012)
Crystal (4/19/2012)
Traitor (4/26/2012)
Prom (5/3/2012)
Family (5/10/2012)
Find Thousands of
Your Favorite
Shows

By Starting Letter
A B C D E F G
H I J K L M N
O P Q R S T U
V W X Y Z
Thank you for visiting our The Secret Circle TV Show page!
Copyright © 1997-Present CrazyAboutTV.com
All rights reserved