Search CrazyAboutTV for your
favorite show or your
favorite star!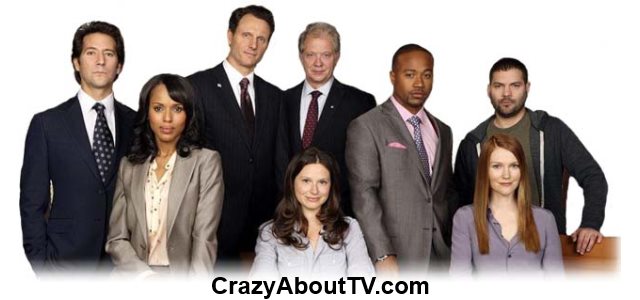 Series Description
Scandal is a 60 minute drama series on ABC about a former Communications Director for the President of the United States who uses her experience as a "problem fixer" to open her own crisis management company. She excels at making problems go away for her clients before anyone else even hears of them.
Scandal Cast
Kerry Washington .... Olivia Pope
Columbus Short .... Harrison Wright
Darby Stanchfield ... Abby Whelan
Katie Lowes .... Quinn Perkins
Jeff Perry .... Cyrus Beene
Guillermo Diaz .... Huck
Joshua Malina .... David Rosen
Bellamy Young .... Mellie Grant
Tony Goldwyn .... President Fitzgerald Grant
Gregg Henry .... Hollis Doyle
Dan Bucatinsky .... James Novak
Norm Lewis .... Senator Edison Davis
Debra Mooney .... Verna Thornton
Scandal Trivia
It becomes obvious where the inspiration for Scandal came from when you learn about co-Executive Producer Judy Smith's background. She has worked in real life as a consultant for people and companies who have found themselves in crisis situations that made national or worldwide news! Some of her clients included Clinton White House intern "Monica Lewinsky", the family of Chandra Levy who was murdered after an affair with married Congressman Gary Condit (who has been cleared of the murder), Michael Vick after he was caught participating in an illegal dog-fighting ring and British Pretoleum (BP) after one of its offshore drilling rigs in the Gulf of Mexico exploded resulting in the deaths of 11 people/injuring 16 others/and doing massive environmental damage to much of the Gulf Coast.
Scandal was created by Shonda Rhimes who (as of the fall 2014-2015 season) has also created "Grey's Anatomy" and "How To Get Away With Murder"!
Find Thousands of
Your Favorite
Shows

By Starting Letter
A B C D E F G
H I J K L M N
O P Q R S T U
V W X Y Z
Thank you for visiting our Scandal TV Show page!
Copyright © 1997-Present CrazyAboutTV.com
All rights reserved