Sabrina, the Teenage Witch
Search CrazyAboutTV for your
favorite show or your
favorite star!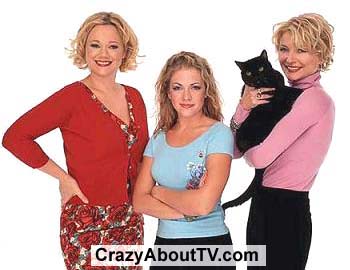 Series Description
The Sabrina, the Teenage Witch TV show was a 30 minute comedy series with a fantasy twist on ABC for its first four seasons and on the WB Network (now the CW Network) thereafter. It was about a young girl who discovered that she and her aunts were witches. Her majical abilities got her into one bad situation after another but everything typically turned out all right in the end.
Sabrina, the Teenage Witch Cast
Melissa Joan Hart .... Sabrina Spellman
Nick Bakay .... Salem Saberhagen's Voice
Caroline Rhea .... Hilda Spellman (1996-2002)
Beth Broderick .... Zelda Spellman (1996-2002)
Nate Richert .... Harvey Kinkle (1996-2000, 2001-2003)
Jenna Leigh Green .... Libby Chessler (1996-1999)
Lindsay Sloane .... Valerie Birkhead (1997-1999)
Martin Mull .... Principal Willard Kraft (1997-2000)
Diana-Maria Riva .... Annie (2002-2003)
John Ducey .... Leonard (2002-2003)
Bumper Robinson .... James (2002-2003)
Andrew W. Walker .... Cole (2002-2003)
China Shavers .... Dreama (1999-2000)
Michelle Beaudoin .... Jennifer "Jenny" Kelley (1996-1997)
Paul Feig .... Mr. Eugene Pool (1996-1997)
Sabrina, the Teenage Witch Theme Song
Title: "Soda Pop"
Performed By: "Britney Spears"
Open the soda pop bop shu bop shu bop
The clock is ticking and we can't stop
Ooh, ooh we have a plan
We have a definate plan
To level the vibes (vibes)
To level the vibes again
Ooh yeah, see were you could do for
A superlative sale
We could turn till the end, ooh yeah
So open the soda pop, watch it fizz and pop
Ooh (the clock is ticking and we can't stop) can't stop
Open the soda pop bop shu bop shu bop
The clock is ticking and we can't stop, can't stop, no
Open the soda pop, watch it fizz and pop, ooh yeah
The clock is ticking and we can't stop
Open the soda pop bop shu bop shu bop
Ahh (the clock is ticking and we can't stop) can't stop
So much time we're losing
Sitting watching the clock (watching the clock)
Turn the table baby
Let's go over the top (take it to the top now)
No one else will do, i'm waiting for you
So show me what you've got, just take a pop shot
And we will never stop, shu bop shu bob, yeah
The clock is ticking and we can't stop
Episodes List With Original Air Dates
TV Pilot Movie
Sabrina, the Teenage Witch (4/7/1996)
Season 1

Pilot Episode (9/27/1996)
Bundt Friday (10/4/1996)
The True Adventures of Rudy Kazootie (10/11/1996)
Terrible Things (10/18/1996)
A Halloween Story (10/25/1996)
Dream Date (11/1/1996)
Third Aunt From the Sun (11/8/1996)
Magic Joel (11/15/1996)
Geek Like Me (11/22/1996)
Sweet and Sour Victory (11/29/1996)
A Girl and Her Cat (12/13/1996)
Trial by Fury (1/3/1997)
Jenny's Non-Dream (1/10/1997)
Sabrina Through the Looking Glass (1/17/1997)
Hilda and Zelda: the Teenage Years (1/31/1997)
Mars Attracts (2/7/1997)
First Kiss (2/14/1997)
Sweet Charity (3/7/1997)
Cat Showdown (3/21/1997)
Meeting Dad's Girlfriend (4/4/1997)
As Westbridge Turns (4/25/1997)
The Great Mistake (5/2/1997)
The Crucible (5/9/1997)
Troll Bride (5/16/1997)
Season 2
Sabrina Gets Her License - Part 1 (9/26/1997)
Sabrina Gets Her License - Part 2 (9/26/1997)
Dummy for Love (10/3/1997)
Dante's Inferno (10/10/1997)
A Doll's Story (10/17/1997)
Sabrina, the Teenage Boy (10/24/1997)
A River of Candy Corn Runs Through It (10/31/1997)
Inna-Gadda-Sabrina (11/7/1997)
Witch Trash (11/14/1997)
To Tell a Mortal (11/21/1997)
Oh What a Tangled Spell She Weaves (12/5/1997)
Sabrina Claus (12/19/1997)
Little Big Kraft (1/9/1998)
Five Easy Pieces of Libby (1/23/1998)
Finger Lickin' Flu (1/30/1998)
Sabrina and the Beanstalk (2/6/1998)
The Equalizer (2/13/1998)
The Band Episode (2/27/1998)
When Teens Collide (3/6/1998)
My Nightmare, the Car (3/20/1998)
Fear Strikes Up a Conversation (4/3/1998)
Quiz Show (4/17/1998)
Disneyworld (4/24/1998)
Sabrina's Choice (5/1/1998)
Rumor Mill (5/8/1998)
Mom vs. Magic (5/15/1998)
Season 3
It's A Mad Mad Mad Mad Season Opener (9/25/1998)
Boy Was My Face Red (10/2/1998)
Suspicious Minds (10/9/1998)
The Pom Pom Incident (10/16/1998)
Pancake Madness (10/23/1998)
Good Will Haunting (10/30/1998)
You Bet Your Family (11/6/1998)
And the Sabrina Goes To... (11/13/1998)
Nobody Nose Libby Like Sabrina Nose Libby (11/20/1998)
Sabrina and the Beast (11/27/1998)
Christmas Amnesia (12/11/1998)
Whose So-Called Life Is It Anyway? (1/8/1999)
What Price Harvey? (1/15/1999)
Mrs. Kraft (1/29/1999)
Sabrina and the Pirates (2/5/1999)
Sabrina the Matchmaker (2/12/1999)
Salem, the Boy (2/19/1999)
Sabrina, the Teenage Writer (2/26/1999)
The Big Sleep (3/12/1999)
Sabrina's Pen Pal (3/12/1999)
Sabrina's Real World (4/9/1999)
The Long and Winding Short Cut (4/30/1999)
Sabrina the Sandman (5/7/1999)
Slient Movie (5/14/1999)
The Good, the Bad and the Luau (5/21/1999)
Season 4
No Place Like Home (9/24/1999)
Dream a Little Dreama Me (10/1/1999)
Jealousy (10/8/1999)
Little Orphan Hilda (10/15/1999)
Spoiled Rotten (10/22/1999)
Episode LXXXI: The Phantom Menace (10/29/1999)
Prelude to a Kiss (11/5/1999)
Aging, Not So Gracefully (11/12/1999)
Love Means Having to Say You're Sorry (11/19/1999)
Ice Station Sabrina (11/21/1999)
Salem and Juliette (12/10/1999)
Sabrina, Nipping at Your Nose (12/17/1999)
Now You See Her, Now You Don't (1/7/2000)
Super Hero (1/21/2000)
Love in Bloom (2/11/2000)
Welcome Back, Duke (2/25/2000)
Salem's Daughter (3/3/2000)
Dreama the Mouse (3/17/2000)
The Wild, Wild Witch (3/31/2000)
She's Baaaack! (4/14/2000)
The Four Faces of Sabrina (4/28/2000)
The End of an Era (5/5/2000)
Season 5
Every Witch Way but Loose (9/22/2000)
Double Time (9/29/2000)
Heart of the Matter (10/6/2000)
You Can't Twin (5/13/2000)
House of Pi's (10/20/2000)
The Halloween Scene (10/27/2000)
Welcome, Traveler (11/3/2000)
Some of My Best Friends are Half-Mortals (11/10/2000)
Lost at 'C' (11/17/2000)
Sabrina's Perfect Christmas (12/15/2000)
My Best Shot (1/12/2001)
Tick-Tock Hilda's Clock (1/19/2001)
Sabrina's New Roommate (1/26/2001)
Making the Grade (2/2/2001)
Love Is A Many Complicated Thing (2/9/2001)
Sabrina, The Muse (2/16/2001)
Beach Blanket Bizarro (3/23/2001)
Witchright Hall (4/6/2001)
Sabrina, the Activist (4/27/2001)
Do You See What I See? (5/4/2001)
Sabrina's Got Spirit (5/11/2001)
Finally! (5/18/2001)
Season 6
Really Big Season Opener (10/5/2001)
Sabrina's Date with Destiny (10/12/2001)
What's News (10/19/2001)
Murder on the Halloween Express (10/26/2001)
The Gift of Gab (11/2/2001)
Thin Ice (11/9/2001)
Hex, Lies & No Videotape (11/16/2001)
Humble Pie (12/7/2001)
A Birthday Witch (1/11/2002)
Deliver Us from E-mail (1/18/2002)
Cloud Ten (1/25/2002)
Sabrina and the Candidate (2/1/2002)
I Think I Love You (2/15/2002)
The Arrangement (2/22/2002)
Time After Time (3/15/2002)
Sabrina and the Kiss (3/22/2002)
The Competition (4/5/2002)
I, Busybody (4/12/2002)
Guilty! (4/19/2002)
The Whole Ball of Wax (4/26/2002)
Driving Mr. Goodman (5/3/2002)
I Fall to Pieces (5/10/2002)
Season 7
Total Sabrina Live! - Part 2 (9/20/2002)
The Big Head (9/27/2002)
Call Me Crazy (10/4/2002)
Shift Happens (10/11/2002)
Free Sabrina (10/18/2002)
Sabrina Unplugged (11/1/2002)
Witch Way Out (11/8/2002)
Bada-Ping! (11/15/2002)
It's a Hot, Hot, Hot, Hot Christmas (12/6/2002)
Ping, Ping A Song (1/10/2003)
The Lyin', the Witch and the Wardrobe (1/17/2003)
In Sabrina We Trust (1/24/2003)
Sabrina in Wonderland (1/31/2003)
Present Perfect (2/7/2003)
Cirque du Sabrina (2/14/2003)
Getting To Nose You (2/21/2003)
Romance Looming (2/27/2003)
Spellmanian Slip (3/20/2003)
You Slay Me (3/27/2003)
A Fish Tale (4/17/2003)
What a Witch Wants - Part 1 (4/24/2003)
Soul Mates - Part 2 (4/24/2003)
Tv Movies
Sabrina Goes to Rome (10/4/1998)
Sabrina Down Under (9/26/1999)
Find Thousands of
Your Favorite
Shows

By Starting Letter
A B C D E F G
H I J K L M N
O P Q R S T U
V W X Y Z
Thank you for visiting our Sabrina, the Teenage Witch page!
Copyright © 1997-Present CrazyAboutTV.com
All rights reserved