Search CrazyAboutTV for your
favorite show or your
favorite star!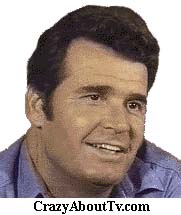 Series Description
The Rockford Files was a 60 minute detective drama series on NBC about an ex-con private investigator. He had a natural mis-trust of the police and the legal system in general as he had been wrongly convicted of armed robbery. Luckily, new evidence proved his innocence and he was released. Often, he would get involved in closed cases that the police felt had been solved. Rockford would find evidence to suggest that the police were wrong. He also typically underestimated how difficult it would be to find the true perpetrators and to convince the police that he, not they, were correct. He wasn't the typical tough guy PI as on most other series. He would prefer to avoid a fight where possible.
The Rockford Files Cast
James Garner .... James "Jim" Rockford
Noah Beery Jr. .... Joseph "Rocky" Rockford
Stuart Margolin .... Evelyn "Angel" Martin
Joe Santos .... Detective Dennis Becker
Gretchen Corbett .... Beth Davenport
Bo Hopkins .... John "Coop" Cooper
Tom Atkins .... Lieutenant Alex Diehl
James Luisi .... Lieutenant Doug Chapman
Tom Selleck .... Lance White
Rita Moreno .... Rita Kapkovic
The Rockford Files Trivia
NBC executives initially had some problems with the Rockford Files' scripts as they felt they were too funny for a serious detective series. At first the writers complied with demands to remove those comical lines but eventually both they and James Garner refused feeling that was one element that made the TV show unique. It may have helped keep viewers tuned in to NBC too because The Rockford File initially aired directly following two comedies, "Sanford & Son" and "Chico & the Man".
The theme song for the series is simply titled, "The Rockford Files" and was written by Mike Post & Peter Carpenter. The tune was very popular and heard regularly on the radio during much of 1975.
For those superstitious folks, you might want to note that The Rockford Files first episode aired on Friday the 13th and yet, it lasted six seasons!
Jim Rockford didn't exactly live like a king. Despite the fact that he charged $200 per day plus expenses (a lot of money in the mid '70s), he lived in and worked out of a house trailer.
The name Rockford was chosen when writer Stephen J. Cannell found it in the Universal Studios employee directory.
James Garner is a big man. According to a 1959 Time Magazine article he was 6 foot 3 inches tall. He weighed 206 pounds. He was not overweight by any means. His chest was 44 inches, his waist a tight 33 inches and his hips were 40 inches. Before acting, he worked as a model. He is part Cherokee Indian. At age 16 he joined the Merchant Marines and received a Purple Heart for injuries suffered in the Korean War.
Robert Donley portrayed Jim Rockford's father in the Rockford Files pilot episode and then Noah Berry Jr. got the role for the series.
According to James Garner, the license plate number (853-OKG) on Jim Rockford's Firebird was thought up by his agent. It represents August of 1953 when Jame Garner got his first acting role and the OKG comes from his home state of Oklahoma and the first letter of his last name!
The reason that the final season of the Rockford Files ended in January, half-way through the season, is that James Garner had been experiencing a series of health problems and he was also getting a bit tired of the role.
During the final short season, Tom Selleck appeared in the role of, "Lance White", a "smooth" private investigator who always had all the answers before Rockford and got those answers with seemingly no effort. To say the least, Rockford really resented him. Tom Selleck went straight from his role here to the very similar role of, "Thomas Magnum" on the series, "Magnum P.I."! Two other stars from Magnum P.I.'s cast, "Larry Manetti" and "Roger E. Mosley" also appeared on The Rockford Files in guest roles and one episode of Magnum P.I. included a discussion of a Rockford Files episode.
The Rockford Files Opening Narrative
(James Garner's voice as Jim Rockford's answering machine answers a call)
Jim: "This is Jim Rockford. At the tone leave your name and message. I'll get back to you."
(Then a message would be left by the caller, usually demanding money from Jim or complaining about something else he did wrong. The message was different each week. Following are a few examples:)
"Jim, It's Norma at the market. It bounced. You want us to tear it up, send it back, or put it with the others.
"It's Laurie at the trailer park. A space opened up. Do you want me to save it or are the cops going to let you stay where you are?"
"This is the Message Phone Company. I see you're using our unit. Now how 'bout paying for it!?"
"This is Mrs. Mosely at the library. We billed you for your overdue book Karate Made Easy. We abuse our library, we don't get our cards renewed."
Episodes List With Original Air Dates
TV Pilot Episode
Backlash Of The Hunter (3/27/1974)

The Rockford Files - The First Season
1... The Kirkoff Case (9/13/1974)
2... The Dark And Bloody Ground (9/20/1974)
3... The Countess (9/27/1974)
4... Exit Prentiss Carr (10/4/1974)
5... Tall Woman In Red Wagon (10/11/1974)
6... This Case Is Closed (10/18/1974)
7... The Big Ripoff (10/25/1974)
8... Find Me If You Can (11/1/1974)
9... In Pursuit Of Carol Thorne (11/8/1974)
10. The Dexter Crisis (11/15/1974)
11. Caledonia - It's Worth A Fortune! (12/6/1974)
12. Profit And Loss: Profit - Part 1 (12/20/1974)
13. Profit And Loss: Loss - Part 2 (12/27/1974)
14. Aura Lee, Farewell (1/3/1975)
15. Sleight Of Hand (1/17/1975)
16. Counter Gambit (1/24/1975)
17. Claire (1/31/1975)
18. Say Goodbye To Jennifer (2/7/1975)
19. Charlie Harris At Large (2/14/1975)
20. The Four Pound Brick (2/21/1975)
21. Just By Accident (2/28/1975)
22. Roundabout (3/7/1975)

The Rockford Files - The Second Season
23. The Aaron Ironwood School Of Success (9/12/1975)
24. The Farnsworth Stratagem (9/19/1975)
25. The Gearjammers - Part 1 (9/26/1975)
26. The Gearjammers - Part 2 (10/3/1975)
27. The Deep Blue Sleep (10/10/1975)
28. The Great Blue Lake Land And Development Company (10/17/1975)
29. The Real Easy Red Dog (10/31/1975)
30. Resurrection In Black And White (11/7/1975)
31. Chicken Little Is A Little Chicken (11/14/1975)
32. 2 Into 5:56 Won't Go (11/21/1975)
33. Pastoria Prime Pick (11/28/1975)
34. The Reincarnation Of Angie (12/5/1975)
35. The Girl In The Bay City Boys' Club (12/19/1975)
36. The Hammer Of "C" Block (1/9/1976)
37. The No-Cut Contract (1/16/1976)
38. A Portrait Of Elizabeth (1/23/1976)
39. Joey Blue-Eyes (1/30/1976)
40. In Hazard (2/6/1976)
41. The Italian Bird Fiasco (2/13/1976)
42. Where's Houston? (2/20/1976)
43. Foul On The First Play (3/12/1976)
44. A Bad Deal In The Valley (3/19/1976)

The Rockford Files - The Third Season
45. The Fourth Man (9/24/1976)
46. The Oracle Wore A Cashmere Suit (10/1/1976)
47. The Family Hour (10/8/1976)
48. Feeding Frenzy (10/15/1976)
49. Drought At Indianhead River (11/5/1976)
50. Coulter City Wildcat (11/12/1976)
51. So Help Me God (11/19/1976)
52. Rattlers' Class Of '63 (11/26/1976)
53. Return To The 38th Parallel (12/10/1976)
54. Piece Work (12/17/1976)
55. The Trouble With Warren (12/24/1976)
56. There's One In Every Port (1/7/1977)
57. Sticks And Stones May Break Your Bones, But Waterbury Will Bury You (1/14/1977)
58. The Trees, The Bees And T.T. Flowers - Part 1 (1/21/1977)
59. The Trees, The Bees And T.T. Flowers - Part 2 (1/28/1977)
60. The Becker Connection (2/11/1977)
61. Just Another Polish Wedding (2/18/1977)
62. New Life, Old Dragons (2/25/1977)
63. To Protect And Serve - Part 1 (3/11/1977)
64. To Protect And Serve - Part 2 (3/18/1977)
65. Crack Back (3/25/1977)
66. Dirty Money, Black Light (4/1/1977)

The Rockford Files - The Fourth Season
67. Beamer's Last Case (9/16/1977)
68. Trouble In Chapter 17 (9/23/1977)
69. The Battle Of Canoga Park (9/30/1977)
70. The Second Chance (10/14/1977)
71. The Dog And Pony Show (10/21/1977)
72. Requiem For A Funny Box (11/4/1977)
73. Quickie Nirvana (11/11/1977)
74. Irving The Explainer (11/18/1977)
75. The Mayor's Committee From Deer Lick Falls (11/25/1977)
76. Hotel Of Fear (12/2/1977)
77. Forced Retirement (12/9/1977)
78. The Queen Of Peru (12/16/1977)
79. The Deadly Maze (12/23/1977)
80. The Attractive Nuisance (1/6/1978)
81. The Gang At Don's Drive-In (1/13/1978)
82. The Paper Palace (1/20/1978)
83. Dwarf In A Helium Hat (1/27/1978)
84. South By Southeast (2/3/1978)
85. The Competitive Edge (2/10/1978)
86. The Prisoner Of Rosemont Hall (2/17/1978)
87. The House On Willis Avenue (2/24/1978)

The Rockford Files - The Fifth Season
88. Heartaches Of A Fool (9/22/1978)
89. Rosendahl And Gilda Stern Are Dead (9/29/1978)
90. The Jersey Bounce (10/6/1978)
91. White On White And Nearly Perfect (10/20/1978)
92. Kill The Messenger (10/27/1978)
93. A Nice Clean Bust With Sequel Rights (11/3/1978)
94. A Three Day Affair With A Thirty Day Escrow (11/10/1978)
95. The Empty Frame (11/17/1978)
96. Black Mirror (11/24/1978)
97. A Fast Count (12/1/1978)
98. Local Man Eaten By Newspaper (12/8/1978)
99. With The French Heel Back, Can The Nehru Jacket Be Far Behind? (1/5/1979)
100. The Battle Ax And The Exploding Cigar (1/12/1979)
101. Guilt (1/19/1979)
102. The Deuce (1/26/1979)
103. The Man Who Saw Alligators (2/10/1979)
104. The Return Of The Black Shadow (2/17/1979)
105. A Material Difference (2/24/1979)
106. Never Send A Boy King To Do A Man's Job (3/3/1979)
107. A Different Drummer (4/13/1979)

The Rockford Files - The Sixth Season
108. Paradise Cove (9/28/1979)
109. Lions, Tigers, Monkeys And Dogs (10/12/1979)
110. Only Rock And Roll Will Never Die - Part 1 (10/19/1979)
111. Only Rock And Roll Will Never Die - Part 2 (10/26/1979)
112. Love Is The Word (11/9/1979)
113. Nice Guys Finish Dead (11/16/1979)
114. The Hawaiian Headache (11/23/1979)
115. The No-Fault Affair (11/30/1979)
116. The Big Cheese (12/7/1979)
117. Just A Coupla Guys (12/14/1979)
118. Deadlock In Parma (1/10/1980)

TV Reunion Movies
I Still Love L.A. (11/27/1994)
A Blessing In Disguise (5/14/1995)
If The Frame Fits. (1/14/1996)
Godfather Knows Best (2/18/1996)
Friends And Foul Play (4/25/1996)
Crime And Punishment (9/18/1996)
Murder And Misdemeanors (11/21/1997)
If It Bleeds. It Leads (4/20/1999)
Find Thousands of
Your Favorite
Shows

By Starting Letter
A B C D E F G
H I J K L M N
O P Q R S T U
V W X Y Z
Thank you for visiting our The Rockford Files page!
Copyright © 1997-Present CrazyAboutTV.com
All rights reserved