Search CrazyAboutTV for your
favorite show or your
favorite star!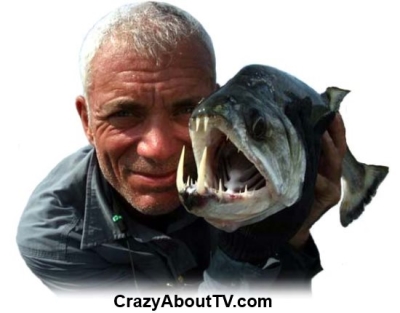 Series Description
River Monsters is a 60 minute documentary/reality series on Animal Planet about a biologist and fisherman extraordinaire who begins each episode by relaying a myth or rumor of some fresh water beast and then sets out to catch one. There's typically a reenactment first of the story told by a local fisherman about how he caught one of the River Monsters or nearly caught one or nearly died trying to catch one.
River Monsters Cast
Jeremy Wade .... Host / Fisherman
River Monsters Trivia
Even if you're not into fishing or bizarre creatures, you might still enjoy watching River Monsters. Host Jeremy Wade takes his audience to exotic lands all over the world. Some of them are more familiar locales like Argentina, Australia, Brazil, Germany, India, Japan, Russia, South Africa, Spain and the United States. Others are likely to be more "rugged" and unfamiliar to viewers like Ethiopia, Guyana, Mongolia, New Guinea, the Republic of Congo, Suriname and Uganda.
The very first episode of River Monsters drew an audience of 1.3 million viewers making it the most successful series premiere to that date for the Animal Planet! Word-of-mouth about the great series gave the second episode a boost to an even larger audience of more than 1.8 million viewers! Every single episode of the first season scored an audience of over one million and the second season premiere set a new record for an Animal Planet season premiere of 1.7 million! To that point the show was the Animal Planet's all-time highest rated series!
Find Thousands of
Your Favorite
Shows

By Starting Letter
A B C D E F G
H I J K L M N
O P Q R S T U
V W X Y Z
Thank you for visiting our River Monsters page!
Copyright © 1997-Present CrazyAboutTV.com
All rights reserved