Search CrazyAboutTV for your
favorite show or your
favorite star!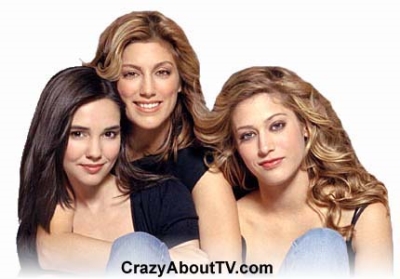 Series Description
The Related TV show was a 60 minute comedy series on the WB Network (now the CW Network) about four young women who were also sisters and lived together in New York City. Their differing personalities created problems between them but their bond as sisters generally overcame those problems.
Related Cast
Jennifer Esposito .... Ginnie Sorelli
Callum Blue .... Bob
Lizzy Caplan .... Marjee Sorelli
Laura Breckenridge .... Rose Sorelli
Kiele Sanchez .... Ann Sorelli
Episodes List With Original Air Dates
Related - The First and Only Season
Moving Out, Moving In, Moving On (10/05/2005)
Hang in There, Baby (10/12/2005)
Cry Me A Sister (10/19/2005)
Hello, Deli (10/26/2005)
The Naked Truth (10/31/2005)
Sex and the Sisters (11/7/2005)
Francesca (11/14/2005)
Driving Miss Crazy (11/21/2005)
Have Yourself A Sorelli Little Christmas (12/12/2005)
The Godmother (1/23/2006)
London Calling (1/30/2006)
Daddy's Little Girl (2/6/2006)
Not Without My Daughter (2/13/2006)
Here's a Balloon For You (2/27/2006)
Sisters are Forever (3/6/2006)
His Name Is Ruthe (3/13/2006)
The Cape (3/20/2006)
The Move (3/20/2006)
Find Thousands of
Your Favorite
Shows

By Starting Letter
A B C D E F G
H I J K L M N
O P Q R S T U
V W X Y Z
Thank you for visiting our Related TV show page!
Copyright © 1997-Present CrazyAboutTV.com
All rights reserved