Search CrazyAboutTV for your
favorite show or your
favorite star!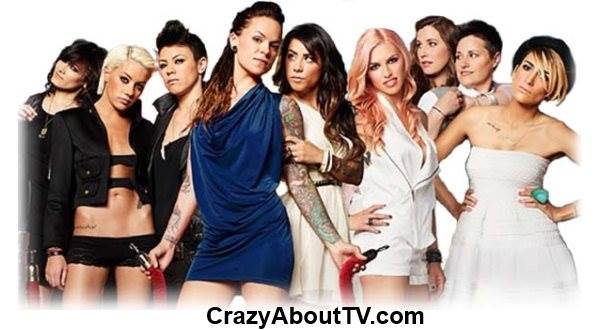 Series Description
The Real L Word is a 60 minute reality series on Showtime that follows five Los Angeles lesbians as they work on their careers and on their social lives.
The Real L Word Cast
Whitney Mixter (2010-2011)
Alyssa Morgan (2010-2011)
Jill Sloane Goldstein (2010)
Nikki Weiss (2010)
Stamie Karakasidis (2010)
Tracy Ryerson (2010)
Mikey Koffman (2010)
Rose Garcia (2010)
Scarlett Hernandez (2010)
Romi Klinger (2011)
Episodes List With Original Air Dates
Pilot Episode
Preview Special (4/26/2010)
Season 1

The Power of Clam (6/20/2010)
Game On! (6/27/2010)
Bromance (7/4/2010)
Gambling With Love (7/11/2010)
Free Pass (7/18/2010)
Family Ties (7/25/2010)
It's My Party And I'll Cry if I Want To (8/1/2010)
Runway Bride (8/8/2010)
Dinah Or Bust (8/15/2010)
Season 2
Fresh Start (6/5/2011)
The Morning After (6/12/2011)
Back To Square One (6/19/2011)
The Other L Word (6/26/2011)
It's About To Get Juicy (7/3/2011)
Baby Batter Up! (7/10/2011)
Playing With Fire (7/17/2011)
The Hardest Time (7/24/2011)
The Pieces Fall Into Place (7/31/2011)
Season 3
Apples And Oranges (7/12/2012)
Leap of Faith (7/19/2012)
Love Lost (7/26/2012)
Scissor Sisters (8/2/2012)
I Wasn't Expecting This (8/9/2012)
Lost in a Bush (8/16/2012)
Dream Come True (8/23/2012)
Premonitions (8/30/2012)
Perfect Day (9/6/2012)
Find Thousands of
Your Favorite
Shows

By Starting Letter
A B C D E F G
H I J K L M N
O P Q R S T U
V W X Y Z
Thank you for visiting our The Real L Word page!
Copyright © 1997-Present CrazyAboutTV.com
All rights reserved