The Pruitts Of Southampton
Search CrazyAboutTV for your
favorite show or your
favorite star!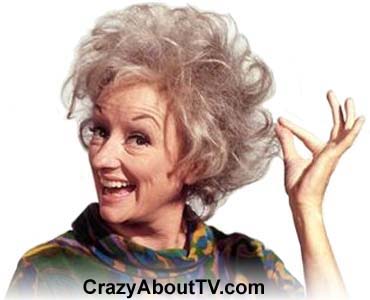 Series Description
The Pruitts Of Southampton TV show was a situation comedy series about the widowed head of a rich family in Long Island, New York who suddenly finds herself poor after the IRS gets her for unpaid back taxes. She got to keep her deteriorating mansion and her Rolls Royce but lost everything else. Most Episodess dealt with her trying to raise money and keep the IRS from finding out about it.
Cast
Phyllis Diller .... Phyllis "Mrs. Poindexter" Pruitt
Reginald Gardiner .... Uncle Ned Pruitt
Pam Freeman .... Stephanie Pruitt
Gypsy Rose Lee .... Regina Wentworth
John Astin .... Rudy Pruitt
Marty Ingels .... Norman Krump
Billy DeWolfe .... Vernon Bradley
Richard Deacon .... Mr. Baldwin
Charles Lane .... Maxwell
Grady Sutton .... Sturgis
Paul Lynde .... Harvey
Episodes List With Original Air Dates
The First And Only Season

Phyllis Goes Broke (9/6/1966)
The Milkmaid (9/13/1966)
Phyllis Beats The Rap (9/20/1966)
Phyllis Take A Letter (9/27/1966)
The Cookie Tycoon (10/4/1966)
Phyllis Fires The Butler (10/11/1966)
Phyllis Saves The Day (10/18/1966)
Phyllis Goes Commercial (10/25/1966)
Phyllis Entertains Royalty (11/1/1966)
The Upstairs Girl (11/15/1966)
The General Stealer (11/22/1966)
The Dress Maker (11/29/1966)
Phyllis Goes Arty (12/6/1966)
Santa Was A Lady (12/13/1966)
The Hubcap Caper (12/20/1966)
Queen Of The Road (12/27/1966)
My Brother Harvey (1/3/1967)
Little Miss Fixit (1/13/1967)
NOTE: Starting with the January 13th Episodes, the name of the show changed to, "The Phyllis Diller Show" and John Astin, Marty Ingels, and Billy DeWolfe joined the cast as boarders in the mansion.

Learn To Be A Millionaire (1/20/1967)
Portrait Of Krump (2/3/1967)
Nobody Here But Us Chickens (2/17/1967)
Phyllis The Bat Girl (2/24/1967)
Marry A Million (3/3/1967)
My Sister-In-Law Phyllis (3/17/1967)
Phyllis The Beauty Queen (3/31/1967)
Find Thousands of
Your Favorite
Shows

By Starting Letter
A B C D E F G
H I J K L M N
O P Q R S T U
V W X Y Z
Thank you for visiting our The Pruitts Of Southampton page!
Copyright © 1997-Present CrazyAboutTV.com
All rights reserved