Search CrazyAboutTV for your
favorite show or your
favorite star!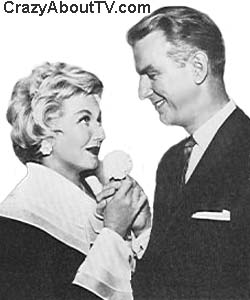 Series Description
The Private Secretary TV show was a 30 minute comedy series on CBS about a female secretary who worked for a suave bachelor talent agent. She constantly found herself getting involved in his relationships with his female companions. Typically, she would really mess things up and then spend the rest of the show trying to put things back together again.
Private Secretary Cast
Ann Sothern .... Susie McNamara
Don Porter .... Peter Sands
Jesse White .... Cagey Calhoun
Ann Tyrrell .... Vi Praskins
Joan Banks .... Sylvia
Private Secretary Trivia
Private Secretary was not Ann Sothern's last TV series. She went on to star on the series, "The Ann Sothern Show", which ran for three seasons and 93 episodes!
Several of the Private Secretary Cast also starred with Ann on the Ann Sothern Show! Don Porter ("Gidget"), Jesse White, and Ann Tyrrell were all major characters on both series!
Ann set a record on the Private Secretary TV show by becoming the first working woman on a U.S. TV sitcom! As a compliment to that record, Ann had already played the part of a "working girl" secretary on the "Adventures of Maisie Radio Show" for 7 1/2 years!
Although you never saw her, you may have heard Ann's voice if you ever saw the series, "My Mother the Car". Ann provided the voice of the mother, Gladys Crabtree on that show!
Ann Sothern was nominated for Emmys in 1955, 56, and 57 for her performances on Private Secretary. In 1955, Loretta Young won for the "Letter To Loretta" TV show. In 1956, Lucille Ball won for the "I Love Lucy Show". In 1957, Nanette Fabray won for "Caesar's Hour".
In a nearly unheard of stroke of co-operation between networks, NBC aired Private Secretary epiosdes during the summers of 1953 and 54! They ran the same episodes that CBS had just aired during the seasons immediately preceding those summers!
Episodes List With Original Air Dates
Season 1

Femme Fatale (2/1/1953)
The Bachelor Takes A Wife (2/8/1953)
The Eyes Have It (2/15/1953)
Where There's A Will (2/22/1953)
Old Flame (3/1/1953)
The Servant Problem (3/8/1953)
Old Soldier (3/15/1953)
Lady From Paris (3/29/1953)
Suspicion (4/5/1953)
Private Secretary (Pilot Episode) (4/12/1953)
Star Struck (4/26/1953)
Whodunit? (5/3/1953)
Too Much Spring (5/10/1953)
Penny Wise, Pound Foolish (5/24/1953)
Child Labor (5/31/1953)
Dark Stranger (6/7/1953)
Season 2
Two Weeks With Pay (9/27/1953)
Miami (10/11/1953)
The Hubby Killer (10/18/1953)
The Little Acorn That Didn't Grow (11/1/1953)
Cast Thy Bread (11/8/1953)
Weekend In Connecticut (11/22/1953)
Seven Out Of Ten (11/29/1953)
Two Of A Kind (12/13/1953)
Girl Of The Year (12/20/1953)
The Blau-Holstein Memoirs (1/3/1954)
The Sable Coat (1/10/1954)
Shrinking Vi (1/24/1954)
The Little Monster (1/31/1954)
Mind Over Matter (2/14/1954)
Friend In Need (2/21/1954)
Vive L'amour (3/7/1954)
Tempest In A Pickle Jar (3/14/1954)
And Susie Is The Sun (3/28/1954)
Hi Spirits (4/4/1954)
Livewire (4/18/1954)
The Still Small Voice (4/25/1954)
April Shower (5/9/1954)
Crazy Mixed-up Kid (5/16/1954)
A Matter Of Taste (5/30/1954)
No Rest For The Weary (6/6/1954)
Season 3
Good Neighbor (9/12/1954)
The Rivals (9/19/1954)
Where, Oh Where? (9/26/1954)
One Bewitching Hour (10/10/1954)
The Brass Ring (10/24/1954)
Humpty-Dumpty (11/7/1954)
Original And Two Carbons (11/21/1954)
Susie For President (12/5/1954)
Goodbye, Susie, Hello (12/19/1954)
Sweet Foxy (1/2/1955)
In Darkest Manhattan (1/8/1955)
Secretaries Are People Too (1/16/1955)
The Screaming Meemies (1/30/1955)
Tangled Web (2/13/1955)
Blessing In Disguise (2/27/1955)
Tenth Anniversary (3/13/1955)
Progress Is Here To Stay (3/27/1955)
Mambo, Mambo (4/10/1955)
Anything Can Happen (4/24/1955)
Scream In The Night (5/8/1955)
The Perfect Specimen (5/15/1955)
An Ounce Of Prevention (5/22/1955)
Mister Neanderthal (5/29/1955)
Candy (6/5/1955)
Finders Keepers (6/12/1955)
The Root Of All Evil (6/19/1955)
The Boy Next Door (6/26/1955)
Season 4
Oh, oh, Suzette (9/11/1955)
Slow Curve (9/18/1955)
Whistler's Daughter (10/2/1955)
America's Sweethearts (10/16/1955)
The Platt Plan (10/30/1955)
The Mid-town Mardi Gras (11/13/1955)
Room For improvement (11/27/1955)
Turnabout (12/11/1955)
To Each His Own (12/25/1955)
In Darkest Manhattan (1/8/1956)
The Shade Of The Old Family Tree (1/22/1956)
Little Bo Bop (2/5/1956)
Old Dog, New Tricks (2/19/1956)
Oh, Brother! (2/4/1956)
Cat On A Hot Tin File (2/18/1956)
The Little Caesar Of Bleaker Street (4/1/1956)
Seven Ways To Fire (4/15/1956)
Passing The Buck (4/29/1956)
Too Good To Be True (5/13/1956)
Susie's Crusade (5/27/1956)
Elusive (6/10/1956)
Season 5
French Leave (9/9/1956)
All That Glitters (9/16/1956)
The Reunion (9/30/1956)
The Sow's Ear (10/14/1956)
How To Handle The Boss (10/28/1956)
What Every Secretary Knows (11/11/1956)
Dollars And Sense (11/25/1956)
Her Best Enemy (12/9/1956)
Three's A Crowd (12/23/1956)
The Big Shot (1/6/1957)
That's No Lady - That's An Agent (1/20/1957)
Not Quite Paradise (2/3/1957)
The Efficiency Expert (2/17/1957)
Two And Two Make Five (3/3/1957)
Thy Name Is Sands (3/17/1957)
Find Thousands of
Your Favorite
Shows

By Starting Letter
A B C D E F G
H I J K L M N
O P Q R S T U
V W X Y Z
Thank you for visiting our Private Secretary TV show page!
Copyright © 1997-Present CrazyAboutTV.com
All rights reserved