Pride And Prejudice Miniseries
Search CrazyAboutTV for your
favorite show or your
favorite star!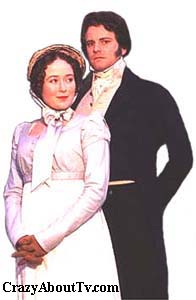 Series Description:
Pride and Prejudice was considered a dramatice miniseries even though it was produced to be a TV movie due to the fact that it ended out being 4 1/2 hours long! It was based on Jane Austin's 1813 classic novel about the strong prejudice that existed between the different social classes during the early 19th century. Elizabeth Bennet refused to have anything to do with Mr. Darcy, a wealthy upper class single man, after he insulted her at a dance. This enticed Darby and he began to persue Elizabeth but, despite her mother's urging her to "marry well", she continued to spurn him. Did he see the error of his ways? Did Elizabeth give him a chance? We won't spoil it for you. The acting, costumes, locations and music in the Pride and Prejudice are all absolutely wonderful!
Cast
Colin Firth .... Mr. Darcy
Jennifer Ehle .... Elizabeth Bennet
Crispin Bonham-Carter .... Mr. Bingley
David Bamber .... Mr. Collins
Adrian Lukis .... Wickham
Anna Chancellor .... Miss Bingley
Susannah Harker .... Jane Bennet
Barbara Leigh-Hunt .... Lady Catherine de Bourgh
Benjamin Whitrow .... Mr. Bennet
Julia Sawalha .... Lydia Bennet
Alison Steadman .... Mrs. Bennet
Trivia
Not everyone ended out with the same Pride and Prejudice part for which they originally auditioned. Crispin Bonham-Carter (Mr. Bingley) first tried-out for the part of George Wickham. Lucy Davis (Maria Lucas) first auditioned for the part of Lydia Bennet.
Immediately after Mr. Darcy proposes marriage to Elizabeth, he walks up two flights of stairs. Then he looks out of a window which is on the first floor. OOPS!
Colin Firth spent his early childhood in Nigeria. This was due to the fact that three of his grandparents were Methodist missionaries.
The Pride and Prejudice's Pemberly Estate was totally fictional. The interiors were shot at Sudbury House and the exteriors at Lyme Park.
Joanna David (Mrs. Gardiner) and Emilia Fox (Georgianna Darcy) are real life mother and daughter.
Susannah Harker who plays Jane Bennet, is the daughter of Polly Adams who played the same part in the BBC's 1967 version of the Pride and Prejudice.
Susannah Harker was pregnant while Pride and Prejudice was being filmed. You probably didn't notice though as her costumes were made especially loose and she generally wore a shawl.
Episodes List With Original Air Dates
Episode (9/24/1995)
Episode (10/1/1995)
Episode (10/8/1995)
Episode (10/15/1995)
Episode (10/22/1995)
Episode (10/29/1995)
Find Thousands of
Your Favorite
Shows

By Starting Letter
A B C D E F G
H I J K L M N
O P Q R S T U
V W X Y Z
Thank you for visiting our Pride And Prejudice Miniseries page!
Copyright © 1997-Present CrazyAboutTV.com
All rights reserved