Owen Marshall: Counselor at Law
Search CrazyAboutTV for your
favorite show or your
favorite star!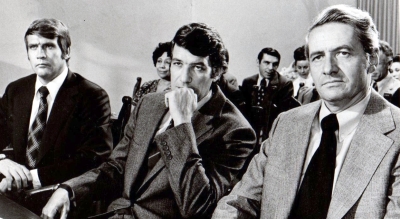 Series Description
The Owen Marshall: Counselor at Law TV show was a 60 minute legal drama series on ABC.
Owen Marshall Cast
Arthur Hill .... Owen Marshall
Lee Majors .... Jess Brandon
Joan Darling .... Frieda Krause
Christine Matchett .... Melissa Marshall
Reni Santoni .... Danny Paterno
David Soul .... Ted Warrick
Episodes List With Original Air Dates
Pilot Movie
A Pattern of Morality (9/12/1971)
Season 1

Legacy of Fear (9/16/1971)
A Lonely Stretch of Beach (9/23/1971)
Eulogy for a Wide Receiver (9/30/1971)
The Forest and the Trees (10/7/1971)
Make No Mistake (10/14/1971)
Men Who Care - Part 2 (10/21/1971) (Part 1 Aired 2 Days Earlier On Marcus Welby, M.D.)
Shadow of a Name (10/28/1971)
Eighteen Years Next April (11/4/1971)
Nothing Personal (11/11/1971)
The Baby Sitter (11/18/1971)
Burden of Proof (12/2/1971)
Until Proven Innocent (12/9/1971)
Voice from a Nightmare (12/16/1971)
The Triangle (12/30/1971)
Warlock at Mach 3 (1/6/1972)
Eight Cents Worth of Protection (1/13/1972)
Run, Carol, Run (1/20/1972)
Victim in Shadows (1/27/1972)
Shine a Light on Me (2/3/1972)
The Color of Respect (2/10/1972)
Smiles from Yesterday (2/17/1972)
A Question of Degree (2/24/1972)
Murder in the Abstract (3/2/1972)
Season 2
Words of Summer (9/14/1972)
Lines from an Angry Book (9/21/1972)
Libel Is a Dirty Word (9/28/1972)
Hour of Judgment (10/5/1972)
Journey Through Limbo (10/12/1972)
The Trouble with Ralph (10/19/1972)
Five Will Get You Six (10/26/1972)
Who Saw Him Die? (11/2/1972)
Love Child (11/9/1972)
Charlie Gave Me Your Number (11/16/1972)
The First Day of Your Life (11/30/1972)
Starting Over Again (12/7/1972)
A Piece of God (12/14/1972)
Sigh No More, Lady (12/21/1972)
An Often and Familiar Ghost (1/4/1973)
Sometimes Tough Is Good (1/17/1973)
Seed of Doubt (1/24/1973)
Requiem for Young Lovers (1/31/1973)
Why Is a Crooked Letter (2/7/1973)
They've Got to Blame Somebody (2/14/1973)
Some People in a Park (2/21/1973)
Final Semester (3/7/1973)
A Girl Named Tham (3/14/1973)
Season 3
A Lesson in Loving (9/12/1973)
Once a Lion (9/19/1973)
The Pool House (9/26/1973)
Sweet Harvest (10/3/1973)
N is for Nightmare (10/17/1973)
The Camerons Are a Special Clan (10/24/1973)
Poor Children of Eve (10/31/1973)
The Sin of Susan Gentry (11/17/1973)
Child of Wednesday (11/28/1973)
Snatches of a Crazy Song (12/5/1973)
The Prowler (12/12/1973)
The Second Victim (12/19/1973)
Etude for a Kidnapper (1/2/1974)
House of Friends (1/19/1974)
The Attacker (1/26/1974)
A Foreigner Among Us (2/2/1974)
A Killer with a Badge (2/9/1974)
The Sterilization of Judy Simpson (2/16/1974)
The Break-In (3/2/1974)
I've Promised You a Father (3/9/1974) (Part 1 Aired 4 Days Earlier On Marcus Welby, M.D.)
To Keep and Bear Arms (3/23/1974)
The Desertion of Keith Ryder (3/30/1974)
The Ghost of Buzz Stevens (4/6/1974)
Find Thousands of
Your Favorite
Shows

By Starting Letter
A B C D E F G
H I J K L M N
O P Q R S T U
V W X Y Z
Thank you for visiting our Owen Marshall: Counselor at Law page!
Copyright © 1997-Present CrazyAboutTV.com
All rights reserved