Search CrazyAboutTV for your
favorite show or your
favorite star!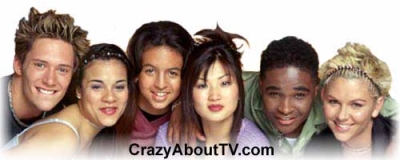 Series Description
The One World TV show was a 30 minute comedy series on NBC.
One World Cast
Arroyn Lloyd .... Jane
Alisa Reyes .... Marci
Brandon Baker .... Cray
Harvey Silver .... Neal
Bryan Kirkwood .... Ben
Michelle Krusiec .... Sui
Michael Toland .... Dave Blake
Elizabeth Morehead .... Karen Blake
Episodes List With Original Air Dates
Season 1

Hurricane Jane (9/12/1998)
What's In A Name? (9/19/1998)
Marci's Job (9/26/1998)
The Gift (10/3/1998)
Community Service (10/10/1998)
The 12 Steps To Ben (10/17/1998)
Runaround Sui (10/24/1998)
Crushes, Lies & Zuckerman (10/31/1998)
Two Flew Over The Cuckoo's Nest (11/14/1998)
Ben's Brother (11/21/1998)
The Thanksgiving Show (11/28/1998)
The One Where Sui & Alex Walk (12/5/1998)
Love Is A Many Splintered Thing (12/12/1998)
Season 2
Love & Foster Kids Aren't Always Blind (9/11/1999)
Flushed With Love (9/18/1999)
How Neal Got His Groove Back (10/2/1999)
The Tangled Web (10/9/1999)
Playing The Field (10/16/1999)
Cyrano De Bergerac (10/23/1999)
It's All Geek To Me (10/30/1999)
Treasure Of The Sierra Lotto (11/6/1999)
A Walk On The Wild Side (11/13/1999)
Tough Love (11/20/1999)
Band On The Run (11/27/1999)
A Cheating Heart (12/3/1999)
Coming Of Age (1/1/2000)
Season 3
Guess Who's Coming To Dinner (9/23/2000)
Push Comes To Shove (9/30/2000)
The Two Year Itch (10/7/2000)
The Race Car (10/14/2000)
One Of Our Own (10/21/2000)
Crushed (10/28/2000)
Dad Strikes Out (11/4/2000)
Sui's In For Stormy Weather (11/11/2000)
Jane Cops Out (11/18/2000)
Marci's In Hot Salsa (11/25/2000)
Roots (12/2/2000)
Say Cheese (12/16/2000)
Hitting On A Guy (3/31/2001)
Find Thousands of
Your Favorite
Shows

By Starting Letter
A B C D E F G
H I J K L M N
O P Q R S T U
V W X Y Z
Thank you for visiting our One World TV show page!
Copyright © 1997-Present CrazyAboutTV.com
All rights reserved