Search CrazyAboutTV for your
favorite show or your
favorite star!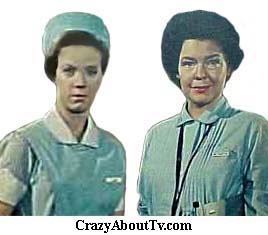 Series Description
Nurses was a 60 minute hospital drama series on CBS about the on and off work lives of the nurses who worked at Alden General Hospital. In the 3rd season, more men were added to the cast and the series name was changed to "The Doctors And The Nurses".
Nurses Cast
Shirl Conway .... Liz Thorpe
Zina Bethune .... Gail Lucas
Edward Binns .... Doctor Anson Kiley
Stephen Brooks .... Doctor Ned Lowry
Joseph Campanella .... Doctor Ted Steffen
Michael Tolan .... Doctor Alex Tazinski
Nurses Trivia
At the beginning of the third Season, the show's title was changed from "Nurses" to: "The Doctors and the Nurses".
Episodes List With Original Air Dates
Nurses - The First Season
Night Shift (9/27/1962)
The Walls Came Tumbling Down (10/4/1962)
Fly, Shadow (10/11/1962)
The Barbara Bowers Story (10/18/1962)
Doctor Lillian (10/25/1962)
A Private Room (11/1/1962)
The Prisoner (11/8/1962)
A Strange And Distant Place (11/15/1962)
Two Black Candles (11/22/1962)
Lady Made Of Stone (11/29/1962)
Frieda (12/6/1962)
The Soft Touch (12/13/1962)
Image Of Angela (12/27/1962)
A Difference Of Years (1/3/1963)
Root Of Violence (1/10/1963)
Many A Sullivan (1/17/1963)
Night Sounds (1/24/1963)
The Third Generation (2/7/1963)
The Life (2/14/1963)
Circle Of Choice (2/21/1963)
The Perfect Nurse (2/28/1963)
The Thunder Of Ernie Bass (3/7/1963)
The Saturday Evening Of Time (3/14/1963)
A Question Of Mercy (3/21/1963)
Party Girl (3/28/1963)
A Dark World (4/11/1963)
You Could Die Laughing (4/18/1963)
Choice Among Wrongs (5/2/1963)
Express Stop From Lenox Avenue (5/9/1963)
Bitter Pill (5/23/1963)
Field Of Battle (5/30/1963)
They Are As Lions (6/6/1963)
Nurses - The Second Season
No Score (9/26/1963)
Show Just Cause Why You Should Weep (10/3/1963)
Escape Route (10/10/1963)
The Gift (10/17/1963)
Strike (10/24/1963)
The Horn Of Plenty (10/31/1963)
The Helping Hand (11/7/1963)
Ordeal (11/14/1963)
The Guilt Of Molly Kane (11/21/1963)
The Unwanted (11/28/1963)
Disaster Call (12/5/1963)
To Spend, To Give, To Want (12/12/1963)
The Witch Of The East Wing (2/19/1963)
Rally Round My Comrads (12/26/1963)
The Seeing Heart (1/2/1964)
Credo (1/9/1964)
The Rainbow Ride (1/16/1964)
The Intern Syndrome (1/23/1964)
Is There Room For Edward? (1/30/1964)
The Roamer (2/6/1964)
Nurse Is A Feminine Noun (2/13/1964)
The Imperfect Prodigy (2/20/1964)
For The Mice And The Rabbits (2/27/1964)
Climb A Broken Ladder (3/12/1964)
The Forever Child (3/19/1964)
A Kind Of Loving (4/2/1964)
The Leopard Killer (4/9/1964)
The Gizmo On The EEG (4/16/1964)
The Human Transaction (4/23/1964)
To All My Friends On Shore (5/7/1964)
White On White (5/14/1964)
A Postcard From Yucatan (5/21/1964)
The Bystanders (5/28/1964)
Where Park Runs Into Freeland (6/11/1964)
The Warrior (6/18/1964)
The Love Of A Smart Operator (6/25/1964)
Nurses - The Third Season
NOTE: Title is now, "The Doctors And The Nurses".

Once Bitten (9/22/1964)
The Suspect - Part 1 (9/29/1964)
The Suspect - Part 2 (10/6/1964)
Respect For One Another (10/13/1964)
No Shadow Where There Is No Sun (10/20/1964)
Hildie (10/27/1964)
The Outpost (11/10/1964)
The Family Resemblance (11/17/1964)
Time For You And Time For Me (11/24/1964)
So Some Girls Play The Cello (12/1/1964)
Rites Of Spring (12/8/1964)
Next Stop, Valhalla (12/15/1964)
The Skill In These Hands (12/22/1964)
A Messenger To Everyone (12/29/1964)
Last Rites For A Rag Doll (1/5/1965)
The Patient Nurse (1/12/1965)
A Couple Of Dozen Tiny Pills (1/19/1965)
A Question Of Murder (1/26/1965)
Night Of The Witch (2/2/1965)
Sixteen Hours To Chicago (2/9/1965)
Act Of Violence - Part 1 (2/23/1965) (Part 2 Was On "For The People", February 28th)
A Dangerous Silence (3/2/1965)
Where There's Smoke (3/9/1965)
The Politicians (3/16/1965)
The April Thaw Of Doctor Mai (3/30/1965)
Threshold (4/6/1965)
The Witnesses (4/27/1965)
The Heroine (5/4/1965)
An Unweeded Garden (5/11/1965)
Find Thousands of
Your Favorite
Shows

By Starting Letter
A B C D E F G
H I J K L M N
O P Q R S T U
V W X Y Z
Thank you for visiting our Nurses TV Show page!
Copyright © 1997-Present CrazyAboutTV.com
All rights reserved