Search CrazyAboutTV for your
favorite show or your
favorite star!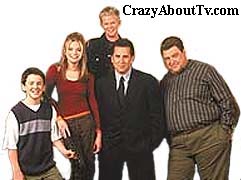 Series Description
The Normal, Ohio TV show was a 30 minute comedy series on the FOX Network.
Normal, Ohio Cast
John Goodman .... Rex Gamble
Greg Pits .... Charlie Gamble
Joely Fisher .... Pamela Theresa Gamble-Miller
Anita Gillette .... Joan Gamble
Julia McIlvaine .... Kimberly Miller
Cody Kasch .... Robert "Robbie" Miller
Orson Bean .... William "Bill" Gamble, Sr.
Mo Gaffney .... Elizabeth
Charles Rocket .... Danny
Normal, Ohio Trivia
A pilot episode of Normal, Ohio was made to sell the series to the Fox Network. It's title was, "Don't Ask". It never aired.
There were also five episodes of the Normal, Ohio TV show that were produced but did not air due to the series being canceled. Their titles were, "Pamela's New Boyfriend", "Forgotten, But Not Gone", "The Favorite", "He Always Gets His Man", and "Charlie's Gamble".
Episodes List With Original Air Dates
The First And Only Season

Homecoming Queen (11/1/2000)
Foreign Affairs (11/8/2000)
Caught On Tape (11/15/2000)
A Thanksgiving Episode (11/22/2000)
Buyer's Remorse (11/29/2000)
Working Girl (12/6/2000)
Just Another Normal Christmas (12/13/2000)
Find Thousands of
Your Favorite
Shows

By Starting Letter
A B C D E F G
H I J K L M N
O P Q R S T U
V W X Y Z
Thank you for visiting our Normal, Ohio TV show page!
Copyright © 1997-Present CrazyAboutTV.com
All rights reserved