Search CrazyAboutTV for your
favorite show or your
favorite star!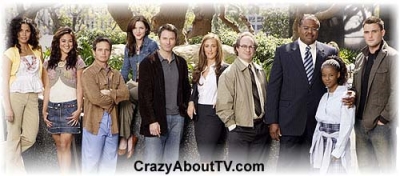 Series Description
The Nine TV show was a 60 minute drama series on ABC about nine people who survived a bank robbery where they were held hostage for 52 hours and saw some of their fellow hostages get killed!
The Nine Cast
Tim Daly .... Nick
Chi McBride .... Malcolm
Scott Wolf .... Jeremy
Camille Guaty .... Franny
Kim Raver .... Kathryn
John Billingsley .... Egan
Owain Yeoman .... Lucas
Dana Davis .... Felicia
Jessica Collins .... Lizzie
Lourdes Benedicto .... Eva
The Nine Trivia
After delaying the broadcast of the 8th and 9th episodes of The Nine TV show for more than 8 months, the series was canceled. There were four additional episodes that were produced but did not air. Their titles were, "The Inside Man", "Man of the Year", "Legacy", and "Confessions".
Episodes List With Original Air Dates
Season 1

Pilot Episode (10/4/2006)
Heroes Welcome (10/11/2006)
What's Your Emergency (10/18/2006)
Brother's Keeper (10/25/2006)
All About Eva (11/1/2006)
Take Me Instead (11/8/2006)
Outsiders (11/22/2006)
Turning Point (8/1/2007)
The Inside Man (8/8/2007)
Find Thousands of
Your Favorite
Shows

By Starting Letter
A B C D E F G
H I J K L M N
O P Q R S T U
V W X Y Z
Thank you for visiting our The Nine TV show page!
Copyright © 1997-Present CrazyAboutTV.com
All rights reserved