Search CrazyAboutTV for your
favorite show or your
favorite star!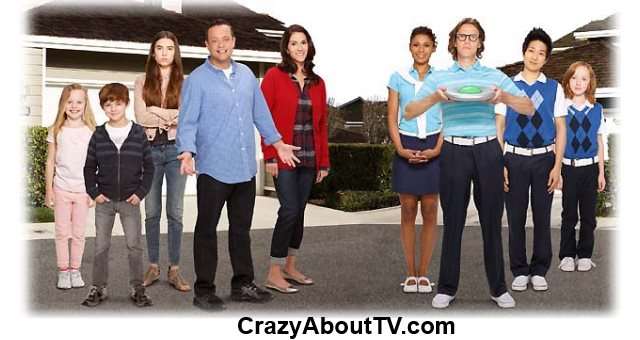 Series Description
The Neighbors is a 30 minute comedy series on ABC about a family who moves to an affluent housing community in New Jersey only to discover that all of their neighbors are aliens from another planet who came to Earth a decade earlier and are awaiting orders to return home.
The Neighbors Cast
Isabella Cramp .... Abby Weaver
Jami Gertz .... Debbie Weaver
Lenny Venito .... Marty Weaver
Simon Templeman ... Larry Bird
Toks Olagundoye ... Jackie Joyner-Kersee
Clara Mamet .... Amber Weaver
Tim Jo .... Reggie Jackson
Ian Patrick .... Dick Butkus
Max Charles .... Max Weaver
Mobin Khan .... Zabrvonian Alien
Tracy Weisert .... Alien Woman
The Neighbors Trivia
The alien-ridden community that the Weavers moved to is called "Hidden Hills".
The aliens assumed human form but they can change back into their true forms by clapping their hands over their heads.
The aliens also assume human names, all of human sports celebrities. They don't eat as we humans do rather they get their nourishment through their eyes when they read. When they cry, instead of tears coming from their eyes they excrete green goo from their ears!
Prior to being renamed "The Neighbors", the series was called "Down to Earth" in pre-production.
Episodes List With Original Air Dates
Season 1

Pilot Episode (9/26/2012)
Journey to the Center of the Mall (10/3/2012)
Things Just Got Real (10/10/2012)
Bathroom Etiquette (10/17/2012)
Halloween-ween (10/24/2012)
Larry Bird and the Iron Throne (10/31/2012)
50 Shades of Green (11/7/2012)
Thanksgiving is for the Bird-Kersees (11/14/2012)
Merry Crap-Mas (12/5/2012)
Juan Of The Dead (12/12/2012)
The Gingerbread Man (1/9/2013)
Cold War (1/16/2013)
Dream Weavers (1/23/2013)
The Back Nine (1/30/2013)
Space Invaders (2/6/2013)
Mother Clubbers (2/13/2013)
An Oscar(R)-Winning Film by Larry Bird (2/20/2013)
Camping (2/27/2013)
I Believe I Can Drive (3/6/2013)
Sing Like a Larry Bird (3/13/2013)
Mo Purses Mo Money Mo Problems (3/20/2013)
It Has Begun... (3/27/2013)
Season 2
Family Conference (9/20/2013)
September Fools (9/27/2013)
The Neighbours (10/4/2013)
The One With Interspecies F-R-I-E-N-D-S (10/11/2013)
Challoweenukah (10/18/2013)
Any Friggin' Sunday (11/1/2013)
We Jumped the Shark (Tank) (11/8/2013)
Good Debbie Hunting (11/15/2013)
Thanksgiving is no Schmuck Bait (11/22/2013)
Supreme Like Me (12/6/2013)
A Christmas Story (12/13/2013)
Fear and Loving in New Jersey (1/10/2014)
High School Reunion (1/17/2014)
Man, Actually (1/24/2014)
You've Lost That Larry Feeling (1/31/2014)
Oscar Party (2/28/2014)
Balle Balle (3/7/2014)
A Night in (Lou Ferrigno's Hibachi) Heaven (3/14/2014)
Uncle Benjamin (3/21/2014)
Close Encounters of the Bird Kind (3/28/2014)
All That Jazzy Jeff (4/4/2014)
There Goes the Neighbors' Hood (4/11/2014)
Find Thousands of
Your Favorite
Shows

By Starting Letter
A B C D E F G
H I J K L M N
O P Q R S T U
V W X Y Z
Thank you for visiting our The Neighbors TV Show page!
Copyright © 1997-Present CrazyAboutTV.com
All rights reserved