Search CrazyAboutTV for your
favorite show or your
favorite star!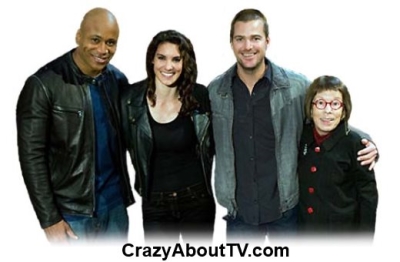 Other NCIS series include "NCIS", "NCIS: New Orleans" and "NCIS: Hawaii" and .
Series Description
The NCIS: Los Angeles TV show is a 60 minute crime drama series that first appeared as a two part special crossover with "NCIS" in late April/early May of 2009. Then the regular episodes premiered on September 22, 2009 on CBS. It's about a division of NCIS called the Office of Special Projects. Its purpose is to investigate threats to national security. The agents often find themselves in serious danger due to the individuals involved in such threats.
NCIS: Los Angeles Cast
Chris O'Donnell .... Special Agent G Callen
LL Cool J .... Special Agent Sam Hanna
Daniela Ruah .... Special Agent Kensi Blye
Barrett Foa .... Eric Beal
Linda Hunt .... Henrietta "Hetty" Lange
Renee Felice Smith .... Nell Jones (Seasons 2-)
Eric Christian Olsen .... Marty Deeks (Seasons 2-)
Adam Jamal Craig .... Special Agent Dominic Vail (Season 1)
Peter Cambor .... Operational Psychologist Nate "Doc" Getz (Season 1)
NCIS: Los Angeles Trivia
This series is barely a "spinoff" of the original "NCIS TV Show". Several of the characters on this version did appear on the original but only on two episodes designed strictly to promote this series. Those episode titles on the original series were titled, "Legend: Part 1" and "Legend: Part 2". They were broadcast on April 28th and May 5th of 2009.
If you'd like to get a look at the NCIS Headquarters Building used on the show just type in "13198 Mindanao Way, Marina del Rey, CA" at Google Maps. For a look at the Boatshed, type in the coordinates: "33.974828,-118.446349".
LL Cool J tries to do as many of his own stunts as possible. He has stated, "I want people to know that I'm invested in the character and I want to give them the real experience".
Chris O'Donnell got his first paid acting job in a McDonald's commercial. Chris came from a large family. He has six older brothers and sisters. He continued the family tradition as Chris has five children of his own (as of 2014).
The multi-talented LL Cool J is generally regarded as one of the most successful rap artists of all times. In 1985, he composed and performed the first ever rap love song, "I Need Love". His name stands for "Ladies Love Cool James" but in his personal life he goes by his real middle name, "Todd". He also has a large family with one son and three daughters. He always knew he wanted to be a performer. The only non-entertainment job he held was briefly as a paper boy.
Linda Hunt was the first actor to win an Oscar for seriously portraying a character of the opposite sex. Other actors had previously won Oscars for roles where they were pretending to be a member of the opposite sex like Dutin Hoffman in "Tootsie" and Barbara Streisand in "Yentl" but Linda won for playing a real person of the opposite sex in "The Year of Living Dangerously".
Find Thousands of
Your Favorite
Shows

By Starting Letter
A B C D E F G
H I J K L M N
O P Q R S T U
V W X Y Z
Thank you for visiting our NCIS: Los Angeles page!
Copyright © 1997-Present CrazyAboutTV.com
All rights reserved