Search CrazyAboutTV for your
favorite show or your
favorite star!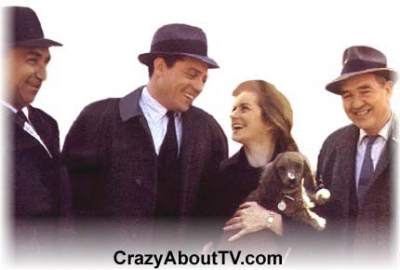 Series Description
The Naked City TV show was a crime drama series about the work and personal lives of the detectives working out of the 65th precinct in New York City. It ran for 30 minutes during the first season and 60 minutes thereafter. It was an in depth look at the effects of crime on the police, the victims, and even the criminals themselves.
Naked City Cast
Paul Burke .... Detective Adam Flint (1960-1963)
Nancy Malone .... Libby (1960-1963)
Horace McMahon .... Lieutenant Mike Parker (Episodes 25+)
Harry Bellaver .... Officer/Sergeant Frank Arcaro
John McIntire .... Lieutenant Dan Muldoon (1958-1959)
James Franciscus .... Detective Jim Halloran (1958-1959)
Suzanne Storrs .... Janet Halloran (1958-1959)
Herbert B. Leonard .... Narrator (First 18 episodes)
Lawrence Dobkin .... Narrator (Episode 19-end)
Trivia
The Naked City was the first network series that was shot completely in New York City.
Dustin Hoffman, Jon Voight, and Peter Fonda (among others) appeared in their first major roles on The Naked City! James Franciscus got his first role as a regular cast member on the show. He would go on to star on "The Investigators (1961)", "Mr. Novak (1963)" and "Longstreet (1971)". James also was chosen to star in the lead role on the series, "Dr. Kildare (1961)" after "The Investigators" was canceled. He turned down the role (then given to Richard Chamberlain) because he had been signed to do yet another series, but that deal fell through!
This TV series was based on a 1948 hit movie that was also titled, "The Naked City".
After numerous bit parts in 1950s movies, Paul Burke found one role after the other as various stern, all-business characters on series including "The Adventures of Superman", "Dragnet", "Highway Patrol", and "M Squad". In 1956 he got the starring role on the series, "Noah's Ark" that unfortunately only lasted one season. The very next year Paul received a co-starring role on another single season series titled, "Harbourmaster". After that he appeared on the Naked City in his best known role as Detective Flint. Then in 1964, Paul snagged another co-starring role on the series, "12 O'Clock High" which, like the Naked City, was also based on a hit movie.
Of course, anyone who was (or is, for that matter) in to westerns remembers John McIntire from his two unforgetable roles as Christopher Hale, the second wagonmaster on the series, "Wagon Train (1957)" and Clay Grainger on the series, "The Virginian (1962)". John left his role on the Naked City because he just didn't get along at all with his co-star, "James Franciscus".
The Naked City was actually canceled by ABC at the end of the first season for "lack of ratings". One of the show's sponsors joined with the producers in urging CBS to change their mind and expand the complex episodes from 30 minutes to one hour in length so that the stories could be more completely developed. CBS agreed ... it worked ... and the rest is TV history!
Episodes List With Original Air Dates
Season 1

Meridian (9/30/1958)
Nickel Ride (10/7/1958)
Line of Duty (10/14/1958)
Sidewalk Fisherman (10/21/1958)
The Violent Circle (10/28/1958)
Stakeout (11/4/1958)
No More Rumbles (11/11/1958)
Belvedere Tower (11/18/1958)
The Bird Guard (11/25/1958)
The Other Face of Goodness (12/2/1958)
Lady Bug, Lady Bug (12/9/1958)
Susquehanna 4-7598 (12/16/1958)
And a Merry Christmas to the Force on Patrol (12/23/1958)
The Explosive Heart (12/30/1958)
The Manhole (1/6/1959)
Even Crows Sing Good (1/13/1959)
Burst of Passion (1/20/1959)
Goodbye, My Lady Love (1/27/1959)
The Shield (2/3/1959)
One to Get Lost (2/10/1959)
Hey, Teach! (2/17/1959)
Ticker Tape (2/24/1959)
Fire Island (3/3/1959)
Ten Cent Dreams (3/10/1959)
The Bumper (3/17/1959)
A Running of Bulls (3/24/1959)
Fallen Star (3/31/1959)
Beyond Truth (4/7/1959)
Baker's Dozen (4/14/1959)
The Rebirth (4/21/1959)
Four Sweet Corners (4/28/1959)
The Sandman (5/5/1959)
Turn of Events (5/12/1959)
A Little Piece of the Action (5/19/1959)
The Bloodhounds (5/26/1959)
The Scorpion Sting (6/2/1959)
Saw My Baby There (6/9/1959)
The Canvas Bullet (6/16/1959)
A Wood of Thorns (6/23/1959)
Season 2
A Death of Princes (10/12/1960)
The Pedigree Sheet (10/19/1960)
A Succession of Heartbeats (10/26/1960)
Down the Long Night (11/2/1960)
To Walk In Silence (11/9/1960)
Killer with A Kiss (11/16/1960)
Debt of Honor (11/23/1960)
The Human Trap (11/30/1960)
The Man Who Bit the Diamond In Half (12/14/1960)
Bullets Cost Too Much (1/4/1961)
Murder Is a Face I Know (1/11/1961)
Landscape with Dead Figures (1/18/1961)
A Hole in the City (2/1/1961)
The Well-Dressed Termite (2/8/1961)
The Day It Rained Mink (2/15/1961)
Button in the Haystack (2/22/1961)
Shoes for Vinnie Winford (3/1/1961)
The Deadly Guinea Pig (3/8/1961)
Vengeance Is a Wheel (3/15/1961)
The Fault in Our Stars (3/22/1961)
Tombstone for a Derelict (4/5/1961)
A Memory of Crying (4/12/1961)
New York to L.A. (4/19/1961)
A Very Cautious Boy (4/26/1961)
An Economy of Death (5/3/1961)
C3H5(NO3)3 (5/10/1961)
Make-Believe Man (5/17/1961)
To Dream Without Sleep (5/24/1961)
A Kettle of Precious Fish (5/31/1961)
Sweet Prince of Delancey Street (6/7/1961)
The Day the Island Almost Sank (6/14/1961)
Take and Put (6/21/1961)
Season 3
Take Off Your Hat When a Funeral Passes (9/27/1961)
Dead on the Field of Honor (10/4/1961)
The Corpse Ran Down Mulberry Street (10/11/1961)
The Fingers of Henri Tourelle (10/18/1961)
A Wednesday Night Story (11/1/1961)
The Tragic Success of Alfred Tiloff (11/8/1961)
Which Is Joseph Creeley? (11/15/1961)
Show Me the Way to Go Home (11/22/1961)
The Hot Minerva (11/29/1961)
Requiem for a Sunday Afternoon (12/6/1961)
Ooftus Goofus (12/13/1961)
Bridge Party (12/27/1961)
The Face of the Enemy (1/3/1962)
Portrait of a Painter (1/10/1962)
The Night the Saints Lost Their Halos (1/17/1962)
The Contract (1/24/1962)
One of the Most Important Men in the Whole World (1/31/1962)
A Case Study of Two Savages (2/7/1962)
Let Me Die Before I Wake (2/14/1962)
To Walk Like a Lion (2/28/1962)
Today the Man Who Kills Ants Is Coming (3/7/1962)
A Run for the Money (3/14/1962)
The One Marked Hot Gives Cold (3/21/1962)
Without Stick or Sword (3/28/1962)
Lament for a Dead Indian (4/11/1962)
The Sweetly Smiling Face of Truth (4/25/1962)
...And If Any Are Frozen, Warm Them... (5/9/1962)
Strike a Statue (5/16/1962)
The Multiplicity of Herbert Konish (5/23/1962)
The King of Venus Will Take Care of You (5/20/1962)
The Rydecker Case (6/6/1962)
Memory of a Red Trolley Car (6/13/1962)
Goodbye Mama, Hello Auntie Maud (6/20/1962)
Season 4
Hold for Gloria Christmas (9/19/1962)
Idylls of a Running Back (9/26/1962)
Daughter, Am I in My Father's House? (10/3/1962)
And By the Sweat of Thy Brow... (10/10/1962)
Kill Me While I'm Young So I Can Die Happy (10/17/1962)
Five Cranks for Winter... Ten Cranks for Spring (10/24/1962)
Go Fight City Hall (10/31/1962)
Torment Him Much and Hold Him Long (11/7/1962)
Make It Fifty Dollars and Add Love to Nona (11/14/1962)
A Horse Has a Big Head -- Let Him Worry! (11/21/1962)
Dust Devil on a Quiet Street (11/28/1962)
The Virtues of Madame Douvay (12/5/1962)
King Stanislaus and the Knights of the Round Table (12/12/1962)
Spectre of the Rose Street Gang (12/19/1962)
Don't Knock It Till You've Tried It (12/26/1962)
Her Life in Moving Pictures (1/2/1963)
Robin Hood and Clarence Darrow, They Went Out with Bow and Arrow (1/9/1962)
The Apple Falls Not Far from the Tree (1/23/1963)
Beyond This Place There Be Dragons (1/30/1963)
A Man Without a Skin (2/6/1963)
Prime of Life (2/13/1963)
Bringing Far Places Together (2/20/1963)
The Highest of Prizes (2/27/1963)
Alive and Still a Second Lieutenant (3/6/1963)
Stop the Parade, a Baby Is Crying! (3/20/1963)
On the Battlefront, Every Minute Is Important (3/27/1963)
Howard Running Bear Is a Turtle (4/3/1963)
No Naked Ladies in Front of Giovanni's House! (4/17/1963)
Carrier (4/24/1963)
Color Schemes Like Never Before (5/1/1963)
The S.S. American Dream (5/8/1963)
One, Two, Three, Rita Rakahowski (5/15/1963)
Golden Lads and Girls (5/22/1963)
Barefoot on a Bed of Coals (5/29/1963)
Find Thousands of
Your Favorite
Shows

By Starting Letter
A B C D E F G
H I J K L M N
O P Q R S T U
V W X Y Z
Thank you for visiting our The Naked City TV show page!
Copyright © 1997-Present CrazyAboutTV.com
All rights reserved