Search CrazyAboutTV for your
favorite show or your
favorite star!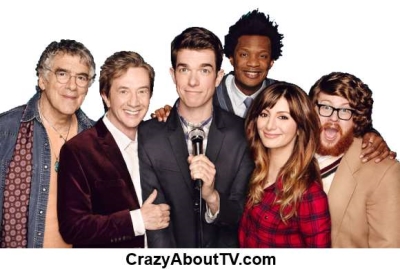 Series Description
The Mulaney TV show is a 30 minute comedy series on FOX about an up and coming comedian named John who gets hired to write for a famous primetime game show host who was a well known stand up performer in the 1980s and 1990s. He shares a New York City apartment with a female friend from college named Jane and a fellow comedian named Motif. They are roommates but they don't pay rent and they sometimes drive John a little crazy. Across the hall lives the much older Oscar who gives John the best advice his life experience can muster. John's annoying friend Andre often drops by to make John's already mixed up life even worse!
Mulaney Cast
John Mulaney .... John Mulaney
Martin Short .... Lou Cannon
Nasim Pedrad .... Jane
Seaton Smith .... Motif
Zack Pearlman .... Andre
Elliott Gould .... Oscar
Mulaney Trivia
John Mulaney created this series about a very loosely based version of himself. John says, "The show is autobiographical in that I play a comedian named John Mulaney. It kind of ends there."
Surprisingly with Martin Short and Nasim Pedrad being former Saturday Night Live cast members and John having been a writer on the show, NBC after ordering a pilot turned this series down! But Fox picked it right up for a six episode initial order and soon thereafter ordered another ten episodes! Fox certainly is showing a lot of confidence in the show by scheduling it right after Family Guy on Sunday night!
While Elliot Gould never was a regular on SNL, he did host the show six times during its first six seasons.
Find Thousands of
Your Favorite
Shows

By Starting Letter
A B C D E F G
H I J K L M N
O P Q R S T U
V W X Y Z
Thank you for visiting our Mulaney TV Show page!
Copyright © 1997-Present CrazyAboutTV.com
All rights reserved